6 Benefits of Cucumber Juice
Cucumber juice provides us with vitamins and minerals, which makes it ideal for taking care of our body and giving it nutrients without going overboard on the calories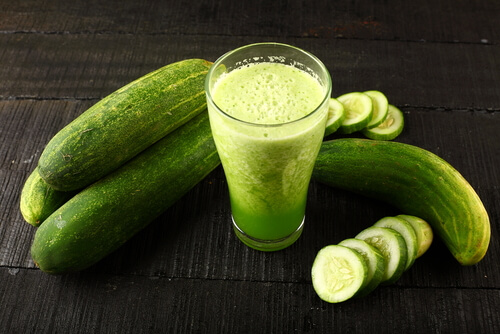 Cucumber has beneficial properties for activating all of the body's functions. And, it's incredibly delicious.
Every cup of cucumber juice has as much vitamins and minerals as a cup of vegetables. So, they make for a great option when you're trying to keep your health in tip-top shape.
Benefits of cucumber juice
1. Great for weight loss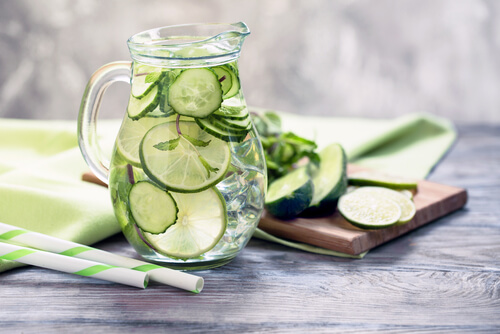 Every cup of cucumber juice has low enough calories to take with each meal, contrary to apple, pineapple and orange juices that cross the line.
If you're looking to lose weight, or simply maintain your waistline, drinking cucumber juice every day is your best option.
Cucumber juice helps to control the calories you consume in a day as well as keeping us feeling full. Thanks to its effects, you can avoid eating more than your body needs.
Visit this article: Relieve Painful Joints with this Herbal Ointment
2. Anti-flu power
You don't need to eat citric fruits to stop flu symptoms. There are also remedies around like the cucumber.
Consuming its juice is that best way to extract its high vitamin C content.
This works in function with diet and health because it will activate its anti-flu power while at the same time it strengthens the immune system and development brain cells.
By doing so, cucumber juice optimizes several things at the same time.
We recommend that you read the following article: 7 Exercises to Prevent Sagging and Premature Wrinkles
3. Improve your skin condition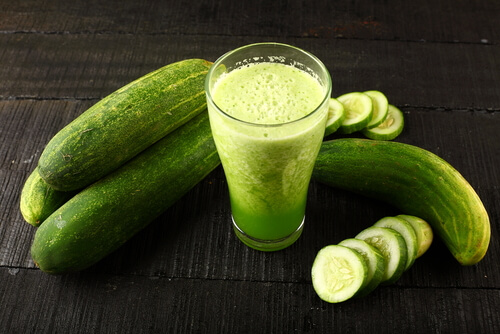 Cucumber juice is one of the best options for maintaining your skin healthy and renewed.
Cucumber is rich is collagen, which is why it doesn't only improve the elasticity of the dermis, but also its firmness giving you a younger appearance despite the pass of time.
By consuming cucumber juice daily, you're taking care of your skin's beauty, keeping it always firm and hydrated.
4. It has anti-hemorrhagic properties
Cucumber's high content of vitamin K collaborates with blood platelets when the body needs to repair damaged tissue.
Thanks to its benefits, it controls hemorrhages and help stop them while at the same time, preventing the formation of blood clots.
The daily intake of cucumber juice improves vascular conditions, especially in people who are predisposed to suffering hemorrhages and blood clots.
5. Provides maximum shine for your hair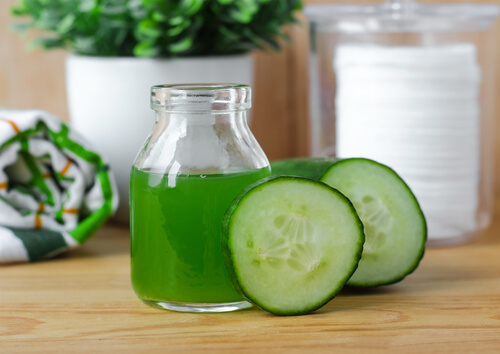 It's not just about making your hair grow faster or preventing it from falling out. Sometimes you want your hair to look more lively and healthy, and just improve its appearance.
You have to change its damaged, lifeless look with one full of shine and silkiness.
You can achieve these changes that your hair needs by consuming cucumber juice every day.
The juice provides us with nutrients and vitamins that reform each strand of hair, from the roots to the tips, keeping them always silky and shiny.
You'll be interested in reading: Is Your Hair Dry and Damaged?
6. Stimulate your brain connections
Among the benefits of cucumber juice includes the stimulation of brain connections.
Cucumber's stock of vitamin B5, or pantothenic acid, guarantees us with a quicker thinking capacity in any kind of activity.
In addition, because it's a good source of vitamin B5, it results in a higher hormone synthesis. This directly helps to maintain each organ as well as keep all cellular systems completely healthy.
Both our thinking and memory capacity, not to mention other brain functions, benefit from all the nutrients that come from cucumber juice.
This natural product is definitely something you don't want to miss out on. Your body will thank you for it!