Five Fantastic Weight-Loss Drinks
In addition to the classic weight loss infusions, you can also incorporate the following drinks into your diet. They're quite easy to make at home with a blend of all-natural ingredients.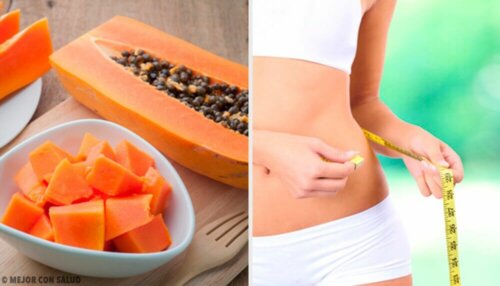 People who struggle with excess weight have found an interesting solution in some weight-loss drinks with slimming properties. These can be taken as a supplement to any diet. Note that such consumption is merely a complement to a healthy lifestyle.
Certainly, its effects aren't miraculous but its regular consumption can help maintain optimal hydration, stimulate urination, eliminate retained fluids, and improve metabolic functions to optimize energy expenditure.
In addition, some think these drinks can also increase vitality, promote satiety and avoid snacking between meals, which also prevents eating unhealthy foods (such as snacks, pastries, and soft drinks), especially excessively.
Here are five hydrating drinks that can also help you lose weight.
Recommendations on weight-loss drinks
Skip the sugar and sweeteners
Use banana, papaya, apple, or oatmeal for a sweeter and thicker touch
Consume them in moderation within a balanced diet
These drinks aren't a substitute for main meals, only supplements, as they're not a complete source of nutrients
You can add a handful of sunflower seeds, chia, flax, pumpkin, etc.
Don't be afraid to blend fruits with vegetables, the results are much more pleasant and delicious than you think soo ahead and give it a try!
Make your own versions of these drinks, according to your preferences.
1. Grapefruit juice
This juice is a summer option that's not only refreshing but can also help you reduce swelling and lose weight. All within the framework of a healthy lifestyle, of course.
Ingredients
Preparation
Extract the juice of the grapefruit
Mix it with half a glass of water
Add a touch of honey if you wish (less than a teaspoon)
Serve and drink in moderation
2. Hibiscus infusion
Hibiscus infusions are hydrating, can help you lose weight, and refresh you without having to resort to commercial drinks. It tastes delicious on its own, but you can add a touch of lemon juice if you prefer.
Ingredients
2 tbsp. of hibiscus flowers
3 c. of water
Optional: lemon juice
Preparation
Bring a pot of water to boil
Then, add the hibiscus flowers and let it all simmer for about 10 minutes (cover the pot with a lid if you wish)
Turn off the heat, and let it steep for about 15 minutes
Strain and serve
Finally, add a touch of lemon juice to make it even more refreshing
3. Cinnamon weight-loss drinks
This infusion is another option you can enjoy instead of a commercial drink. Follow the recipe below or make your own version with the ingredients of your choice.
Important note: cinnamon is contraindicated in some cases so be well informed about it in order to avoid side effects.
Ingredients
A cinnamon stick
1 c. of water
Optional: bay leaves
Preparation
Bring a pot of water to boil
Then, add the cinnamon stick
Let it simmer for about 15 minutes over medium heat
Lower the heat and let it steep for another 10 minutes, covered
Then, add the bay leaves (if desired) and turn off the heat
Strain and serve when lukewarm
4. Papaya-oat weight-loss drinks
This is a rather satiating drink thanks to the fiber content of both ingredients. Follow the recipe below to make it.
Ingredients
1 glass of water
3 slices of ripe papaya
3 tbsp. of oatmeal
Preparation
Cut the slices of papaya into several cubes and mix in the blender with the oats and water
Blend it for a few moments until you get a smooth drink
Serve and drink in moderation
5. White tea is one of the best weight-loss drinks
White tea is known as the "woman's drink" because, in addition to providing antioxidants, it contributes to overall health. It's also a better option than commercial beverages.
Ingredients
Preparation
Add a teaspoon of white tea to a cup of water and boil it
Leave it on low heat for 2 minutes and remove it from the flame
Wait for 10 more minutes and then strain it
Serve and consume in moderation
Forget strict diets!
Are you trying to lose weight? Stop following strict plans! Include these drinks in your balanced eating plan and start gaining health and wellness instead.
Keep in mind that none of these preparations will help you lose weight by themselves. Thus, you should always drink them as part of a healthy diet.
Consult a nutritionist if you have any doubts about how to follow a diet according to your goals and needs.
It might interest you...