5 Ways to Exfoliate Skin with Baking Soda
In addition to making an ideal scrub to exfoliate skin with baking soda, we can also take advantage of the benefits of  other natural ingredients. Try it!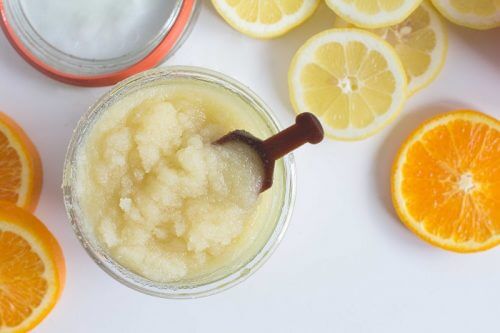 Baking soda has become a solution for eliminating terrible odors, disinfecting, whitening teeth, an important ingredient in cooking, and even helps to drive pests away from your garden. But did you know that you can also exfoliate your skin with baking soda?
As an antibacterial product, an astringent, and an anti-inflammatory, baking soda is ideal for eliminating imperfections in your skin.
Acne, blemishes, and zits? This product doesn't just eliminate dead cells and bacteria, it also prevents them from showing up in the future. Also, thanks to its alkaline properties and its pH level, it won't damage your skin.
However, it's important that you use a small amount on a specific area of your skin to test for allergies before using any of these exfoliants on your entire face. This is because some skin can be very sensitive and this product can aggravate it.
1. Baking soda and water
Thanks to its alkaline properties, exfoliating baking soda and water cream helps to oxygenate the skin and prevent the appearance of premature wrinkles.
It also eliminates the accumulation of oils and dirt, which softens the skin and makes them easier to get rid of.
Ingredients
1 tablespoon of baking soda (10 g)
1 tablespoon of water (10 ml)
Preparation
Mix both ingredients until you have a homogenous paste
Apply the paste to your skin using circular motions and let sit for 25 minutes.
Rinse with warm water until there is no residue.
2. Oat flour and baking soda
This exfoliant is excellent for fighting acne because it leaves your skin softer and brighter. 
The oats function as a natural hydrant as well as a cleanser. Among its components are vitamins, minerals, and carbohydrates.
Ingredients
2 tablespoons of baking soda (20 g)
2 tablespoons of oat flour (20 g)
1 tablespoon of water (10 ml)
Preparation
Mix he baking soda and oat flour together. Add water. You will have a creamy paste.
Apply the paste to clean skin (especially in oily zones: forehead, nose, chin).
Rinse with warm water.
3. Baking soda and milk
The astringent properties of backing soda help to remove blackheads and to control oils by softening the skin and making it easier to remove them.
While the milk also provides vitamins, when it is applied to the skin, it becomes a natural hydrant. It contains lactic acid that increases the production of collagen and elasticity.
Ingredients
1 tablespoon of baking soda (10 g)
1 tablespoon of milk (10 ml)
Preparation
In a small bowl, mix the baking soda with milk until you have a paste.
Apply to your face, massing it in small circles until it is completely covered and let sit for 10 minutes.
After 1o minutes, rinse well with cold and warm water.
4. Olive oil and baking soda
In this case, baking soda will work to remove annoying blemishes since it contains antibacterial substances.
Olive oil is a great element for exfoliation because it's a product that's rich in antioxidants, fatty acids, and minerals that hydrate and regenerate the skin.
Ingredients
1 tablespoon of baking soda (10 g)
A tablespoon of olive oil (16 g)
1 tablespoon of warm water (10 g)
Preparation
Add the baking soda and olive oil to a bowl. Mix for a few seconds.
Then, add the water and mix until you have a paste.
Apply to your face by massaging it in circles and cover your entire face.
Finally, rinse well with warm water.
5. Vinegar, lemon, and baking soda
The combination of these ingredients makes a natural exfoliant that leaves your skin soft and smooth. This is particularly thanks to the lemon, because it works to diminish the appearance of blemishes, scars, and it gives your skin the brightness it needs.
However, you have to be careful when using lemons because they can produce an adverse effect, especially when exposed to the sun.
Apple cider vinegar contains alpha-hydroxy acids that work to eliminate dead skin and oils caused by dehydration, poor diet, and a lack of vitamins, and it balances your pH levels.
Baking soda also has astringent properties that eliminate bacteria and dead cells.
Ingredients
1 tablespoon of apple cider vinegar (10 ml)
1/2 cup of water (100 ml)
1 tablespoon of baking soda (10 g)
juice from 1/2 lemon
1 tablespoon of honey (25 g)
Preparation
Dilute the apple cider vinegar with the water.
In another glass, add the baking soda and then slowly add the apple cider vinegar and water mixture.
Squeeze half of a lemon and then add the juice to the mixture.
Lastly, add the tablespoon of honey and mix well until you have a paste.
Apply to your face evenly and wait 5-10 minutes.
Rinse well with warm water and then a bit of cold water to close your pores.
Overall, baking soda is a natural remedy. It's easy to prepare, is always within reach and, above all else, is one of the best beauty products!
The only thing you have to do is choose which of these exfoliants is the most convenient for you.
So, which one are you going to start with?