5 Tricks to Fold Clothing and Have More Space in Your Wardrobe
Good organization is essential to achieve an orderly closet in which we can find the different clothes that we need without spending more time than necessary.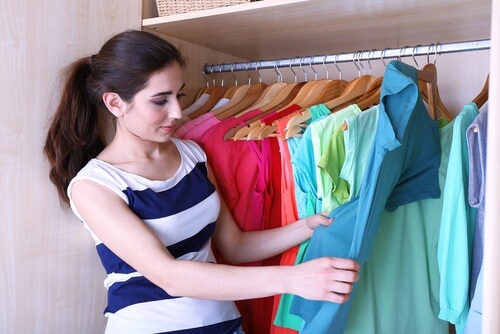 To use the space in your closet much better, it's essential to know how to fold clothing correctly.
The problem begins when we accumulate clothes that we don't use. Then, everything becomes disorganized, making it difficult to maintain order.
Today, we're going to recommend a list of ideas and tips so that the work will be easier for you. This way, you can fold your clothes properly and get more space in your closet.
Tips to organize and get more space in your closet
1. Roll up your shirts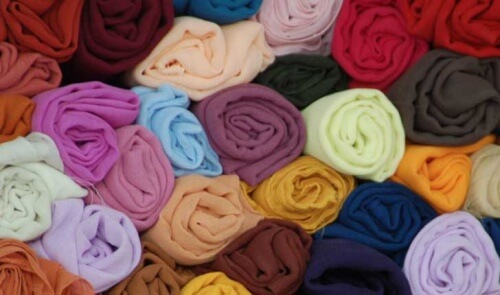 Instead of folding them into rectangles, if you roll your shirts, you will save a lot of space in your wardrobe and you can fit more things.
Remember that, in general, this garment does not wrinkle.
2. Hang scarves or kerchiefs on hangers
By doing it this way, you'll find them more easily and occupy less space. After all, scarves and kerchiefs are fine and delicate.
They're easier to see when hanging, so it will be easier to identify them!
3. When folding bedding, put all the pieces of a set in a pillowcase
This is a great idea since it will be very neat and folded.
This way, you make sure that everything is together in its place for each set of sheets.
4. Use small boxes to organize your underwear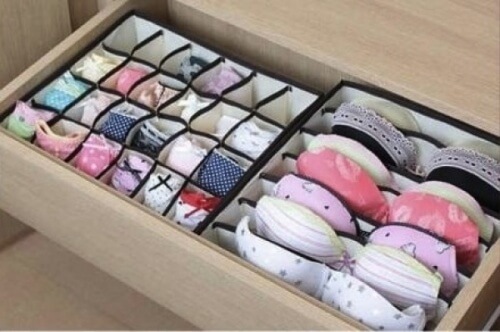 In addition, you can also acquire organizers. This way, you'll separate the sets and avoid spending time every day searching for a specific bra or piece of underwear.
You can also take advantage of them to hold stockings or pantyhose in one of the compartments. It's a great way to make your life easier!
5. Buy a wardrobe with divisions
An organized closet is much more efficient and functional, and lessens the tension every day when you have to fold clothing.
After all, who would want to open their closet and find a horrible pile of clothes, shoes, accessories, and other messy things? This can increase your anxiety and make it even more difficult to find what you need. Plus, it's waste of time and energy.
The maintenance of an organized closet requires planning and strategy.
You have to establish good habits and maintain order so that folding your clothes is an efficient job and you have much more space available in your closet.
Other ideas to get more closet space
Remove garments and items that you don't use: To make your life easier, it's important to get rid of shoes, accessories and other objects that take up space but you no longer need.Donating them is a great idea, and you'll get a lot of room in the closet.
Adding shelves can increase space: For your accessories or shoes, and make it easier to maintain an order and that way it will be much faster and easier to find them.
Use hooks and hangers: It helps to organize things better and, when hanging clothes, they occupy less space hung than folded.
Place shoes in organizers: Opt for organizers that hang behind the door. Otherwise, they can occupy more than half of your closet. You can also place them in boxes under the bed. When you take out the shoes, you will save more space, they will be more ordered and they will be easier to find.
Place bags and suitcases on the top shelves. Also do this for purses and high heels, which take up a lot of space if you put them on the floor of the closet.
Only put seasonal clothes in the closet: Keep the others in boxes and keep them closed. That way, you'll avoid taking up space with clothing that you won't use.
Get organized!
It's important to dedicate your time and have a basic level of organization. You'll notice that the effort is not so great, and the reward is enormous.
Just think that, whenever you want to look for a garment, you will easily find it and you will not be looking for hours and riffling through the entire closet unsuccessfully.
However, don't forget that some garments are more delicate or need special care.
If they wrinkle a lot or stay all crumpled up, it's difficult for them to look good later. They stretch, they become deformed, they take on a musty smell in the closet … All because of not being folded correctly.
If you follow the tips, you'll be taking care of your clothes, your wallet, your time and your space.
Having everything organized and in its place will make your life easier, and you won't waste time every time you look for something in your closet!