5 Tips for Taking Care of your Bike
Taking care of your bike is essential if you want it to have a long life. Today, we'll share some tips to help you keep it in great condition.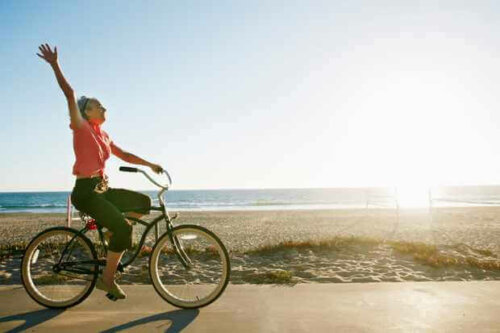 Biking is a great way to get around the city without polluting the air. It's a wonderful form of exercise, and it's something fun to do in our free time. Since we use bikes so often, it's important to ensure you're taking good care of your bike. They require strict care to stay in optimal condition. In today's article, we'll share some tips for taking care of your bike so you can maintain it.
To make sure that each part of your bike stays in proper condition, and that you can use your bike as long as possible, it's necessary to take care of it. Also, taking care of your bike will help you avoid accidents or irreversible damage. 
Plus, you must keep your bike in a moisture-free space that's free of dust. 
1. Taking care of your bike means keeping it clean and dry
It's common for bikes to come in contact with dirt, mud, grass, and other things that will get them dirty. Because of that, it's essential to clean them so you can avoid residue accumulation. 
Wash the frame and wheels
The first step is to spray the frame with a low-pressure hose.
Then, you should remove the wheels and clean them thoroughly. After you take them off, you can use a soapy solution and a toothbrush to remove any dirt from the hub, spokes, and rim.
The final step is to use a clean towel to dry each piece that you washed. In addition, you'll need to reassemble the bike and leave it in a well-ventilated place. This will evaporate any of the remaining moisture.
Wash the handlebars, seat, and brakes
You can clean these three parts of the bicycle with water and soap. Try to find a soap that will remove large amounts of grease. 
Then, all you'll have to do is use a sponge to scrub the different parts of the bike. After you clean those areas, you'll need to dry them with a clean towel. 
Wash the chains and sprockets when taking care of your bike
First, you'll want to use a brush to apply a degreaser to the chain and sprockets. In addition, it's important to move the pedals so the degreaser will get into all the teeth of the chain.
Then, leave the degreaser on for about 10 minutes so it can break down the stubborn dirt. After that, you should rinse it with hot, soapy water. That will help remove any remaining residue.
2. Lubricate if necessary
When it comes to taking care of your bike, you may need to use lubricants. They keep your bike parts oiled up and will keep them from getting stuck. For this reason, you should apply a lubricant to your chains. That will keep your pedaling comfortable, easy and it won't create any strange sounds.
In addition, it's important to lubricate your brakes so they don't stiffen. That will ensure they can stop your bike immediately and you can safely control your bike. Also, lubricant is very useful in preventing your seat from rusting.
You should spray the lubricant directly onto the chain while pedaling backward. That will ensure all of the teeth are greased. Additionally, you should use a towel to clean off any excess oil so it doesn't drip.
Lubricants also prevent grime from building up. You should also note that you need to use these oils after doing a detailed cleaning of your bike. 
3. Check your brakes
You should always check your brakes. It's important to ensure they have the power to stop your bike when necessary.
Here are some steps you can take to evaluate and maintain your bike's brakes:
Check the brake pads
When you're checking your brake pads, you're looking to see if the elements that allow your bike to brake are in good condition. While doing so, you'll need to use a wrench to remove the springs and bolts. 
If any of the elements are cracked, you'll need to install new ones. To do so, you need to place the new elements in the mental base of each brake pad. You need to install it in a way that won't disrupt the wheel's movement and adjust it.
Check and adjust the wiring
You need to check that the cables aren't loose, that they're in the right position, and that they aren't covered in dirt. In addition, you should check if the brake wiring slides without problem or if you should add some lubricant to it.
Also, you'll want to check to see if the cable is well-adjusted and that the handle doesn't come in contact with the rudder. Ideally, your bike will pick up the signal immediately and will brake as quickly as possible. 
If any of these problems occur, you'll need to remove the cable, remove any dirt, and then reinstall it.
4. Check your tires when taking care of your bike
It's very important to check how much air is in your tires before each bike ride. The best way to do this is to use a tire gauge to see if both your tires have the same pressure level. 
In addition, you'll want to check the conditions of your rim. If they're in bad shape, your tires may sag under your weight or wear out after a short period of time. Also, you should check each wheel to see if they're punctured or have any leaks.  
5. When to do bike maintenance for taking care of your bike
Although you can indeed keep your bike in great condition on your own, you may want to consider getting professional help. If you choose to do so, you'll want to visit the bike specialist at least once every 2 months. 
An expert will help you identify if there are any issues or if a part needs to be adjusted. In addition, the specialist may share some new tips with you for taking care of your bike and extending its life.
Taking care of your bike may also require painting it
Before you start painting your bike, you'll need to disassemble it. That way, you can work on each part in detail. When doing so, it's very important to save the screws and to remember where each part goes.
Then, you'll need to remove the paint that's in poor condition. To do so, you should use a fine sandpaper and scrape the old paint until there's no trace of it. Also, before you apply the new paint, you should apply a degreaser.
Once you've cleaned and dried the whole frame, you can start applying the new paint with a brush or from a spray can. It's important to use paint that's resistant to different weather conditions and to apply several coats.
Finally, let each part of the bike dry. Then, reassemble your bike once it's fully dry and it's time to roll!
It might interest you...