5 Healthy Spinach Recipes to Enjoy Every Day
You can eat spinach raw, which makes it a perfect ingredient for a salad, but it might also be just the touch that your soups needed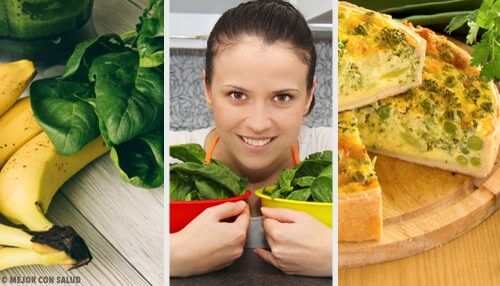 Spinach recipes offer a healthy serving of greens. After all, spinach is a vegetable that people grow for its leaves, which are nutritious and delicious. Spinach leaves contain water, vitamins, and carbohydrates.
That's why we're sharing 5 spinach recipes that contains antioxidants. Spinach is rich in vitamins A and C and fiber, particularly in the area around the stems. Also, it contains minerals.
Spinach recipes even provide calories and healthy fats.
There are two main types of spinach that are grown today: the summer variety with smooth seeds and the winter variety, which has thorny seeds and more lobed leaves.
And, thanks to these two varieties, you can enjoy spinach recipes all year round.
Benefits of Spinach Recipes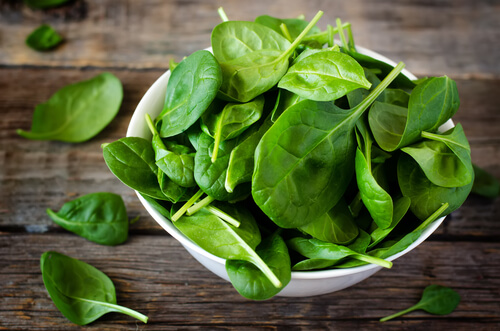 Improves the transport of oxygen from your lungs to the rest of your body.
Increases your muscular strength.
Helps you lose weight, thanks to its low caloric content and high concentration of nutrients.
Improves intestinal function.
Provides you with energy.
Reduces your risk of cardiovascular disease, thanks to its antioxidants.
Contains large quantities of folic acid.
Improves your vision.
Helps stabilize blood pressure, thanks to magnesium and potassium.
Read also: 8 foods to avoid for a healthy liver
So, why are you waiting to add spinach to your diet? You'll love the following recipes!
Creamed spinach
If you don't have a lot of time to prepare a meal, this recipe is an excellent option.
Basically, creamed spinach is not only easy to make, but also rich and nutritious.
Ingredients
1 onion
1 bunch of spinach
2 tablespoons of butter (40 g)
5 cups of chicken broth (1250 ml)
1 cup of cream cheese (200 g)
Salt and pepper (to taste)
Preparation
Chop the onion into small pieces.
Add the butter to a pan along with the onion.
When the onion is lightly browned, add the washed spinach. Cook until it takes on a dark green color.
Next, add the mixture to a blender along with the chicken broth and cream cheese. Process for a few minutes.
Add salt and pepper to taste.
Finally, bring to a boil on low heat and simmer for five minutes.
Spinach and surimi salad
This salad is nutritious and diuretic. After all, it contains fiber and very few calories. Also, it helps keep your body hydrated.
Ingredients
5 bunches of spinach
3 bars of surimi (imitation crab meat)
1/2 cup of cream cheese (100 g)
1 mango
1 tablespoon of sesame seeds (10 g)
Preparation
Wash the spinach and set aside.
Cut the mango into small cubes. Chop the spinach and crab meat.
Mix all the ingredients together.
Sprinkle the sesame seeds on top and serve.
Spinach quiche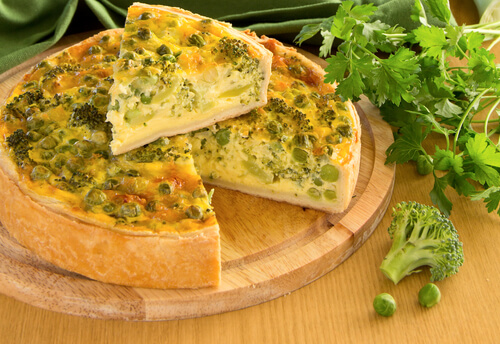 Who doesn't love a quiche? Even the mini ones will win you over. So, with this recipe, you won't even realize that you're eating vegetables.
Ingredients
For the crust:
2 cups of flour (250 g)
1 cup of butter (200 g)
1 large egg
2 tablespoons of cold water 920 ml)
A pinch of salt
2 tablespoons of olive oil (32 g)
For the filling:
Spinach (500 g)
¾ cup of cream cheese (150 g)
2 large eggs and one yolk
3 Greek yogurt cups (375 ml)
1 tablespoon of Parmesan cheese (15 g)
½ cup of feta cheese (100 g)
10 cherry tomatoes
Salt and pepper (to taste)
Preparation
First, pass the flour through a colander and add the salt.
Then add the butter with your fingers to give texture.
Next, add the egg yolk and water to begin kneading.
Preheat the oven to 350 ° F.
Wrap the crust in plastic wrap and place it in the refrigerator for one hour.
Next, line a pie mold with oil and press in the dough.
Cover with aluminum foil and bake for 15 minutes.
Remove the aluminum foil, pour in the whipped egg white and reduce the temperature to 325 ºF.
For the filling
First wash the spinach.
Then beat the cream cheese.
Mix the cream cheese with the 2 eggs and yolk.
Then add the Greek yogurt and Parmesan cheese.
Stir in the salt and pepper to taste.
Add the spinach and pour the mixture over the crust.
Then cut the feta into small pieces and chop the cherry tomatoes in half.
Sprinkle feta cheese and tomatoes on top.
Finally, bake for 30 minutes and enjoy this delicious dish.
We recommend: 7 reasons to eat spinach every day
Spinach gratin
Gratin allows your dish to brown a little on the surface for a unique texture. You can combine it with spinach juice for the best results.
Ingredients
2 bunches of spinach
2 tomatoes
1/4 onion
2 cloves of garlic
1/2 cup of asadero cheese (100 g)
1 cube of tomato broth
1/2 cup of water (125 ml)
1 tablespoon of olive oil (15 g)
Preparation
First you should blend the tomato and the onion.
Add a clove of garlic, the tomato and onion mixture, and form a broth.
Next add the olive oil to a pan and chop the remaining garlic clove.
Sautee this mixture for four minutes, add the tomato broth, and simmer for five minutes.
Pour the sauce into a bowl with the spinach and cheese.
In a baking dish, layer the spinach, cheese, and sauce.
Cover with foil and heat until the cheese is melted.
Finally, serve with rice, if desired.
Banana and spinach smoothie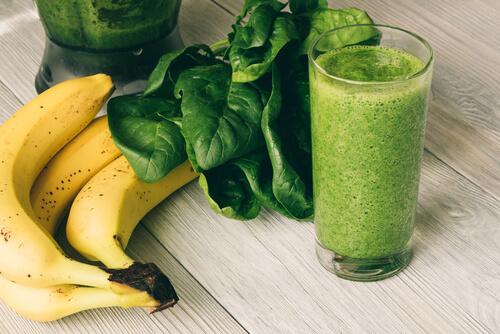 Smoothies are a great way to start your day and have energy for your activities. Also, they improve digestion and help detox your body.
Ingredients
1 banana
2 bunches of spinach
1 cup of almond milk (250 ml)
1 tablespoon of honey (25 g)
8 ice cubes
Preparation
Add the banana and spinach to your blender, along with the almond milk.
Then add the spoonful of honey.
Process until you have a thick, creamy mixture.
Finally, add the ice cubes and serve.
Are you ready to impress your guests with your fresh new spinach recipes?