5 simple braids that will make you look gorgeous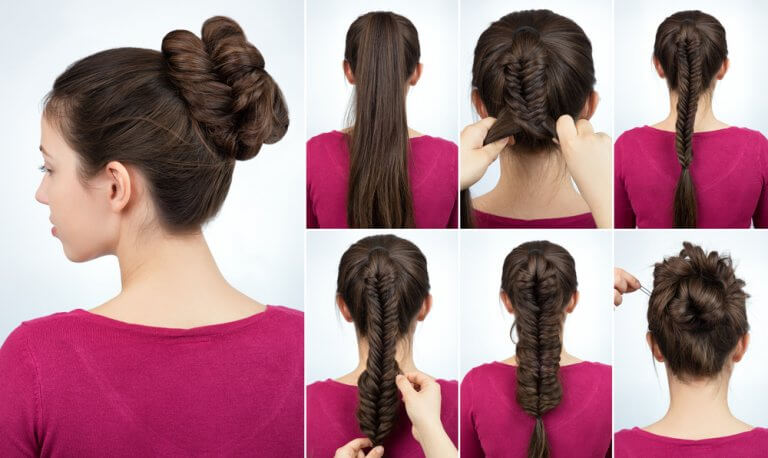 Braids are still in style. It doesn't matter if you have short or long hair; these styles will give you a beautiful new look.
Braids that will make you look gorgeous and save you time
After you see these braids, you're going to want to wear a new one every day. Especially since they don't take any more than five minutes of your time and go great for any occasion — even a night in.
They're also perfect with accessories like those headbands and hats you've been you're dying to wear. Braid styles vary quite a bit, and the overall how they look do too. They range from a care-free side braid to a sophisticated fishtail wound up into a beautiful bun.
Braids are such a good way to freshen up your appearance and look stylish without having to cut your hair. Without further ado, here are 5 simple braids that you'll see are both gorgeous and easy to do. They won't take up much time and we promise you don't need to be an expert to do them!
5 simple braids
1. Ponytail braid
Brush your hair well until it's completely untangled. Put it up into a ponytail on the back of your hair, but leave a section out. Braid the section then wrap it around your ponytail, covering up the hair tie. Add a little hair accessory to make it look even prettier if you like!
2. Waterfall braid
Brush your hair well until it's completely untangled. Make a deep section, and on the side with more hair separate it into three pieces. Braid the three pieces, adding a bit of hair each time from the rest of your hair.
As you do, make sure the hair is going around your head, almost diagonally. Don't drop your hands during the process. Once you've gotten as far as you'd like to go, finish with a regular braid and tie it off.
3. Double braids
This style goes really well with a pretty headband or hat, and it's ready in only 3 minutes. Part your hair and braid each half, going to about half the length before ending it with a ponytail. The result will be two loose, relaxed braids that will make your hair look beautiful.
4. Elegant braid bun
Brush your hair well until it's completely untangled. Put all but one small piece up into a high ponytail. Twist the ponytail up around the hair tie, forming a bun. Use bobby pins to keep it in place. Then braid the piece you left out and wrap it around the base of the bun.
5. Braid updo
There are a lot of ways to do this one. For example, when you're in a rush, you can just braid two small pieces and then pull them up with the rest of your hair.
If you have a bit more time, braid half the length of your hair and then pull it up with the two pieces you already have braided. If you want to wear it for a special occasion, you could also add a braided crown.
Tips to take into consideration
Change your look
A problem of people who cut their hair have is thinking they are not being able to braid it anymore. Most people just end up leaving it straightened and, frankly, boring.
Look beautiful
Change it up and give yourself gorgeous, unique braids that will make you stand out. It doesn't matter if your hair is short or long; there are braids for all types of hair.
For short hair
If you have short hair and don't know any kind of braid that will go good with your hair, you're in the right place! Just pull half your hair up into a braid. Put it in a some curls in the half that you leave down, and you're set.
Did you know?
Braids weren't just common in medieval times but they were an elegant hair style in the Romantic era as well. Big designers of yesterday used them to show off their new collections. Today's designers love them too, and maybe that's why they're still fashionable.
It might interest you...