5 Remedies To Help You Regulate High Cholesterol
High cholesterol levels increase the risk of serious cardiovascular diseases. Because of this, we're proposing some natural remedies to reduce your cholesterol to normal levels.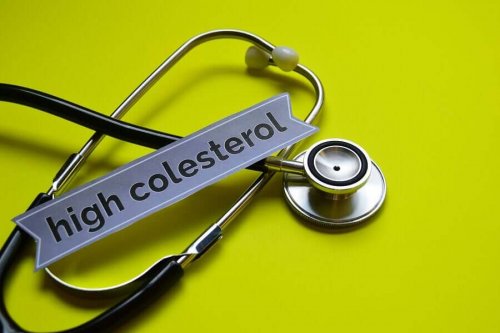 Cholesterol is a fatty substance naturally produced in the liver. In a certain amount, your body uses it to form cell membranes and to produce hormones. However, high levels of cholesterol can cause serious complications. So how can you regulate high cholesterol?
In the majority of cases, high levels of cholesterol don't cause visible symptoms. Because of this, many people have labeled it "the silent killer." This is because, without timely treatment, it can cause heart attacks, strokes, and other serious risks.
Natural remedies to regulate high cholesterol
Natural remedies to regulate high cholesterol are made with medicinal plants and spices that promote the reduction of cholesterol. However, research about their effects is limited in comparison with conventional or pharmacological treatments.
So, although you should keep these options in mind when you make your plan to regulate high cholesterol, they shouldn't replace medicines prescribed by your doctor. 
On the other hand, it's very important to consult your doctor about their safety, since some of these remedies can interact with certain medicines or have contraindications.
1. Astragalus
Astragalus (Astragalus propinquus) is a popular herb used in traditional Chinese medicine. It's frequently used to boost the immune system and prevent infections. On the other hand, some studies suggest that it could benefit your cardiac health by reducing cholesterol levels. 
How to use it:
First, combine a tablespoon of powdered atragalus root with a glass of warm water
Next, drink the liquid on an empty stomach.
Drink it at least three times a week.
2. Flax seeds
Flax seeds have become popular recently because of their interesting health benefits. Thanks to their healthy essential fatty acids and alpha-linolenic acid (ALA), they can help prevent cardiovascular diseases. If you want to regulate high cholesterol, this is a good option.
How to use them:
You can include them in dozens of recipes, including salads and smoothies.
Another option is to soak them in water: let them soak for a few hours, and then add lemon juice to them.
Drink it on an empty stomach or mid-morning every day.
3. Garlic to regulate your cholesterol
One of the best natural allies to regulate high cholesterol is the prodigious garlic. This bulb contains allicin and antioxidant compounds that help to decompose the lipids that stay in your arteries. 
In fact, it reduces blood pressure and slows the advance of atherosclerosis.
How to eat it:
First, mince a clove of raw garlic.
Then, mix it with a tablespoon of lemon juice.
Consume this on an empty stomach every morning.
4. Artichokes help regulate high cholesterol
Artichokes have important benefits for your body. They not only contribute to healthy weight loss, but they also promote the expulsion of toxins and regulate high cholesterol.
In fact, they're one of the most used tools to help liver functioning. 
How to use them?
You can make many recipes with artichokes. However, if you want to use them medicinally, it's better to make them into a tea.
To do this, pour a few tablespoons of dry artichoke leaves in a liter of water.
Then, let the water boil for several minutes and let it sit after that.
Later, once the water is warm, strain it and drink it.
Drink 2 or 3 cups a day before your main meals.
Do this treatment for 15 days.
Warnings: Don't consume this remedy if you have obstructions in your bile ducts, during pregnancy, or while nursing.
5. Yerba mate
Yerba mate is a medicinal plant that stands out for its powerful antioxidant effects. Thanks to this, drinking a yerba mate tea helps to regulate high cholesterol. 
In fact, its extracts block the absorption of cholesterol in the intestine, which keeps it from building up in the body.
How to use it:
To start, add three teaspoons of the plant to half a liter of boiling water.
Next, cover the tea and let it sit.
Once it cools down a little, filter it with a strainer and drink it.
Drink 2 cups a day for 15 days. Take a break for a week, and then resume the treatment.
Warnings: Don't consume yerba mate if you have anxiety, insomnia, uncontrolled hypertension, and nervous system problems.
Have you had tests that show high levels of cholesterol?
Follow your doctor's recommendations and complement the treatment with these natural remedies. Make sure to schedule regular checkups to keep an eye on your cholesterol levels.
It might interest you...