5 Recipes from the Mediterranean Diet to Help You Lose Weight
The main benefit of the Mediterranean diet is its high content of healthy fats from olive oil and other foods rich in omega 3 and 6. Discover some recipes for your diet here!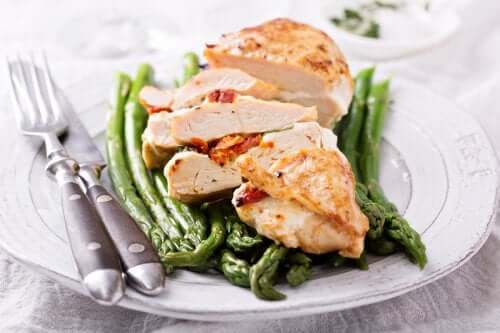 The Mediterranean diet has one of the best selections and a variety of food in the world. It also includes delicious dishes that you can easily prepare at home.
This diet includes all types of food, prioritizing the intake of complex carbohydrates and fruit and vegetables. By following it, you can help to reduce cholesterol in the blood, which will help in the fight against cardiovascular diseases.
The main benefit of this diet is its excellent content of healthy fats from olive oil and other foods rich in fatty acids such as Omega 3 and 6. Also, it ensures the contribution of other essential nutrients. Find out more about it.
Would you like to learn how to make some recipes from the Mediterranean diet, which will also help you to lose weight?
If that's the case, then read on!
What are the benefits of the Mediterranean diet?
The Mediterranean diet is a dietary pattern belonging to Mediterranean countries such as Spain, Portugal, France, Italy, Greece, and Malta. It boasts food from all the main food groups – food that should be present to ensure that you have a varied, balanced, and healthy diet.
Any diet aims to include the correct amounts of each nutrient. The food pyramid is a concept that can help us categorize all food types and help us know how to consume them. This is what it tells us:
Olive oil is fundamental in Mediterranean gastronomy
Eat seasonal food, not frozen food
Carbohydrates come from grains such as rice, pasta, and bread (a fundamental product)
Five pieces of fruit and vegetables a day are essential – fresh fruit as a dessert shouldn't be forgotten!
Dairy products are essential: they include skimmed milk, soft cheeses, and natural yogurt
Four eggs on average per week are a vital nutrient supply for health, as are blue and white fish and white meat
Avoid excess animal fat, red meat, and sweets
Natural mineral water is vital for life: two liters (about 8 glasses) of water a day is the average per person, but this amount varies according to age, weight, and other parameters
Avoid additives such as salt or sugar
Use natural herbs and spices for seasoning
Supplement your diet with exercise every day
Does it help to lose weight?
Unlike other eating habits, the Mediterranean diet really can help us to live well. It isn't aggressive and has no nutritional deficiencies. You won't lose weight quickly, but if you stick to the right amounts of food and do exercise daily, you won't only lose weight, but you'll also benefit your heart.
This diet doesn't mean that you'll lose five pounds in a few days, as the pineapple or artichoke diets claim to do. However, it will help you maintain your body mass index at the recommended average, as well as enabling you to enjoy delicious, varied meals. This is something that requires training, and your body will be grateful!
However, the Mediterranean diet does often contain one aspect which could be detrimental to weight loss. It includes wine as one of its recommended foods. An article published in the Journal of the American College of Cardiology advises against drinking alcohol in any of its forms. This element increases the risk of disease and can cause an increase in body weight.
Recipes from the Mediterranean diet that can help you lose weight
Below you'll find 5 typical dishes from Mediterranean cuisine which, thanks to their ingredients, could help you lose weight. They're simple to prepare, as well as nutritious. You can try them out, not only to lose weight but also to get out of the routine and improve your health.
1. Curried marinated tuna
To escape from monotony, it's always good to try out new or unusual flavors in your recipes from the Mediterranean diet. Tuna marinated in curry spices and seasoned with sesame or other seeds can be an unusual dish that retains the lightness we're often looking for.
2. Seafood and fish kebabs
The Mediterranean diet proposes a series of protein-based dinners (without vegetables or other carbohydrate foods) to help you lose weight during the first weeks of the diet. Fish and seafood kebabs, seasoned with spices, lemon or garlic, and parsley can be a good option to escape from the routine.
3. Chicken stuffed with asparagus, spinach, and whipped cream cheese
Chicken stuffed with vegetables and whipped cream cheese is another one of our recipes from the Mediterranean diet. It's also a healthy and delicious way to break from the routine of the typical grilled steak.
To prepare it, you just have to grill the chicken and roll it around the vegetables and cream cheese. Five minutes in the oven and you'll have a tasty, healthy meal.
4. Salmon en papillote
Salmon is usually one of the most recurrent types of fish in any healthy diet. It has excellent properties, is very rich in fatty acids, and has an exquisite taste. A delicious light meal, but with all the above benefits, is salmon en papillote, served on a base of courgette, green asparagus, and leeks, and with a touch of white wine.
5. Fresh green bean salad
Another problem we often encounter with weight-loss diets is a lack of ideas for cooking vegetables in a tasty way. This salad is ideal for taking to work or eating out. Cooked tuna, turkey breast, and egg whites will provide the protein you need!
In addition to these dishes from the Mediterranean diet that we've mentioned, there are many other delicious and healthy options – now that we've started you off, don't stop looking for other recipes!
Balance is important in the Mediterranean diet
Although the Mediterranean diet can be beneficial for your health, it's important to respect the caloric balance. We mustn't exceed the recommended quantities, so as not to fall into a hypercaloric plan that leads to weight gain.
Remember that gaining or losing weight has a lot to do with the calories you eat and the calories you burn. Besides, overweight is related to many different diseases, according to a study published in 2016. For this reason, it's essential to adjust the caloric balance of your diet.
Accompanying the Mediterranean diet with regular physical exercise is an excellent way to help improve health and stay in good shape.
It might interest you...