5 Reasons to Celebrate a Couple's Anniversary
We don't always celebrate our couple's anniversary, either due to lack of time or lack of motivation. However, dedicating a day to celebrate love has several benefits. We'll tell you all about them here!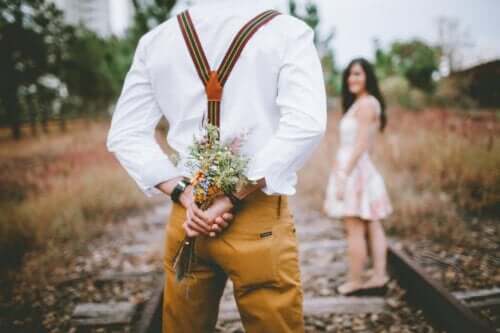 Some people may not think celebrating a couple's anniversary is all that important.
On a social level, it's common to celebrate important dates, such as birthdays or Christmas. These moments offer us the perfect excuse to get together with our loved ones, take stock of recent times, and even close cycles and open new ones. Celebrating a couple's anniversary allows us to go through these same processes, but focused on the affective bond we share.
Indeed, we won't have the same desire or availability to celebrate our anniversary every year. In addition, it's also undeniable that we don't all attach the same value to this type of event, although participating in rituals has positive effects.
However, it's important to take a break from the daily routine to celebrate the renewal of love. Here are the reasons why.
1. Exclusive time together
When relationships are prolonged over time, it's common to find that time together is reduced. Work obligations, children, and accumulated fatigue cause many couples to abandon the healthy habit of spending quality time together and fall into a routine.
Although once a year is clearly not enough, an anniversary is an ideal date to disconnect from the rest and offer exclusive dedication to our special someone.
Deep conversations, shared laughter, complicit glances… all these small gestures help to reinforce intimacy and aren't always present in everyday life.
2. It lets you go back to the beginning
Dedicating a day or an evening to celebrate the anniversary will make you recall those first months of dating. The illusion of the first date and the first kiss will return.
You'll be able to remember all the reasons that made love arise. In addition, reminiscing and reliving it together will awaken that magic that seems to be forgotten in everyday life.
3. Encourage reflection on your relationship
In addition to remembering the past, celebrating the anniversary helps us think about the relationship and the progress that we've made. In addition, you can become aware of the greater understanding, complicity, and commitment you now enjoy.
You'll clearly see all the positive and negative events you've gone through together during the past year. You'll also evaluate how you have grown and transformed.
4. It helps you remember the value of a partner
Immersed in the day-to-day, many times we forget to feel grateful for having such a deep and meaningful bond as the one we have with our partner. So this special occasion helps us to be aware of this great value, of all that it brings us, of the importance it has.
It allows us to stop and remember its virtues. It encourages us to see with renewed eyes all that we take for granted, but which undoubtedly contributes to our happiness.
5. It creates new memories
Memories are what shape a couple's identity; they're all those shared moments that strengthen the sense of unity, teamwork, and common history. Anniversaries become, without a doubt, one of the most special memories because of their great emotional charge.
For the same reason, they contribute to increasing that photographic album of the mind that houses the happiest and most significant moments of our life.
Ideas to celebrate the couple's anniversary
There are many reasons to celebrate the anniversary, but which way to go? Some couples prefer to follow a ritual and do the same activity every year, while others like to vary. If this is your case, we propose some alternatives.
A romantic dinner is a go-to option for a couple's anniversary
This is the most popular alternative. You don't need anything more than the company of your loved one, an intimate atmosphere, and an appetizing meal to celebrate love. Whether you go to a restaurant or prefer to cook at home, chatting by candlelight with a glass of wine will be fantastic.
A weekend getaway
There's nothing like a trip to get away from the routine, forget the daily obligations, and focus the couple's attention. A rural house, a nearby village, or a beautiful historic center can become the perfect setting for this celebration.
Exploring an unknown environment hand in hand will allow you to forge unforgettable memories.
Adventure activities are great for a couple's anniversary
Scuba diving, skydiving, a hot air balloon ride, a horseback ride… there are many original activities to share. Let your adventurous side come out and try something different!
A party
Sharing happiness with our loved ones makes it multiply. So why not organize a gathering with family and friends in honor of the bond?
In addition, the people who have seen you grow as a couple will be delighted to share such a special moment, tell stories and recall the most important events.
Celebrate a couple's anniversary for fun
In conclusion, celebrating the anniversary should be a source of pleasure and happiness, not an obligation. If planning the celebration causes stress, when discussions arise or it's done automatically, you have to stop and reevaluate.
However, if conditions aren't right, there's no need for a big celebration. A handwritten letter or a shared breakfast in bed may suffice. The only important thing is that you both enjoy this symbolic act of celebrating a love that's celebrating another year.
It might interest you...