5 Natural Smoothies that Help Regulate Your Digestion
To regulate your digestion, besides adding these smoothies to your routine, it's a good idea to increase the number of natural products that are rich in fiber and drink a lot of water between meals.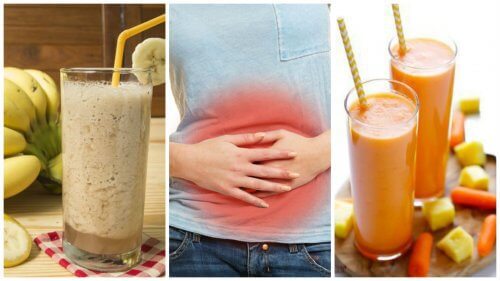 Digestion is defined as a group of processes that happen in your body. Their goal is to absorb nutrients and get rid of unhelpful compounds.
However, sometimes your body has difficulty carrying out these processes normally. This causes a series of symptoms that make your health worse.
Slow digestion, or dyspepsia, is one of the most common digestive system diseases. Even though it affects everyone differently, it's characterized by the inability to pass stool normally.
Also, it usually comes with other discomforts. These include the feeling of fullness, gas, and abdominal inflammation.
This isn't a severe health problem. However, it's always recommended that you pay close attention. This way, it won't cause other kinds of complications.
Fortunately, there are 100% natural methods to "jump start" your digestive system and make it run smoothly. These work without causing secondary effects.
Among them, we find some delicious homemade smoothies. Their properties encourage digestion and intestinal movement.
Give them a shot!
1. Banana and yogurt smoothie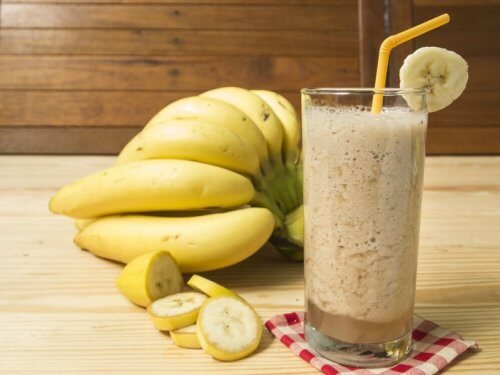 This delicious drink is made with very beneficial ingredients for your digestive health.
On the one hand, bananas help to regulate your stomach's pH levels. This way, you can control your abdominal pain.
On the other hand, natural yogurt has probiotic compounds that help protect the bacterial flora in your intestines. This makes it work without a problem.
Ingredients
1 ripe banana
A cup of yogurt
1 slice of ginger (optional)
Instructions
Cut the banana in several pieces. Then, blend it in the blender with the yogurt and slice of ginger.
Blend it until you get a smooth drink. Then, drink it before your meal.
2. Papaya and oat smoothie
Papaya is one of the most recommended fruits for fighting slow digestions. It also eliminates toxins and relieves inflammation.
It has digestive enzymes that encourage the destruction of heavy substances that usually stay stuck in your digestive tract.
For this, we suggest that you combine it with oat milk and flaxseed oil. These are two ingredients that are rich in fiber and encourage intestinal movement.
Ingredients
3 rounds of papaya
1 tablespoon of flaxseed oil
A cup of oat milk
1 teaspoon of honey
Instructions
Add all the ingredients in the blender. Blend them until you get a smooth and creamy drink.
Drink it for breakfast during the week. Or, you can also drink it after a heavy meal.
3. Pineapple and coconut milk smoothie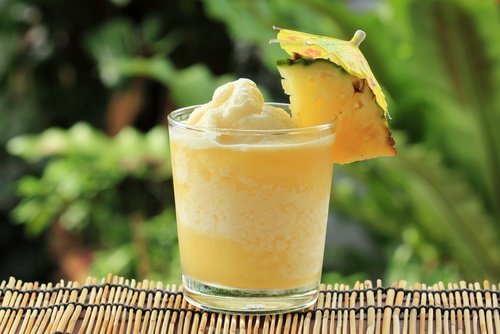 This tropical smoothie has an enzyme called bromelain. Its effects in your body encourage digestion. It also balances your inflammatory processes.
This smoothie's combination of ingredients relieves slow digestion. It also helps with slow metabolisms and the accumulation of toxins and liquids.
Ingredients
3 ripe pineapple rings
1 teaspoon of powdered ginger
1 cup of coconut milk
2 tablespoons of coconut cream
Instructions
Put all of the ingredients in the blender. Then, blend them for a couple minutes.
After getting a creamy drink, drink it immediately so it doesn't lose any of its properties.
Try to drink it for breakfast at least once per week.
4. Pineapple, papaya, and avocado smoothie
This delicious drink not only fights slow digestion. It also gives you extra energy. This gives your body an optimal amount of physical and mental function during the day.
Its ingredients give you significant amounts of fiber, antioxidants, and other essential nutrients. These support your digestive and intestinal function.
Ingredients
3 pineapple rounds
1/2 ripe avocado
A half cup of coconut water
1/2 cup of water
3 sprigs of fresh parsley
1 teaspoon of ginger
1/2 banana
Instructions
Add all of the ingredients to the blender. Blend at full speed until you get a creamy drink without lumps.
Drink it for breakfast or as part of your breakfast.
Drink it for a week straight.
5. Pineapple, carrot, and apple smoothie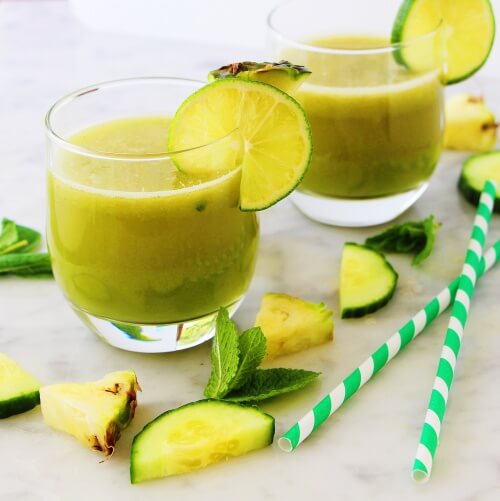 The properties in this smoothie contribute to slow intestinal movement relief. They also reduce inflammation and gas.
It has digestive enzymes and antioxidants. These diminish the accumulation of waste substances in your intestine.
Ingredients
1 celery stalk
A lime
1 pineapple ring
2 carrots
1 green apple
1/2 a cup of water
Instructions
Prepare all of the ingredients. Then, put them all in the blender and blend them with a half a cup of water.
Blend it for a couple minutes until you get a smooth drink.
Drink it for breakfast at least three times per week.
Choose the recipe that looks the best to you. Drink it regularly to support your digestive processes.
Remember, you should keep in mind that you need to improve your dietary habits to get the best results.