5 Natural Eye Creams for Healthy Skin
In order to protect the skin around our eyes, it's essential that we provide them with daily care and nutrients that prevent tissue from losing prematurely losing elasticity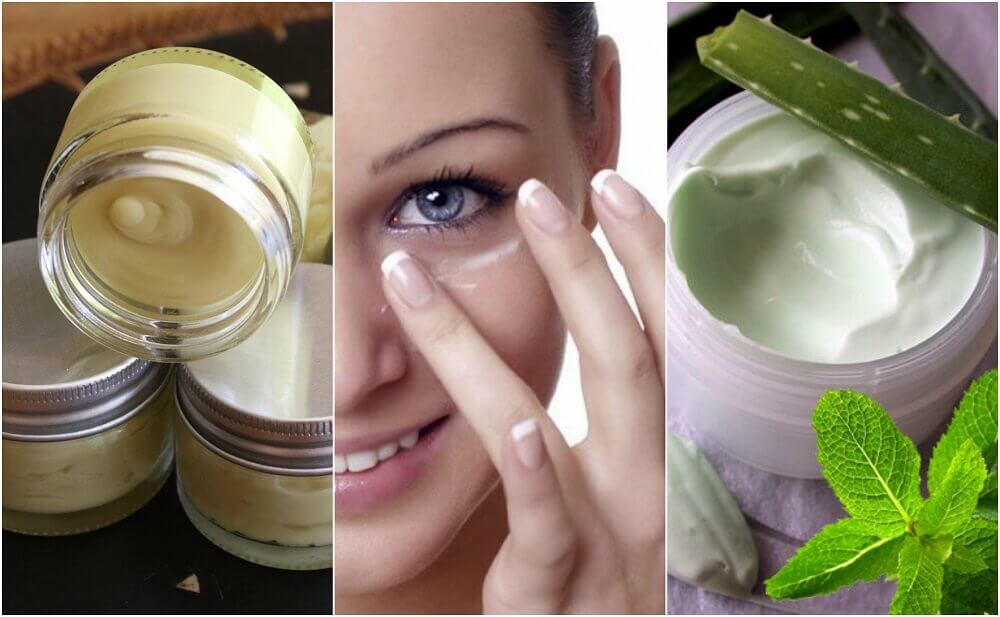 Taking care of the skin surrounding our eyes has turned into a must in
beauty routines
. Fortunately,
there are also 100% natural alternatives that can give us excellent results
.
While you might need to invest some time into preparing them, they use economical ingredients and don't have side-effects.
Further below, we'd like to share 5 fabulous recipes so that you can make the most of their anti-aging properties.
1. Aloe vera and grape seed eye cream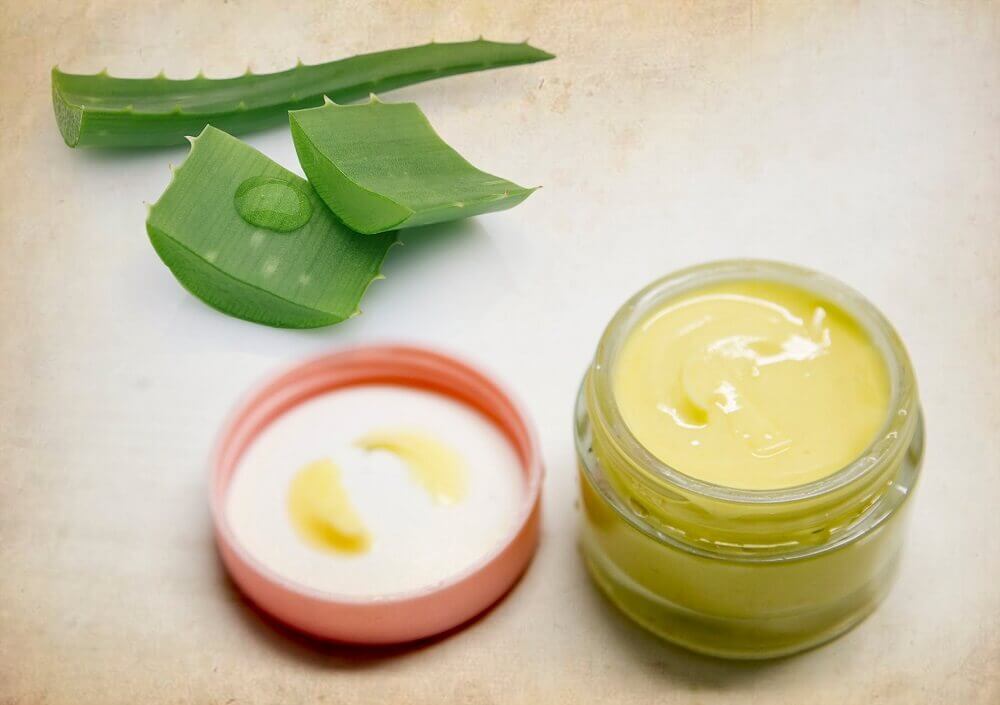 This simple cream has antioxidant properties that help regenerate skin cells, helping prevent them from prematurely deteriorating.
Using this aloe vera and grape seed oil cream will stimulate collagen production and prevent fine lines in the eye areas.
Ingredients
3 tablespoons of aloe vera gel (45 g)
1 teaspoons of grape seed oil (5 g)
Preperation
Put the aloe vera gel in a bowl and mix it with the grape seed oil.
Application
At night, after washing your face, rub the cream into the skin around your eyes.
Massage the area for a couple of minutes until the cream is completely absorbed.
Repeat every day.
Want to know more? Read: 8 Foods to Replenish Collagen
2. Cacao butter and olive oil eye cream
The skin around our eyes is very thin and doesn't have many sebaceous glands. So, in order to prevent it from wrinkling ahead of its time, we need to provide it with the nutrients that can keep it hydrated.
This cream concentrates fatty acids, vitamin E and amino acids that nurture tissue on a deeper level. Use it if you want to keep this area firm and elastic.
Ingredients
2 tablespoons of cacao butter (40 g)
2 tablespoons of olive oil (32 g)
Preparation
Put the cacao butter in a heat-resistant bowl and heat it up in a double boiler.
When it's melted, reduce to low-heat and add the olive oil.
Mix the ingredients well and leave to cool at room temperature.
Application
Once the cream has solidified, take a small amount using your fingertips and massage it into the desired area.
Use every night before sleeping.
3. Yogurt and green tea eye cream
The lactic acid that's found in yogurt keeps skin pH levels balanced. At the same time, it reduces the appearance of marks or spots and prevents tissue from losing its elasticity too soon.
In this recipe, we've heightened its properties by adding the antioxidant powers of green tea, which is a healthy ingredient that keeps skin young and radiant.
Ingredients
¼ cup of natural yogurt (50 g)
3 tablespoons of brewed green tea (45 ml)
Preparation
Put the natural yogurt in a glass jar and mix it together with the green tea.
Leave it in the fridge and use it when it's thoroughly chilled.
Application
Rub the cream in the entire area surrounding the eyes.
Leave it on for 20 minutes and after, remove with a wet cloth.
Store the remainder in the fridge and use it every night.
4. Potato and petroleum jelly eye cream
The refreshing power of potato juice unites with the healthy fats of petroleum jelly to provide us with an anti-inflammatory and moisturizing eye cream.
Applying this cream reduces the appearance of bags— two imperfections that age the area around our eyes.
Ingredients
3 tablespoons of grated potato (45 g)
1 tablespoon of petroleum jelly (20 g)
Preparation
Put the ingredients into a bowl and mix until a thick paste forms.
Application
Massage the cream onto the desired area.
Leave it on for 30 minutes and wash off the excess with warm water.
Use it at least 3 times a week.
Visit this article: 6 Natural Methods to Reduce Eye Bags
5. Apple and honey eye cream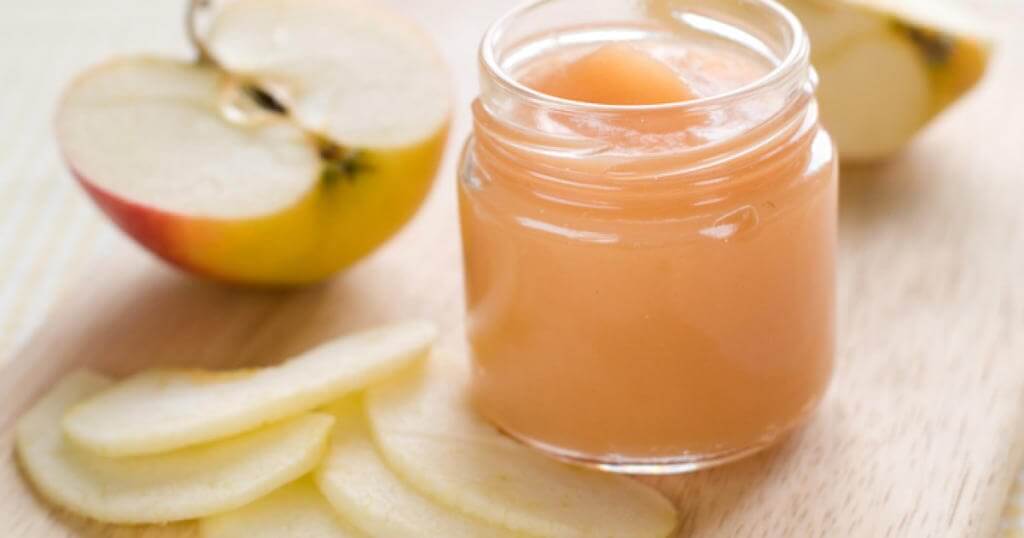 Apples contain tannic acid, which is a lightening agent that reduces the presence of bags.
By combining the apple's properties with those of the organic honey, we can make a moisturizing eye cream to protect the delicate skin in the eye zone.
Ingredients
1 ripe apple
3 tablespoons of honey (75 g)
Preparation
Boil a ripe apple and and blend it until it has the consistency of applesauce.
Mix it with the honey and store it in an air-tight container.
Application
Spread the cream onto the skin around the eyes and leave on for 30 minutes.
Store the remaining cream in the fridge.
After 30 minutes pass, wash off the cream with warm water.
Use 2 or 3 times a week.
Want to avoid the feared "crow's feet"? Are you worried about losing your skin's firmness? Try any one of these recommended eye creams and experience their benefits for yourself.