5 Key Tips for Getting Firm, Toned Arms
It's important that you combine physical exercise with a balanced diet and consistency to get those firm, toned arms of your dreams.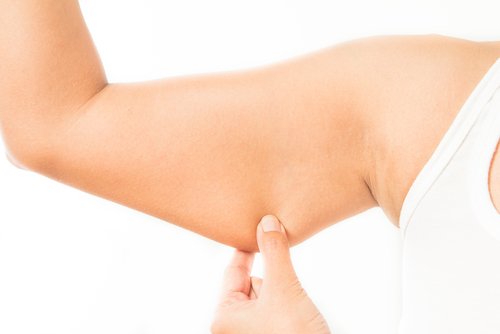 For a lot of people, especially women, their arms are one of the most problematic areas of the body because in addition to building up fat, they tend to lose their firmness and leave you with a flabby appearance.
The problem becomes worse after age 30, when muscle mass begins to decrease and you have more difficulty metabolizing fatty tissue.
If you add the loss of elasticity to your skin problems, you find that this cosmetic problem is really difficult to resolve.
The good news is that it's not hopeless, and with some effort you can get firm and toned arms.
Do not miss the top 5 tips to give them that look you so desire.
1. Burn fat for toned arms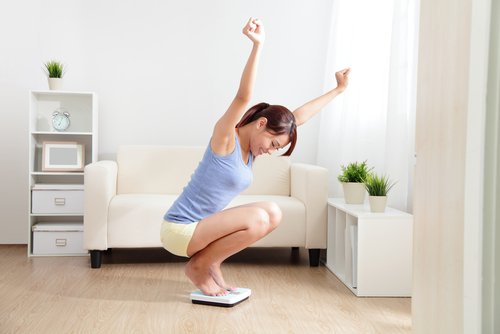 In order to fight localized fat in the arms it's essential that you activate your entire body and reduce your overall weight.
Because it's not possible to eliminate fat from a single place, look for methods to decrease the numbers of calories and fat without doing more than what you need to for your health.
Cardiovascular exercise and keeping a balanced diet are essential for fighting excess fat.
It's also important to avoid the popular "miracle diets" because they lack nutrients—while they help you lose weight, they tend to lead to the loss of muscle mass.
A good solution is to decrease the number of calories in each meal you eat during the day, known as portion control.
See also: Massages to eliminate cellulite
2. Increase your energy expenditures
Daily physical exercise is one of the best ways to burn calories, improve your health and get toned arms.
This habit increases your energy expenditure, lowers cholesterol levels, and helps keep your blood pressure stable.
You should get at least 20 minutes of exercise a day, at least four times a week.
A good choice for those who don't have a lot of extra time is to go for a brisk walk or use a stationary bike.
3. Take care of your diet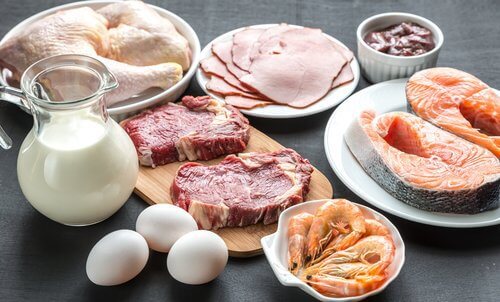 Continuing with the benefits of a good diet for fat loss, we need to make special mention of certain foods that you should eliminate from your diet:
Refined sugars
Flour
Alcohol
Sodas
Fast food
Cured meats
These foods not only increase the accumulation of fat, but are also responsible for the slowing of your metabolism, fluid retention, and inflammation.
Instead you should increase your intake of sources of high quality protein, such as:
Fish
Chicken breast
Turkey
Legumes
Cheese
Eggs
You should also prioritize the consumption of fresh fruits and vegetables, and remember to drink plenty of water and healthy liquids.
4. Do toning exercises
Doing daily exercises to tone your arms will help you strengthen muscle mass and reduce sagging skin.
It's ideal to find a routine that works all the parts of your body in one session, but there are also exercises tailored to work the arms.
Pushups help exercise the chest, for example, but they also engage your triceps to strengthen them.
You can do squats with dumbells or combine cardio with weight lifting, as well.
Regardless of what you choose, it's important that you do so gradually, especially if your body isn't used to it. Working too hard can lead to injury.
See also: Ice therapy for toning and weight loss
5. Skin care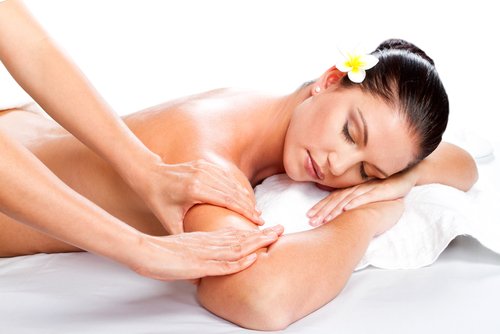 Cold showers and massages with firming products are a great way to get and maintain toned arms.
Both stimulate circulation in this region, supplying it with oxygen and nutrients that you need for cellular activity.
A 15 to 20 minute massage using oil or a moisturizer can stimulate your lymphatic system, reducing toxins and eliminating that annoying cellulite.
How do you make a homemade firming cream?
You don't have to break the bank on commercially available firming creams. Try this simple recipe made with organic ingredients.
Ingredients
1 cup of shea butter (225 g)
3 tablespoons of grapefruit oil (45 g)
3 tablespoons of walnut oil (45 g)
5 tablespoons of mint alcohol (50 ml)
Instructions
Put all the ingredients except the alcohol in a hot water bath or double boiler and leave for 10 minutes over low heat until well blended.
Allow it to cool slightly, add the mentholated alcohol, and store it in an airtight glass jar.
Use the amount you need to massage your arms, rubbing in a circular motion.
Use this every night.
Note that none of these tips will work by themselves or have immediate effects. To have firm and toned arms you need to be consistent with each recommendation, and have patience to see the results.