Five Juices that Help Eliminate Kidney Stones
Keeping hydrated is essential for eliminating kidney stones more easily.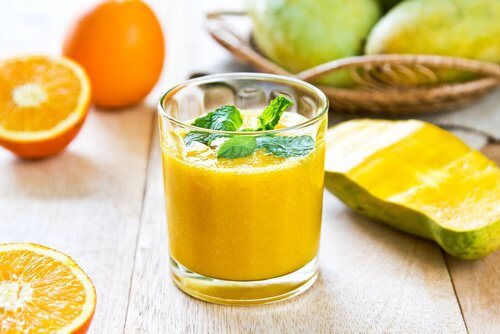 To eliminate kidney stones, it's vital that you follow your doctor's instructions. At the same time, you must take steps to improve your lifestyle habits – especially when it comes to diet and hydration.
According to experts at the NIH, a doctor may prescribe one course of treatment or another, depending on the type of kidney stones. In some cases, it may be necessary to resort to certain medications, while increasing the intake of water and diuretics. In other cases, it may be best to eliminate kidney stones using procedures such as:
Shockwave lithotripsy.
Cystoscopy and ureteroscopy.
Percutaneous nephrolithotomy.
Juices to help eliminate kidney stones
The following drinks can be used to supplement your diet and help you avoid resorting to sodas and sports drinks, which are often rich in sugar and sodium.
Grapefruit Juice and Aloe to Help You Eliminate Kidney Stones
This recipe was published in 2003 in the book The Science Principles and Practices of Herbal Medicine, as a good remedy for eliminating kidney stones.
While it's not 100% effective, this hydrating drink can help keep your hydration levels up, and stimulate urination.
Ingredients
Aloe vera gel (30 g)
The juice of 2 or 3 grapefruits
Honey (optional)
How do you make it?
Extract the aloe vera gel and blend it with half a glass of grapefruit juice.
Blend for a few minutes until smooth.
Drink immediately. If you want, you can also add a touch of honey. 
Mango, Cantaloupe, Orange, and Grapefruit Juice
Ingredients
1/2 mango
1/4 cantaloupe
The juice of 1 orange and 1 grapefruit
How do you make it?
Wash and peel all the fruit. Extract the seeds and discard.
Squeeze the orange and the grapefruit to obtain the juice.
Place everything in a blender and blend until well-mixed.
Drink immediately.
Carrot, Apple, Orange, and Cucumber Juice
Ingredients
1 cucumber
4 carrots
2 apples
The juice of 1 orange
Optional: 2 cloves of garlic
How do you make it?
Wash, peel and cut the fruit into slices (or cubes, depending on your preference) and then place everything in a blender.
Blend them for a few minutes.
If the mixture seems too thick, you can add a little water.
Drink in moderation. 
Blueberry and lemon juice
Ingredients
1 cup of water (125 ml)
1 glass of blueberry juice (250 ml)
3 tablespoons of lemon juice (15 ml)
How to prepare it?
Mix all the ingredients in a blender.
Drink this juice as part of a snack or with breakfast.
Pineapple Juice
Ingredients
1 pineapple, cut into pieces
1 cup of rice milk (250 ml)
How do you make it?
Cut the pineapple into small pieces.
Blend until the desired consistency is achieved.
Drink immediately.
If you want the drink to be a little thicker, add more pineapple than milk, or add a few tablespoons of oatmeal. 
Conclusion
Drinking enough fluid every day is undoubtedly the best way to prevent kidney stones from forming. So, stay hydrated everyone!
To eliminate kidney stones, it's incredibly important to make drinking water your top priority, as it can provide numerous health benefits.
Consuming these juices should always be considered a secondary measure. It should also be noted that it's essential to avoid drinking soft drinks and drinks containing caffeine, as they can have an impact on renal health.
And finally, keep in mind that it's best not to add sugar or other sweeteners to your drinks. Try to enjoy the fresh, natural taste of the food.
It might interest you...