5 Homemade Creams that Reduce Laugh Lines
To get the best results when it comes to reducing laugh lines, use these creams at night. This way their active ingredients work while you rest.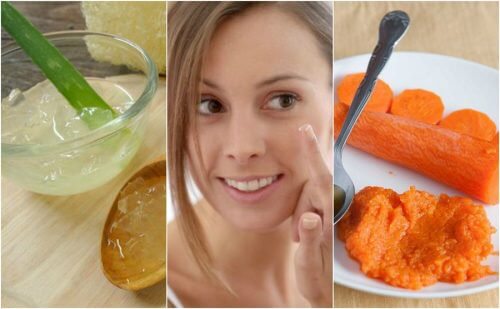 Laugh lines are thin wrinkles that appear in several places on your face. They are due to the repetitive movement of your facial muscles.
They appear when your levels of collagen and elastin are reduced. These substances are in charge of keeping your skin firm during your youth.
This is one of the first signs of aging. Even though they can be caused prematurely because of lack of care and prolonged exposure to the sun.
These are harmless and they can be hidden with makeup and cosmetics. However, many people try to treat them so they don't look older before their time.
Luckily, besides expensive commercial products, there are homemade creams. Made with natural ingredients, these help you to reduce the appearance of these wrinkles.
In this article, we want to share 5 easy recipes. This way you won't wait to add them to your regular beauty routine.
1. Homemade carrot and yogurt cream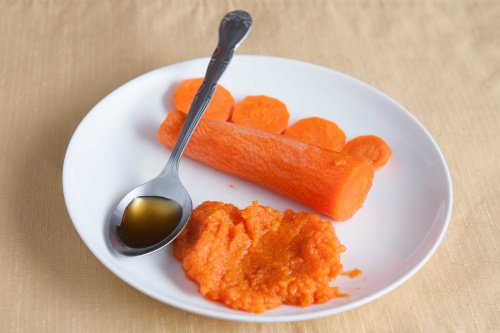 This cream is rich in vitamin C, beta-carotene, and lactic acid. This makes an effective solution for fighting fine lines that reflect your age.
Their nutrients firm your skin tissues again. And, they help to increase the synthesis of collagen and elastin.
Ingredients
1 carrot
5 tablespoons of natural yogurt
1 tablespoon of lemon juice.
Instructions
Peel the carrot and cut it into several slices. Then, blend it in your blender with the yogurt and the lemon juice.
Be sure that you get a smooth cream without any lumps.
How to use it
At night, after taking off your makeup, apply this cream on your laugh lines and sensitive areas of your face.
Let it work for 30 minutes. Then, rinse it off with warm water.
Repeat this treatment every night before going to bed.
2. Cucumber, aloe vera, and coconut oil cream
The refreshing cucumber, aloe vera, and coconut oil cream is a firming and reparative formula. It helps to reduce laugh lines while it feeds your skin's cells.
It's rich in antioxidants, water, and natural fibers. This makes it a natural product that counteracts the negative effects of the sun and toxins.
Ingredients
½ cucumber
5 tablespoons of aloe vera gel
2 tablespoons of organic coconut oil
Instructions
Blend half of the cucumber, skinned. Then, mix it with the aloe vera gel and the coconut oil.
How to use it
Rub the cream on your face and let it work for 40 minutes.
Rinse and repeat this treatment at least 3 times per week.
3. Parsley, honey, and lemon cream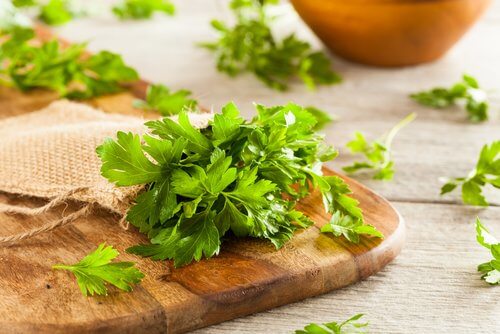 A nightly parsley cream is a natural formula that reduces the appearance of fine lines and dark spots.
Its high content of phytochemicals and organic acids regulates your skin's pH level. It also reduces the loss of collagen.
Ingredients
3 sprigs of parsley
5 tablespoons of honey
2 tablespoons of lemon juice
Instructions
Crush the sprigs of parsley and mix them with the honey and lemon juice.
How to use it
Rub the cream on the areas where fine lines are forming. Let it work for 20 minutes.
Rinse with warm water and repeat its use every two days.
Remember that you should only use it at night.
4. Honey and egg white cream
This natural honey and egg cream can help to reduce the appearance of fine lines and signs of aging. This is thanks to its ability to tone and revitalize.
Its compounds hydrate your cells. They also stimulate the regeneration of tissues that the sun has deteriorated.
Ingredients
5 tablespoons of honey
1 egg white
Instructions
Mix the honey with the egg whites. Beat them until they are mixed well.
How to use it
Clean your face and apply the cream until it makes a mask.
Let it work for 30 minutes and rinse it off with warm water.
Use it at least 3 times per week.
5. Papaya, oat, and avocado oil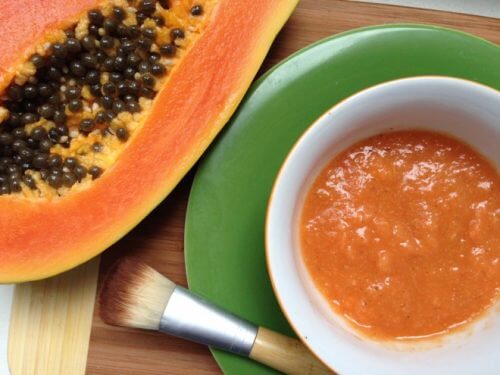 This homemade cream combines ingredients that are rich in vitamin E, enzymes, and fatty acids. These help to stop the loss of your skin's nutrients. This prevents the appearance of laugh lines and wrinkles.
Ingredients
2 slices of papaya
1 tablespoon of oat flour
3 tablespoons of avocado oil
Instructions
Add all of the ingredients in your blender. Blend them until you get a creamy paste.
How to use it
Rub this cream all over your face and let it work for 40 minutes.
Rinse it off and use it 2 or 3 times per week.
Are you worried about suffering from this sign of aging too soon? Be sure to feed your skin on a regular basis using any of the treatments listed above.