5 Home Remedies to Fight Facial Sagging
Even if your skin isn't showing any of the signs of aging, you should still start using these treatments for softer, smoother skin.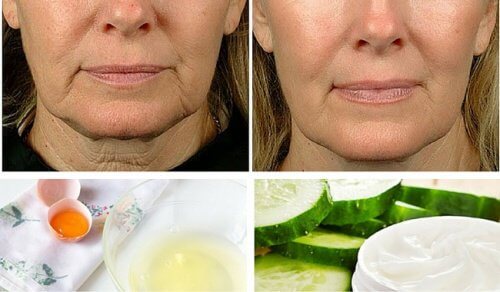 A youthful, firm face is the result of a few habits and beauty secrets that keep the skin well nourished and healthy.
Facial sagging is an unsightly problem that causes premature wrinkling, which could indicate a possible nutrient deficiency or a lack of adequate protection against the harmful effects of the sun and environmental toxins.
You may not be aware of this, but the elastin and collagen in the face are strongly affected by dehydration, the damaging effects of UV rays and particles in the environment that are invisible to the naked eye.
In addition, the biological changes of aging weaken the facial muscles, and little by little, the skin loses the firmness it once had in youth.
Fortunately, there are many cosmetic products and treatments currently available that nourish the skin to reduce facial sagging and prevent the signs of aging from appearing.
There are also several home remedies that we can prepare with completely natural and economic ingredients.
Are you ready to give them a try?
1. Egg whites for fighting facial sagging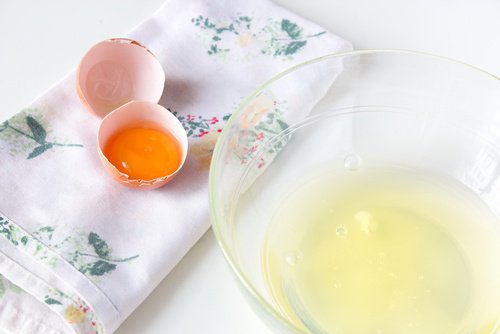 Egg whites are one of the best natural astringents which makes them an excellent solution to treat excess flab and sagging skin.
The hydrolipids in egg whites deeply nourish the layers of the skin and prevent collagen and elastin loss.
Ingredients
2 egg whites
1 tablespoon natural yogurt
Directions
Beat the egg whites and combine them with the natural yogurt.
Cleanse the areas you would like to treat, then apply a thin layer of the mixture.
Let dry for 30 minutes before rinsing.
Use three times weekly.
See also: Tone Skin with This Egg White and Orange Peel Treatment
2. Aloe vera
The gel of the aloe vera plant is one of the best ingredients for tightening loose, dehydrated skin.
It contains significant quantities of malic acid to combat premature aging and reduce minor imperfections like blemishes, scars and wrinkles.
Ingredients
1 tablespoon aloe vera gel
1 tablespoon coconut oil
1 tablespoon honey
Directions
Mix the aloe vera, coconut oil and honey in a bowl.
Once you have a smooth paste, apply to face and let work for 20 minutes.
Rinse with cold water.
Repeat treatment every two days.
3. Cucumber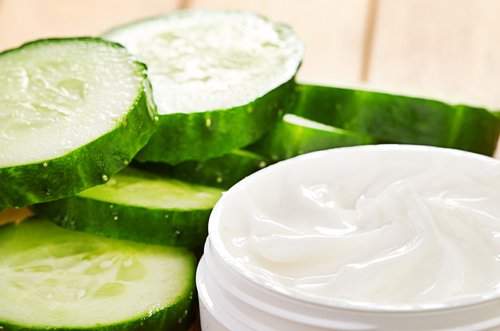 Cucumber is composed of more than 90% water and protective antioxidants. Using it on the skin has a refreshing and rejuvenating effect that prevents premature wrinkling.
It acts as a natural tonic, ideal for toning loose, sagging skin. It also reduces excess fat and helps remove dead cells.
Ingredients
½ fresh cucumber
1 tablespoon sour cream
Directions
Take half a cucumber and squeeze the fresh juice through a colander.
Mix with the tablespoon of sour cream to form a thick paste.
Apply the product to the entire face, and if desired, the neck and chest too.
Let work for 15 minutes, then rinse with warm water.
Repeat two to three times a week.
4. Honey
Pure honey is a powerful natural moisturizer that benefits both dry and oily skin types.
Its high content of antioxidants, vitamins and minerals make it one of your best allies in fighting sagging and premature wrinkling.
Ingredients
8 teaspoons honey
The juice from ¼ of a lemon
2 tablespoons olive oil
Directions
Mix the honey and fresh lemon juice in a bowl with the olive oil.
Apply the product to the entire fact and let dry before rinsing with plenty of warm water.
Repeat the treatment every night for at least two weeks.
5. Rose water
Rose water is a natural tonic that reduces facial sagging and treats other aesthetic problems like black heads, excess sebum or the accumulation of dead cells.
Ingredients
¼ cup rose water
1 teaspoon lemon juice
1 tablespoon witch hazel
You should read: Natural Remedies for Blackheads, Warts and Blemishes
Directions
Mix all the ingredients together in a closed container.
Soak a cotton ball in the solution and apply to the face and chest every evening.
Repeat application daily as a part of your beauty routine.
Even if your skin isn't showing any signs of aging, you should start using these treatments to prevent sagging skin.
Choose one that appeals to you and use it regularly to take advantage of its amazing benefits.