5 Homemade Treatments to Reduce Acne Scars
The combination of grapes and vitamin E in the same mask provides multiple nutrients and has regenerative properties to help reduce marks left by acne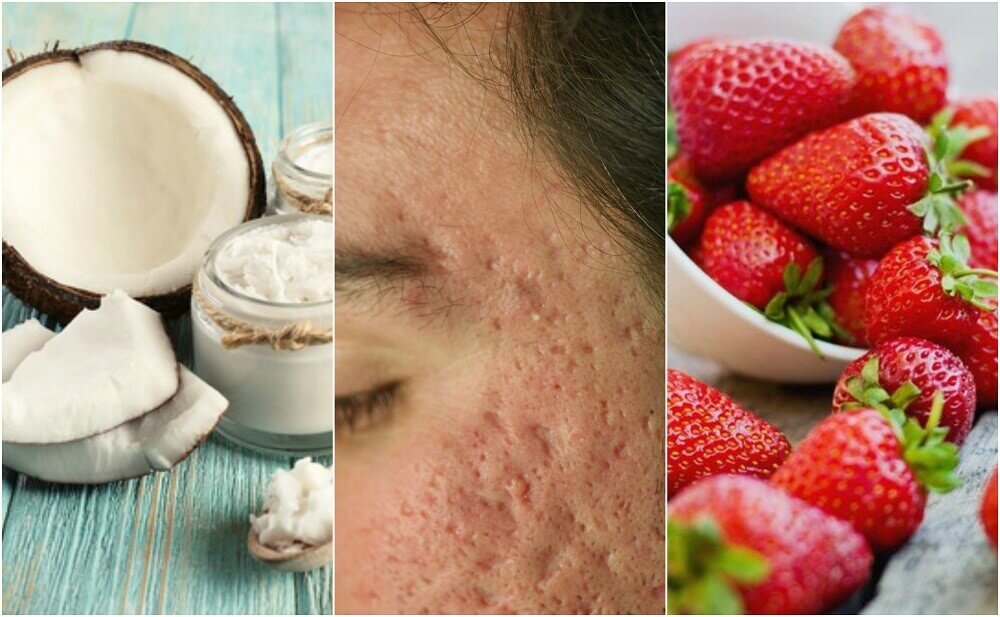 Bad treatment of chronic acne can lead to the appearance of unsightly acne scars. Although you can disguise them with makeup, they are difficult to get rid of.
The bad habit of popping pimples or using inappropriate chemicals causes damage to the tissue and lasting marks.
The problem is that many people think that these habits are harmless and, by ignoring them, they deteriorate your skin until the imperfections are obvious.
While there are many cosmetic products to counteract this, some are not very effective or can give bad reactions to certain people.
Fortunately, there are several home-made treatments,made from natural ingredients that nourish and regenerate your skin to minimize these marks.
In this article, we'll share the best 5 recipes you're sure to include in your beauty routine.
Take note!
1. Banana and honey
Because of the vitamins and natural enzymes it contains, this banana and honey mask helps to regenerate skin cells and minimize the appearance of the scars left by acne.
Ingredients
1 ripe banana
2 tbsps. of honey (50 g)
Preparation
Crush a ripe banana and mix it with the honey.
Application
Spread the mask over the desired areas and leave it to act for 30 minutes.
Rinse with warm water and repeat this at least 3 times a week.
2. Grapes and vitamin E oil
Grapes contain an anti-oxidant known as resveratrol that, as well reducing scars, nourishes cells to prevent premature aging.
In this case, we enhance it with vitamin E oil, an ingredient recognized for its healing and regenerating powers.
Ingredients
6 ripe grapes
1 capsule of vitamin E
Preparation
Crush the grapes in the blender and, after obtaining a paste, mix it with the contents of a vitamin E capsule.
Application
Apply the mask all over your face, or in any area where you have acne scars.
Let it act for 30 to 40 minutes and rinse.
Use it at least 3 times a week to get good results.
2. Papaya and natural yogurt
You might think this sounds like a dessert…However, this mixture of papaya with natural yogurt is a homemade cream that can be used as treatment against scars and blemishes that remain after suffering from acne.
Ingredients
2 slices of ripe papaya
3 tbsps. of plain yogurt (60 g)
Preparation
Crush the slices of papaya and mix with the plain yogurt.
Application
Clean your face and apply the treatment, focusing on the affected areas.
Leave it on for 30 minutes and rinse.
Repeat its use at least 3 times a week.
4. Coconut oil and sea salt
A natural exfoliant made from coconut oil and sea salt will give your skin important nutrients to aid the regeneration process.
It has anti-microbial and astringent compounds which clean the pores and eliminate the bacteria that cause acne.
Ingredients
2 tbsps. of organic coconut oil (30 g)
1 tbsp. sea salt (10 g)
Preparation
Add the coconut oil and mix it with a spoonful of sea salt, until you get a granulated paste.
Application
Rub the treatment on the skin, making gentle circular movements for 2 or 3 minutes.
Leave the product to act for 20 minutes and rinse.
Repeat this twice a week.
5. Strawberries and olive oil
By mixing the anti-oxidants of strawberries with the fatty acids of olive oil, you get a moisturizing and regenerating treatment which is ideal for repairing damaged and sensitive skin.
Its compounds nourish the tissues in depth and help to strengthen the fibers during the healing process.
Ingredients
3 ripe strawberries
1 tbsp. of olive oil (16 g)
Preparation
Crush the ripe strawberries with the help of a fork and, after obtaining a paste, mix them with the olive oil.
Application
Spread the mask over the areas of skin you want to treat and let it act for 30 minutes.
Rinse with cold water and repeat this 3 to 4 times a week.
Does your skin look damaged after suffering from acne? Do you notice spots or scars? Go ahead and try any of the treatments mentioned and deal with these imperfections as soon as possible.
Keep in mind that the results will not be immediate. The nutrients help repair the tissues little by little.
It might interest you...