Five of the Healthiest Foods to Prevent Diseases
Did you know that there are certain foods that can help prevent diseases? In this article, we'll take a look at five of the healthiest foods for your body.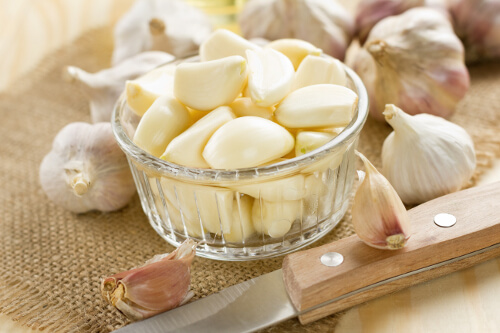 Did you know that there are certain foods that, thanks to their medicinal properties, can help prevent diseases? These are everyday foods that offer amazing benefits for our health. However, we often forget to include them in our diet. In this article, we'll take a look at five of the healthiest foods to prevent diseases so you can start adding them to your diet today!
Five of the Healthiest Foods to Prevent Diseases
1. Garlic: One of the Healthiest Foods
According to many studies, garlic is one of the vegetables with the greatest amount of medicinal and curative properties. After all, garlic has a purifying, disinfecting, and antibacterial effect. Plus, it also effectively intervenes in the relief in blood changes.
You can use garlic both externally or internally whether you suffer from an existing disease or would like to prevent one.
Overall, it's commonly used for…
Diabetes
Diarrhea or intestinal colic
Improving appetite and helping with digestion
Fighting liver disease
Treating respiratory track infections
Preventing or treating contagious infections
Eliminating parasites.
A healthy garlic treatment involves eating it on an empty stomach everyday.  However, if your breath or stomach can't handle it, then eat it in moderation or opt for a pill or power form instead.
2. Oats
Oats are carbohydrates generally known as a grain. They're similar to wheat. For this reason, many people believe that oats cause weight gain, but that's not true. On the contrary, oats contribute to the proper functioning of your body in many ways.
Oats have a lot of fiber. Therefore, they help your digestive system to function better. In addition, they help lower unhealthy cholesterol levels and stabilize blood sugar levels.
You can eat oats however you like, although it's best to eat the flakes. However, it's up to you if you like it only with milk or if you want to add other ingredients.
You can eat a bowl of oats a day.
3. Nuts
Nuts are a great complement for your meals and your daily activities.
It's common to get a craving for sweets at certain times of the day. However, eating sweets does not give your body the proper nutrients, because sweets don't contain vitamins or minerals and only fill you up with calories. In fact, they can even be harmful, and may even cause diabetes.
For this reason, we recommend that you switch out sweets for nuts. Besides being a delicious snack or dessert, nuts are very healthy, contain little sugar, and are rich in minerals, fiber, and energy.
4. Dark Chocolate
There's nothing more delightful than enjoying a piece of chocolate. However, believe it or not, delight isn't the only thing that chocolate offers you.
According to various studies, dark chocolate can help protect you from blood clots and reduce your risk of contracting heart disease. 
That said, it's best to eat organic dark chocolate that's free from added milk and sugar. 
5. Tomatoes
Tomatoes have a particular characteristic: they're great for your skin. However, besides that, they also offer countless other benefits that make them one of the healthiest foods for preventing diseases.
Thanks to their vitamin K content and action in the blood, tomatoes can help prevent hemorrhages. Plus, they also have a purifying and cleansing function for the blood.
Tomatoes can act as a laxative and are beneficial for combating obesity and liver disorders.
In order to take advantage of their benefits, it's best to eat natural (raw) tomatoes and try to include them in your meals.
It might interest you...