5 Easy and Nutritious Desserts. Try Them!
Since these desserts are made with natural ingredients, they're great for people who want to watch their weight and calories.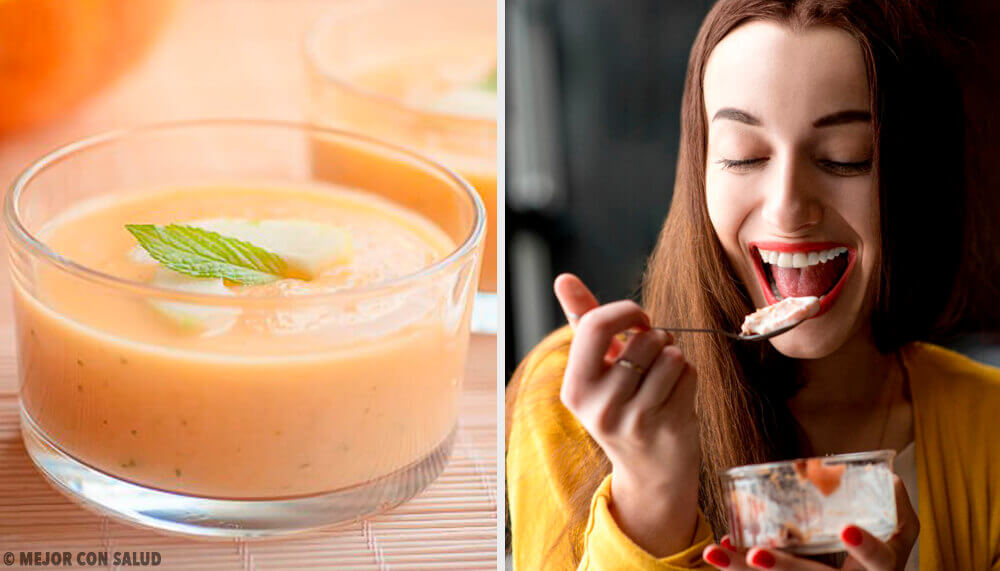 In addition to being low in calories, they're easy to make and don't require many ingredients.
1. Sweet fruit kebabs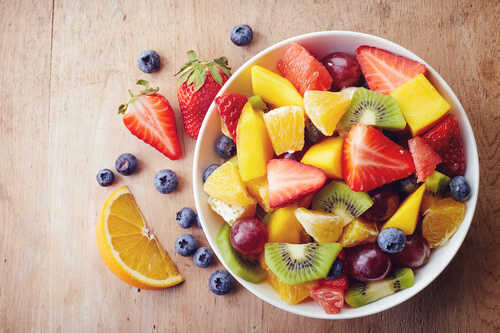 Ingredients
A banana
1 kiwi
A cup of pineapple (200 g)
1 ripe mango
1 red apple
A cup of strawberries (150 g)
5 tablespoons of liquid sweetener (50 ml)
Utensils
Preparation
Peel the pineapple, apple, kiwi, mango and banana.
Remove the leaves from the strawberries.
Pour the sweetener into a cup.
Cut the fruit into chunks and leave them to soak in the sweetener for a half hour.
Skewer the fruits, organizing them into a line.
Heat up the grill and grill the kebabs until they're nice and caramelized.
In addition to being delicious, these fruits will provide your body with energy. They also provide different vitamins, like E group vitamins, and help the digestive tract.
We recommend that you read: 7 Fruits that Keep Your Body Hydrated
2. Cantaloupe ice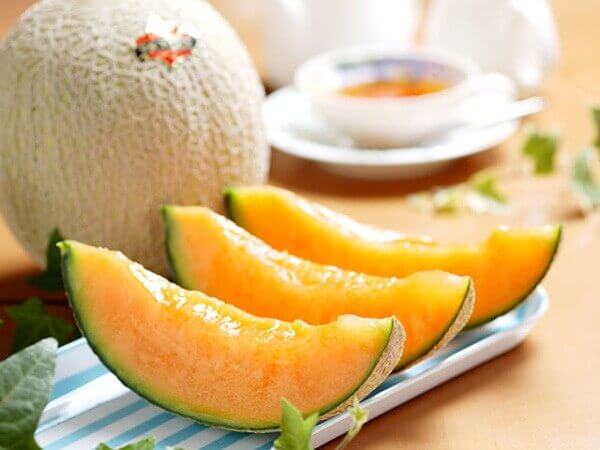 Cantaloupe is great for nourishing your body with vitamins from groups A and E. It's also diuretic, provides fiber and minerals, and prevents aging spots on skin.
Ingredients
1 cantaloupe
3 tablespoons of lemon juice (30 ml)
¾ cup of ice (150 g)
2 tablespoons of stevia (20 ml)
Preparation
Remove the rind from the melon and quarter.
Place the pieces in a food processor along with the ice, lemon juice and stevia.
Process until the mixture is homogeneous.
This icy dessert is perfect for refreshing your body after exercising or when it's hot outside.
3. Mango paleta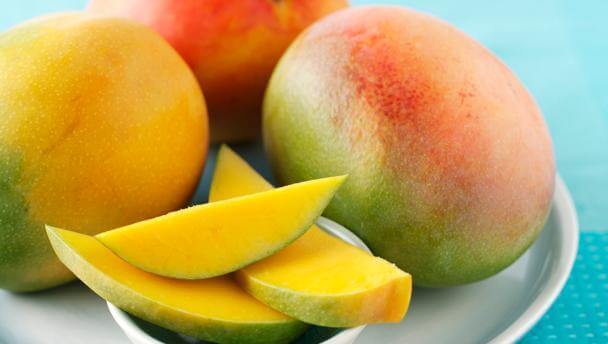 Mango is a source of vitamins A and C, and minerals such as calcium and potassium. It's the perfect food if you're looking for something that can provide you with a good amount of energy.
Thanks to its potassium content, it helps stabilize your blood pressure.
Ingredients
1 ripe mango
1 cup of natural yogurt (200 g)
3 tablespoons of lemon juice (30 ml)
1 tablespoon of lemon zest (10 g)
3 tablespoons of stevia (30 g)
1 tablespoon of vanilla extract (10 g)
Utensils
Preparation
Peel the ripe mango and place all of the ingredients in a food processor.
Blend until the mixture condenses.
Spoon the mixture into paleta molds, or into plastic cups, adding the popsicle sticks.
Freeze for 5 hours.
4. Coconut mousse
Coconut has antioxidant properties and offers the body minerals (iron, magnesium, calcium, among others).
It also hydrates, thanks to its high water percentage, energizes and regulates blood pressure.
Ingredients
5 tablespoons of grated coconut (50 g)
1 cup of low-calorie condensed milk (300 g)
A cup of low-calorie cream (200 ml)
1 cup of skim milk (200 ml)
A packet of flavorless gelatin (7 g)
1 cup of warm water (200 ml)
Preparation
In a food processor, add the cream, condensed milk and grated coconut.
Process until the mixture is well blended.
Dissolve the flavorless gelatin in a cup of warm water.
Pour the gelatin into the previous mixture in the food processor and process for a few minutes.
Pour in cups and freeze until the mousse is gelatinous (around 4 to 6 hours).
Also read: 10 Benefits of Drinking Coconut Water
5. Banana flan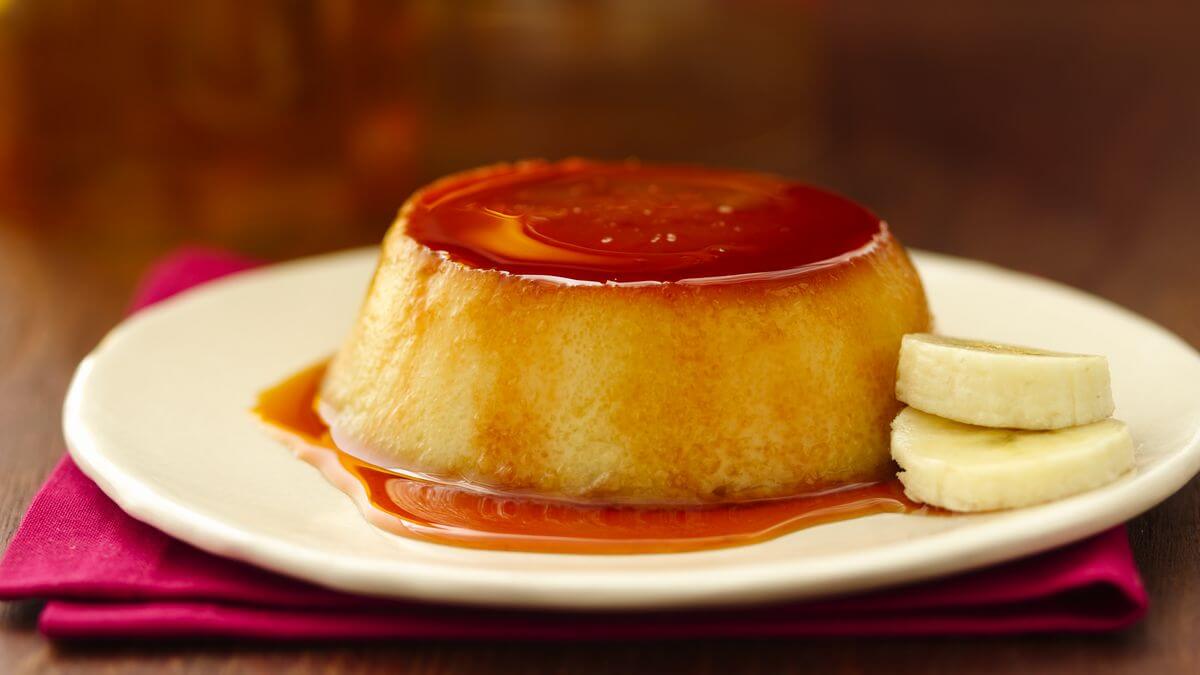 Don't miss out on the chance to sweeten your family's day with a delicious and nutritious banana flan.
As we all know, this fruit is the king of potassium, which is a mineral essential for the digestive and nervous system. It also keeps the muscles, heart and kidneys running healthily.
Ingredients
2 bananas
2 cups of milk (500 ml)
4 egg yolks
3 tablespoons of stevia (30 ml)
Ground cinnamon (as preferred)
Preparation
Peel the bananas and cut them into pieces.
In a pot, combine and heat the milk, stevia, banana.
When the mixture is just about to boil, lower to minimum heat and cook for 5 more minutes.
Add the ground cinnamon as you'd like and stir occasionally.
Turn off the heat. Remove the banana pieces and in a different bowl, beat them into the egg yolks.
Pour the egg mixture into the hot milk and heat up the mixture again.
Stir until the mixture starts to to come together.
Pour into individual bowls or plates and leave it to rest.
To cool them down, refrigerate them for 4 to 6 hours.