5 of the Most Common Hip Issues
Despite being a joint that bears more weight than almost any other, many of us don't know much or talk about it.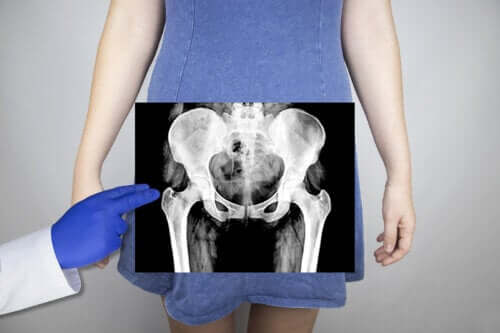 The hip joint isn't exempt from injury as we age. Do you know what the most common hi problems could be and how it can affect your quality of life?
Although we know that the main function of the hip joint is to unite and support one or more bones, it's one of the most forgotten regarding health issues… until it begins to bother in such a way that it prevents normal life.
The hips: location and main functions
According to the University of Salamanca's DiccioMed, the hip is "Each of the two protruding parts formed on the sides of the body by the upper bones of the pelvis".
Their location, between your torso and lower extremities, explains how important they are in your body in general. They don't just support your body, they also stand out for the wide range of movement it allows. Your hips bend, rotate, and act like a giant hinge.
When it comes to their physiological structure, they encompass another very important part: the coxofemoral joint (where the head of the femur connects with the hip).
Despite being one of the strongest joints of your body, your hips are sensitive to different factors that can lead to many kinds of problems over time.
The most common hip issues
They're very stable, but your hips may have certain problems. Some of them have a name that reflects the area they happen in, and others are more complicated to treat. We should note that, in many cases, although advanced age is a factor to take into account, it isn't the only one.
Below, we're going to detail the most common hip issues.
1. Pubalgia
This is also known as a sports hernia. It consists of an injury to the muscles in the pubic area.
Pubalgia almost always refers to an episode of chronic inflammation.
The muscles that are most often affected are the abdominal and adductor muscles.
2. Osteoarthritis of the hip
Being a very solid and important joint, your hips are greatly affected by this painful, bothersome problem.
Changes in the joint cartilage are usually the main cause of this problem and immobilization of the affected happens quickly.
3. Osteogenesis imperfecta
This illness is often called "brittle bone disease". It affects all bone tissue in your body, including, of course, your hips. It's a congenital or genetic disorder.
Since this is an area of your body that's most likely to suffer direct trauma, osteogenesis imperfecta is often linked to your hips.
4. Hip necrosis
Necrosis refers to the death of a tissue. When it comes to your hip, it describes damage to the femoral head. This kind of situation occurs due to insufficient blood flow. On top of that, if it isn't caught or corrected on time, it'll gradually turn chronic.
The most common cause is a femoral fracture at the height of the epicondyle. This tends to break or compress blood vessels. In either case, it may lead to necrosis.
5. Femoroacetabular impingement
The origin of this disorder, specific to the hips, is completely unknown to this day. It may affect the femur and acetabulum. The pain is almost unbearable and happens when the femoral condyle improperly rubs the hip socket.
While anyone may develop this problem, young people and athletes are most likely to. In general, doctors tend to associate it with arthrosis and consider it one of its main causes.
In conclusion, femoroacetabular impingement occurs due to the joint's spherical disability. Thus, the friction is constant and bothersome.
It might interest you...