5 Healthy Breakfasts for Children
In order for children to stay healthy and strong, it's vital to provide them with a complete and balanced breakfast that contains the vitamins and minerals necessary for their growth.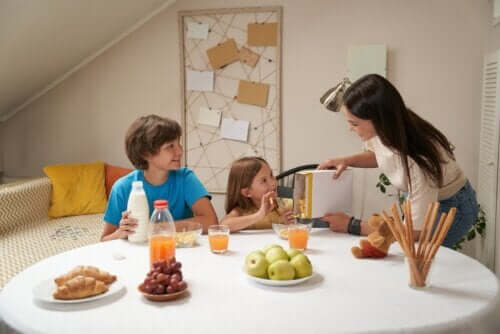 As this study published in Pediatric Annals shows, breakfast is the most important meal of the day for children. That's because it is a source of essential nutrients that gives kids energy and promotes their well-being.
Studies also show that eating a good breakfast plays a role in reducing problems like childhood obesity. That's because it keeps kids feeling full longer and reduces binging later in the day. At the same time, eating breakfast helps children's bodies absorb nutrients like fiber and calcium, which are crucial for their development.
So, if you're looking for recipes for healthy breakfasts for children, you've come to the right place. Today, we'll share five easy recipes for great and appropriate breakfasts for children.
Enjoy!
1. Yogurt with cereal
Natural yogurt is one of the best breakfast foods for children. According to a recent study published in the European Journal of Clinical Nutrition, yogurt consumption is associated with greater nutrient absorption, a better-quality diet, and a better metabolic profile in children.
The study found that yogurt is good for cardiovascular health and helps maintain healthy body weight. That makes it the perfect food to combine with other healthy ingredients such as whole-grain cereal, almonds, and blueberries.
Ingredients
1 cup of whole grain cereal (40 g)
1 glass of natural yogurt (250 ml)
3 tablespoons of almonds (30 g)
1 cup of blueberries (150 g)
2 tablespoons of chocolate chips (10 g)
optional: 1 teaspoon of honey (5 g)
Preparation
Pour the glass of yogurt and honey into a bowl.
Beat a little in order to make it more creamy.
Wash the blueberries and almonds.
Cut them into small pieces and add them to the bowl.
Finally, add the cereal along with the chocolate chips.
Serving suggestions
We recommend preparing this delicious breakfast for your children at least once a week.
You can swap out the blueberries for whatever fruit your child likes.
See also: 8 Strategies to Use in Your Kitchen to Lower Your Cholesterol
2. Apple pancakes
A study published in Nutrition Journal found that eating apples is associated with a better-quality diet and a lower risk of obesity in children. In fact, the study suggests that you should encourage the consumption of apples and apple products to help kids meet their daily fruit requirements.
These delicious apple pancakes are the perfect way to incorporate more apples into your child's diet. Not only are they healthy, but they are soft, fluffy, and delicious.
Ingredients
1 apple
2 eggs (180 g)
1 pinch of salt (1 g)
1 teaspoon cinnamon (5 g)
1 teaspoon butter (5 g)
2 teaspoons vanilla (10 ml)
1 cup wheat flour (200 g)
Preparation
Crack the eggs and carefully separate the egg whites from the yolks without mixing them.
In a bowl, add the flour, sugar, vanilla, and cinnamon.
Mix it with a spoon.
Next, add the egg yolks, the milk and the pinch of salt.
Beat it until you get a homogeneous mixture.
Wash and peel the apples, removing the core and seeds.
Grate them and add them to the dough.
Mix again with a spoon.
Put a pan over high heat, adding a little butter to the surface.
Pour a little of the mixture into the pan.
Turn over after 2 minutes on the first side, and let cook about a minute on the other.
Repeat the process with each pancake.
Serving suggestions
We suggest adding some fruit, sugar or honey on top of the pancake. That way it will have an even more delicious flavor for the children.
3. Muesli with fruit
According to a study published in American Family Physician, the best food options for kids are fresh and minimally processed. Fruits, vegetables, lean proteins, nuts, seeds and whole grains are all nutritious and healthy choices.
With that in mind, one of the most delicious and complete breakfasts you can give your children to start their day is muesli. The combination of grains, fruit, and yogurt is nourishing and filling for your little ones.
Ingredients
3 tablespoons of wheat flakes (30 g)
4 tablespoons of oats (40 g)
1 cup of raspberries (150 g)
4 strawberries
2 tablespoons of honey (50 g)
1 natural yogurt (125 g)
2 tablespoons of nuts (40 g)
2 tablespoons of almonds (30 g)
Preparation
Mix the oat and wheat together in a bowl.
Wash the strawberries and raspberries.
Next, cut them into small pieces.
Similarly, wash the nuts and almonds, chopping them as much as possible.
Add the fruits, almonds, and nuts to the bowl.
Finally, add the honey and yogurt, completely mixing all the ingredients.
Serving suggestions
We suggest you give this breakfast to your children at least once a week. That way, they can benefit from all its nutrients and benefits and stay healthy.
5. Cereal with strawberries
As a study published in Food and Function shows, strawberries are an excellent source of nutritious compounds like sugars, vitamins, and minerals. They also contain bioactive compounds like flavonoids, anthocyanins, and phenolic acid.
Regular consumption of strawberries is good for your health and may help prevent type 2 diabetes, obesity, neurodegenerative illness, and cardiovascular problems. The best part? They're delicious, and children love them.
Ingredients
1 cup of strawberries (150 g)
1 glass of milk (250 ml)
2 tablespoons of honey (50 g)
1 cup of whole grain cereal (40 g)
Preparation
Place the milk and honey in a saucepan and heat a little.
Wash the strawberries and cut them into slices.
Add the cereal together with the strawberries to a bowl.
Pour in the milk
Serving suggestions
The best way to eat this cereal is by adding the fruits that your children prefer, since that way they will enjoy it even more.
4. French toast
French toast can be an excellent breakfast option for children. It's easy to make, and you can eat it with the fruit of your choice. Enjoy!
Ingredients
1 slice of whole grain sandwich bread
2 eggs (180 g)
Half a glass of milk (125 ml)
1 teaspoon of sugar (5 g)
1 teaspoon of cinnamon (5 g)
2 tablespoons of butter (40 g)
Preparation
Crack the eggs into a bowl and beat them together with the milk.
Add the cinnamon and sugar.
Mix until all of the ingredients are well blended.
Next, soak the slice of bread in the mixture, letting it absorb the liquid.
Put a pan over high heat, adding a little butter to the surface.
Fry the toast in the pan, remove it and let it stand.
Serving suggestions
To make it even more nutritious, we recommend adding fruits such as strawberries, bananas or raspberries.
What else do you need to know about preparing breakfasts for children?
Studies support the importance of breakfast in a child's diet. Consequently, it's crucial to feed them with highly nutritious breakfasts. Choose one of these great recipes, and surprise your little one with some delicious and healthy dishes.
Aitor Sanchez, an expert in diet and nutrition, recommends eliminating sugary cereals and cookies, as well as pastries and other industrial foods that are rich in sugars and easily exceed the daily sugar limit recommended by the World Health Organization.
It might interest you...