4 Tips for Caring for Gerberas at Home
Gerberas are one of the most beautiful plants you can add to your garden. Today, we'll share some tips for caring for gerberas at home.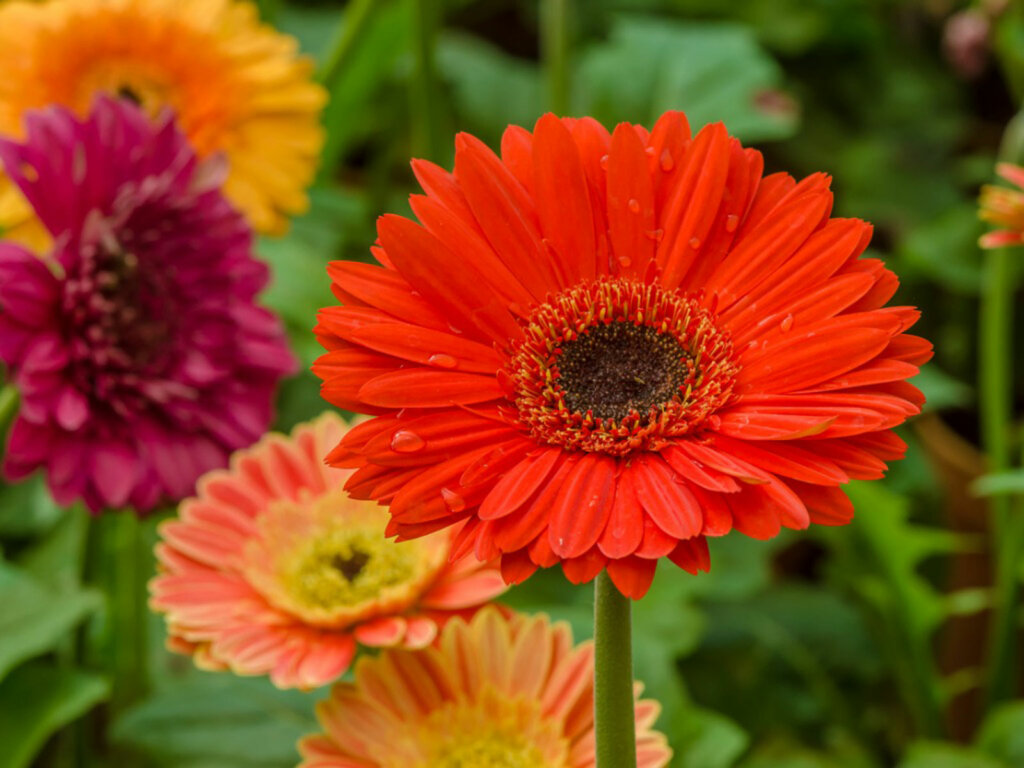 Gerbera plants are herbaceous plants from Southern Africa which don't have woody stems. This species is one of the most popular in the world and they'll bring unique beauty to your garden. Get to know some tips for caring for gerberas at home in today's article.
These plants grow in the form of a rosette, so all their leaves are located in a circular orientation and are symmetrical. In addition, you can grow them in the ground or in pots because they're not too big. 
Characteristics of gerbera plants
Gerberas have rhizomes, which are stems that grow underground and help store nutrients. In addition, the roots spread out from that point and the leaves begin to grow. 
These types of plants have a single, green stem and the roots can grow up to 3 feet deep. In addition, the middle of the flower can be light or black. 
This species is also very durable so the branches will last all year; they bloom from early spring to late fall.
The flowers usually grow to about 7 inches tall, which is why people like them so much. They can be red, orange, yellow, pink, purple, blue, or white. 
The plants can have one or two flowers. For single flowers, the petals won't cover each other. However, in plants with two flowers, you might find two layers of petals together.
Tips for caring for gerberas at home
Gerbera plants are one of the best plants for decorating your home. However, you should follow our tips for caring for gerberas at home in order to keep them as beautiful as possible.
1. Temperature and light are fundamental factors
Gerberas come from tropical areas. Therefore, it's best to keep them in temperatures around 62-75 degrees Fahrenheit. In addition, you should never expose these plants to temperatures below 55 degrees Fahrenheit. 
These plants need light to grow, but you shouldn't put them in direct sunlight. So, it's best to put them in a place with some shade. 
2. You have to condition the soil
Gerbera plants need to grow in soil rich in organic matter. This element will provide your plants with the nutrients they need to grow. Also, you need to distribute the soil evenly so the roots don't suffocate and can grow well. 
In addition, it's important to use fertilizers that are rich in potassium so the soil stays healthy. That will allow the plants to get the nutrients they need to grow a large number of flowers.
3. Moisture and metered watering
This species of plants needs to develop in areas with good humidity levels. Therefore, you should keep the pots away from objects that let off excessive heat and dry out the space around them.
In addition, it's essential to constantly water them, but don't use too much water. This plants' roots are delicate and can rot. So, you need to make sure the plant has effective drainage that will allow the water the circulate at a good pace. Also, you want to ensure it doesn't create any puddles.
The best thing to do during seasons with moderate temperatures is to ensure you're watering your plant every 3 days. Then, if you have consecutive days where it's very hot, you should water your plant every day. That will keep the soil from drying out. 
4. Weeding is important when caring for gerberas at home
At one point or another, all plants will be hosts to weeds. And, gerbera plants are no exception.
Therefore, it's important to monitor them frequently to check if any of the leaves are in bad shape. If they are, you should weed them so you can avoid any fungi from spreading. 
How to plant gerberas at home
If you want to plant gerberas at home, the first thing you need to do is place the seedbed in a sunny place. Then, once they have germinated, you should transfer them to the corresponding pot and wait for them to bloom in early spring.
Also, you should use a wide pot so that no part of the plant gets damaged while it grows. In addition, when adding the soil, you should dig a 3-foot hole so the plant can sit well.
It's important to keep in mind that the substrate you use in the pot should be as smooth as possible. That way, the pot will be able to drain without anything blocking it. 
The best way to grow gerberas at home is inside a pot. That will allow you to move the plant around in case of inclement weather.
It might interest you...
https://mejorconsalud.as.com/consejos-cuidado-gerberas/