4 Delicious Detox Soups to Detoxify Your Body
Thanks to the cleansing properties of their ingredients, these soups are one of the best ways to detoxify and provide nutrients to your body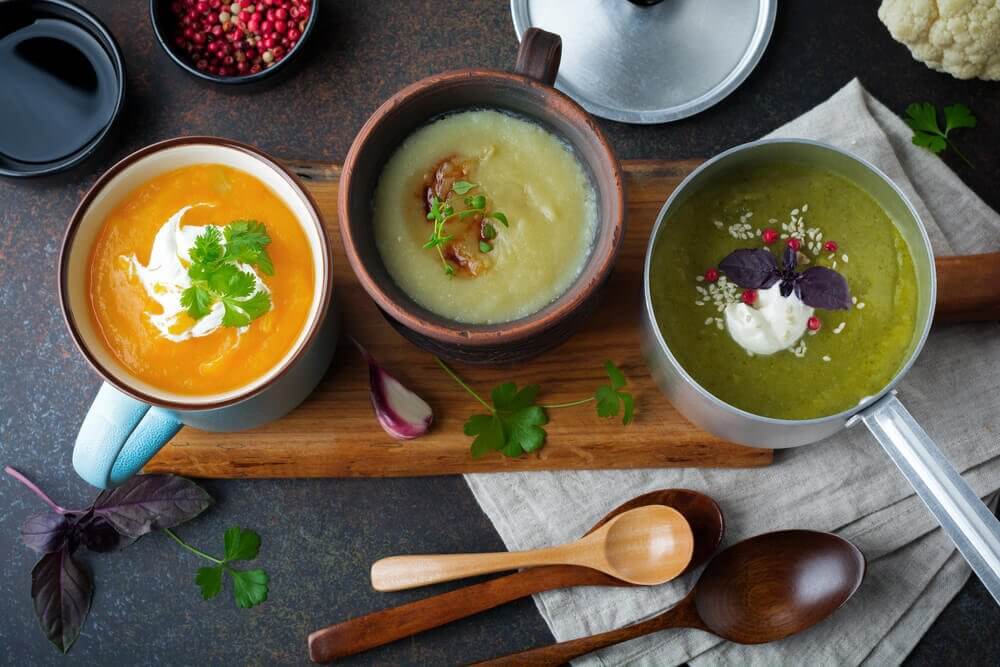 Are you looking for some detox soups to deliciously detoxify your body?
If you think this is impossible, you're wrong.
Detox soups are helpful because they combine many kinds of vegetables that provide vitamins and fiber. By combining and heating up all these ingredients, you increase the extraction of their nutrients.
Thus, it becomes easier for your body to synthesize them. The key is to mix ingredients that taste good together.
Ready to try our detox soups that will detoxify your body?
Mint and Pepper Soup
We start the list of detox soups with a delicious, refreshing, and original choice. We recommend that you include it on your menu on hot days.
Ingredients
1 ½ peeled and chopped cucumber
10 chopped mint leaves
¼ cup chopped chives (50 g)
1 teaspoon minced garlic (5 g)
2 natural yogurts
½ teaspoon fresh lemon juice (2 ml)
1 pinch of sea salt
1 pinch of freshly ground black pepper
Preparation
First, combine the cucumber, mint, chives, and garlic in a blender.
Then, pour the mixture into a bowl and add the remaining ingredients.
After, mix well and store in the refrigerator for 4 hours.
When serving, garnish with some mint leaves.
We recommend that you read: 6 Benefits of Cucumber Juice
Lentil, Kale, and Sweet Potato Soup
The following detox soup is a delicious way to warm you up. Lentils improve the functioning of your digestive system, whereas kale provides iron.
On the other hand, sweet potatoes are rich in fiber and micronutrients.
Ingredients
½ white onion
1 tablespoon olive oil (16 g)
2 cups chicken broth (500 ml)
1 large sweet potato cut into small cubes
3 garlic cloves
1 teaspoon curry powder (5 g)
1 cup sliced tomatoes (180 g)
2 cups water (500 ml)
1 cup lentils (220 g)
1 cup chopped kale (140 g)
A green or red sliced pepper
Preparation
First, sauté the onion in the olive oil.
When the onion is translucent, add the chicken broth, sweet potato, garlic, and curry.
Then, boil for 5 minutes.
Then, add the tomatoes, water, and lentils.
Let simmer over low heat for 45 minutes or until the lentils are cooked.
Add the kale and pepper and wait for them to mix in without losing their consistency.
You can add a bit of salt if you want or serve directly.
Detox Soup to Balance Potassium Levels
Potassium is a helpful nutrient if you consume it in the right amount, but can harm you if you consume too much of it.
This detox soup will help you have a correct potassium balance if your problem is a lack of potassium.
Ingredients
4 medium zucchinis
6 kale leaves
2 carrots
3 celery stalks
1 handful fresh parsley
3 large tomatoes
3 garlic cloves
¼ white onion
1 teaspoon avocado oil (5 g)
1 sliced avocado
Preparation
First, blend all ingredients except the onion, oil, and avocado.
Then, in a pan, heat the oil and sauté the onion.
Mix in the vegetables and cook until it boils.
Add salt and pepper to taste.
When serving, garnish with some avocado slices.
See also: 5 Energizing Smoothies with Avocado
The Ultimate Detox Soup
Each of the following ingredients in our detox soup has a purpose. Some add flavor, others nutrients and vitamins, and all of them provide fiber.
We recommend that you consume this soup exactly how we explain below. You might miss the taste of salt in this soup, but avoid it this time to eliminate toxins.
Also, we recommend you opt for fresh produce instead of frozen or processed options.
Ingredients
1 tablespoon olive oil (16 g)
1 large peeled and sliced shallot
2 minced garlic cloves
1 piece of fresh peeled and minced ginger (about 2 cm)
4 cups fresh nonfat chicken broth (1 liter)
A large peeled and sliced carrot
1 cup of broccoli buds (150 g)
1 cup cauliflower curds (140 g)
A chopped chili
1 cup peas (55g)
1 cup sliced mushrooms (60 g)
½ cup sliced red cabbage (70 g)
1 pepper, cut into strips
Salt and pepper to taste
A cup baby spinach leaves (30 g)
1 cup cherry tomatoes cut into halves (150 g)
Preparation
First, heat the olive oil in a deep pot and sauté the shallot, garlic, and ginger until soft.
Then, add the chicken broth and carrot. Cook for 15 minutes.
Add the remaining vegetables. Set aside the spinach, tomatoes, and peppers.
After, wait until the vegetables finish cooking and, before serving, add the baby spinach, salt, pepper, and cherry tomatoes.
If you want to give this soup an extra kick, you can sprinkle some Manchego cheese or any other cheese you have at hand.
What did you think of our recipes? I bet you no longer think detoxifying your body is boring! Tell us which one was your favorite.