4 Recipes Fit for Diabetics
Although we always think about sugar and sweets, diabetics also should control the salty recipes that they eat since commonly used ingredients also contain that.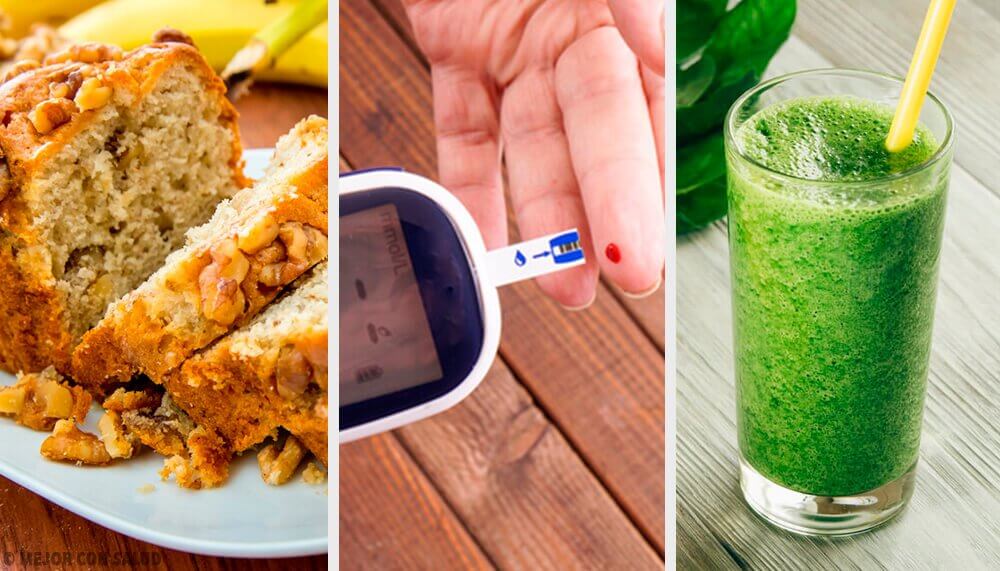 Making food for diabetics can be really complicated. Therefore, the following recipes are good for people with diabetes. You'll realize that being healthy and having ideal glucose levels is easy.
So, follow these tips if you are having problems following to a new diet. By doing so you can add years on to your life. Are you ready to give these recipes a try? You'll gradually notice that you're adopting a healthy and appropriate diet.
1. Sugar-free Banana Nut Bread
Do you think finding edible bread is difficult? In reality, there are plenty of healthy recipes for diabetics with textures you'll love. One of these recipes is below. The nuts and vanilla give it a touch of sweetness that go well with the stevia. The banana and oats provide a good amount of energy. Just remember to watch your portions and avoid large slices. 
Ingredients
2 ripe bananas
1/2 cup of rolled oats (42 g)
1 teaspoon of granulated stevia (5 g)
1/2 cup of chopped nuts (50 g)
1 egg
1/4 cup of skim milk (62 ml)
1/5 cup of canola oil (40 g)
1 teaspoon of vanilla (5 g)
1/2 cup of flour, sifted (75 g)
1/2 teaspoon of baking soda (2 g)
1 teaspoon of baking powder (5 g)
1/2 teaspoon of ground cinnamon (2 g)
1 pinch of salt
Preparation
Preheat the oven to 165ºC/325ºF and grease a bread pan.
Mash the bananas with a fork or spoon.
Then, add the egg, milk, oil, and stevia to the mashed banana and mix well.
In a separate bowl, mix the rest of the ingredients, then add the banana mixture.
Mix all of the ingredients together with a whisk or spoon.
Pour the batter in the pan and put it in the oven.
Let it bake for 40 minutes or until a toothpick comes out clean.
2. Smoothie to Control Sugar Levels
Have you recently been diagnosed with diabetes and are having troubles keeping your sugar levels under control? This is a big responsibility because there are a few factors you should take into consideration. Talk with your doctor about your medication and be sure to eat the right amount of vegetables.
The second recipe is good for diabetics. It can be used to give your day a wonderful start and to substitute one of your snacks.
Ingredients
1 slice of fresh pineapple
1 celery stalk
3 sprigs of parsley
1 small clean nopal cactus
1/2 of a squeezed grapefruit
Preparation
Blend all of the ingredients and drink immediately.
Remember, it's important to make your smoothies fresh and drink them immediately in order to benefit from its properties.
3. Stuffed Tomatoes
Are you not sure what you want to make and don't have time to go to the store? Well, you can make these tomatoes.
In addition to being delicious, they're practical and quick to make because it will take less than 15 minutes to have them ready.
Ingredients
2 medium or large tomatoes
2 tablespoons of olive oil (32 g)
1/2 cup of ground beef (115 g)
1 tablespoon of finely chopped onions (15 g)
1 teaspoon of curry (5 g)
2 carrots cut in small cubes
2 red peppers cut in cubes or strips
1/2 cup of cooked quinoa (90 g)
Salt and pepper (to taste)
Preparation
Wash the tomatoes well, scoop out the centers and cut them in half. Save them for the end.
In a hot frying pan, heat the oil, meat, quinoa, and vegetables.
Season with the curry, pepper, salt, and cook until it's done.
Fill the tomatoes with the mix and serve.
This recipe has everything you need for a balanced diet. Have some soup as an appetizer in order for you to have a healthy complete meal.
Check this article out too:
4. Sesame, Oat, and Flaxseed Cookies
The last recipe for diabetics is perfect for when you have crunchy cravings. This food is great for helping your digestion and obtaining high quality fatty acids. The only thing you need to watch out for are your portions because the seeds are high in calories.
Ingredients
3 eggs
1 teaspoon of salt (5 g)
1/2 cup of granulated stevia (100 g)
1 tablespoon of melted butter (20 g)
4 tablespoons of sesame seeds (60 g)
2 cups of oats (168 g)
1 cup of flax seeds (150 g)
1 teaspoon of vanilla extract (5 ml)
Preparation
Preheat the oven to 180ºC/350ºF.
Beat the eggs, butter, vanilla, stevia, and salt.
Then, add the oats, sesame seeds, flax seeds, and mix well.
Make little dough balls, place them on a greased pan and press them with a spoon in order to have them bake thin. 
Bake them for 15 minutes or until they have a nice golden brown color.
What do you think about these recipes for diabetics? Surely you loved them, now you just need to try them. Feel free to hare your favorite recipes with others.
It might interest you...