4 Nutritious Fruit-Based Breakfast Ideas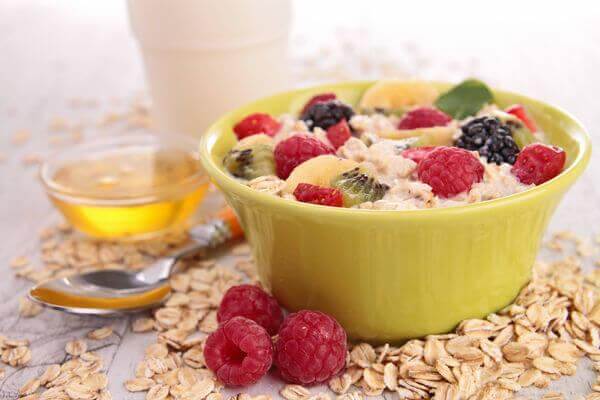 Breakfast isn't just only the first meal of the day, it's also the most important one. What you have for breakfast gives your body the "fuel" it needs to wake up and start a new day.
Eating nutritious fruit, protein, and cereal-based breakfasts will keep you healthy and also ensures your body gets the energy it needs during the day.  The importance of having fruits during breakfast lies in the fact that this is the perfect time to benefit from fructose in order to curve your sugar cravings.
The nutritional properties of fruits are especially beneficial after many hours of overnight fasting. Fruit sugars are easily digested in the morning, which means they give you a lot of energy. Also, nutritious fruit-based breakfasts hydrate your body, which in turn will be reflected in your skin.
4 Nutritious Fruit-Based Breakfast Ideas
Fruits are very versatile foods and their many flavors and textures can really please your taste buds. The best thing you can do is try different combinations so you don't get bored of always eating the same thing. Here are four delicious fruit-based breakfast ideas to kick-start your day.
Plain Yogurt with Red Berries and Chia Seeds
Yogurt is a classic probiotic that helps preserve your intestinal flora, improves digestion and the absorption of nutrients. It also helps boost your immune system. You can get a powerful nutritious fruit-based breakfast by combining the antioxidant vitamins of red berries and "good fats" (omegas 3 and 6).
To prepare your healthy breakfast, just mix 1 plain yogurt (about 180 grams), 2 tablespoons of red berries, and 1 tablespoon (10 grams) of chia seeds. You should let it sit for 10 to 15 minutes before eating so the chia seeds moisten and thus become easier to digest.
Take a look at this article: How to Make Homemade Yogurt and All its Benefits
Oatmeal Pancakes with Honey and Strawberries
Traditional pancakes are delicious, but provide little to no fiber and a lot of bad carbs. To improve their nutritional contents, it's a good idea to change the recipe and make delicious oatmeal pancakes. Here are the ingredients you need in order for you to know what needs to be replaced compared to the traditional recipe.
Oatmeal Pancake Ingredients
1 pinch of salt.
2 egg whites (40 g).
Strawberries and honey (to taste).
1/3 cup of rolled oats (50 grams).
1/2 teaspoon of ground cinnamon (2 g).
1 tablespoon of organic coconut oil
3 tablespoons of almond milk (you can also use cow milk).
1 tablespoon of brown sugar (you can also use honey or stevia) (10 g).
Instructions
Beat the egg whites until they peak.
Then, add the coconut oil and almond milk while you continue beating to ensure it mixes thoroughly.
Add the oats, cinnamon, brown sugar, and the pinch of salt.
If the mix looks too thick, add a tablespoon of vegetable milk or some water.
Cook these pancakes exactly like you would traditional ones. Take a non-stick frying pan, pour some of the pancake mix, cook on both sides, and let it sit for several minutes.
You can serve the pancakes with fruits and anything else you'd like. Enjoy them with fresh strawberries and organic honey.
Whole Wheat Toast with Ricotta, Pears, and Walnuts
This is the perfect choice for people who enjoy sweet and sour combinations of fruits, dairy products, and bread. To make this recipe, you must have fresh ricotta, thinly sliced pears, chopped walnuts, and slices of whole wheat bread.
Toast the slices of whole wheat bread, slice the pears, and chop the walnuts. Then, spread the ricotta cheese on the toast, place the pear slices, and finally sprinkle some walnuts on top. The recommended portion is 1 to 2 slices per person.
Want to know more? Read: Learn About The Properties Of These 10 Nuts
Kefir, Peach, and Banana Protein Shake
Kefir is a natural probiotic that benefits your immune, digestive, and cardiovascular systems. To include it into your fruit-based breakfast, just replace milk with kefir to prepare a protein shake. Blend a medium peach, 1/2 banana, and 200 ml (1/2 cup) of kefir. You'll get a really thick shake that you can eat with a spoon.