4 Natural Remedies for Bunions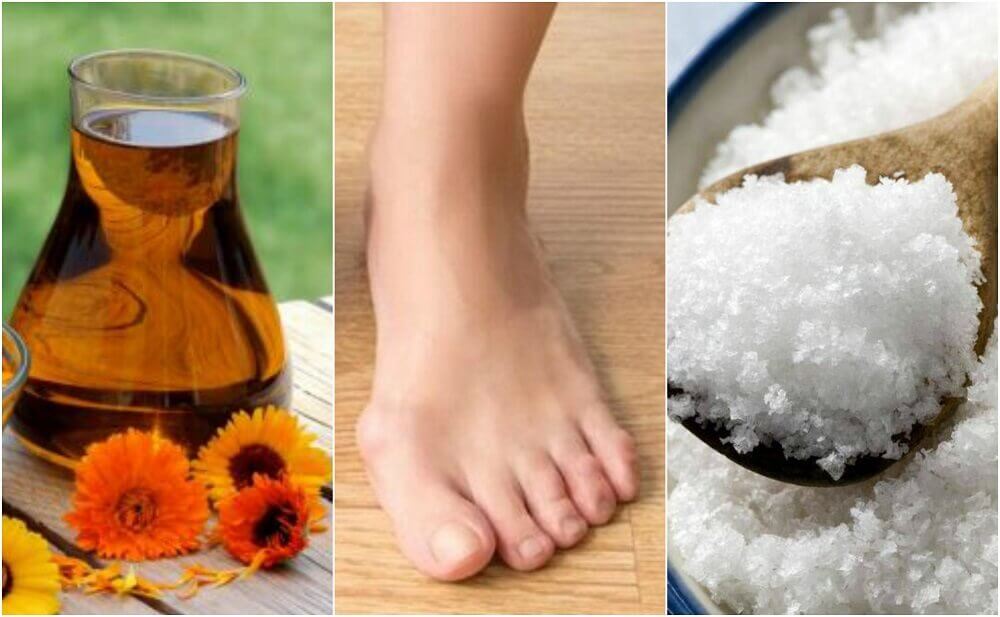 For quick relief from bunions, the secret is to use these natural remedies consistently. Comfortable shoes can also be a big help!
Bunions are the bony bumps that appear in the joint at the base of a person's big toe, usually creating a visible deformation. They happen when the big toe presses against the toe next to it, which makes the joint increase in size and protrude.
In many case they are genetic, although they can also come from inflammatory diseases, injuries or wearing inappropriate shoes.
Although bunions take time to form and the pain tends to be mild at first, you should treat them before they cause harmful complications. And while they may seem like just a matter of appearance, they actually do usually cause swelling, pain, and other uncomfortable symptoms.
Causes of bunions
The exact cause of bunions is unknown. There are several possible causes:
Inherited foot deformities
Foot injuries
Congenital deformities
Prolonged use of tight shoes
High-heeled shoes
Inflammatory diseases such as arthritis or gout
Symptoms
The main symptom of a bunion is deformation of the big toe . However, they often appear with other symptoms:
Swelling and redness around the joint of the toe of the foot
Corns or calluses
Continuous or intermittent pain
Reduced mobility in the affected toe
Natural remedies to treat bunions
When bunions cause complications and hinder movement, you should see a doctor to determine the most appropriate treatment. However, if they're in their initial stages or are mild, they can be treated with natural remedies.
1. Marigold oil
The anti-inflammatory properties of marigolds have a soothing effect that can be quite helpful if you're experiencing pain from bunions. The essential oil relaxes the joint and helps improve circulation, resulting in less pain.
Ingredients
5 tablespoons of marigold flowers (75 g)
½ cup of olive oil (100 g)
Preparation
Put the marigold flowers in a pot and cover them with olive oil.
Heat it over a low heat for 5 to 10 minutes.
Remove from heat, let it sit and then store in a dark glass jar.
Let it sit for 10 days and then strain it.
How to apply
Rub the oil over the bunion and massage it for 3 or 5 minutes.
Repeat every night before bed.
2. Chamomile foot soak
A chamomile foot bath is a natural remedy for bunions. It relieves tension in the foot and reduce your pain, while softening calluses and removing dead skin cells at the same time.
Ingredients
5 tablespoons of chamomile flowers (75 g)
2 cups of water (500 ml)
Preparation
Put the chamomile flowers in a pot with water and bring them to a boil.
When it reaches a boil, reduce the heat and simmer for 3 or 5 minutes.
Let it sit, strain it and then it's ready to use.
How to use
Pour the chamomile liquid into a bowl and then soak your feet in it for 15 or 20 minutes.
Repeat the process every day or whenever you feel pain.
3. Magnesium salts
Magnesium salts are absorbed through the skin and have an anti-inflammatory effect on the affected joint.
Ingredients
3 tablespoons of magnesium salts (45 g)
2 cups of water (500 ml)
Preparation
Mix the magnesium salts with hot water and add a little cold water to regulate the temperature.
How to use
Pour the mixture into a bowl and soak your feet for 20 minutes.
Repeat the process whenever you feel pain or notice swelling.
4. Olive oil and lavender
Combining olive oil and lavender flowers results in an anti-inflammatory, very soothing lotion. It's also perfect for massaging bunions whenever you're experiencing pain or reduced mobility.
Ingredients
½ cup of olive oil (100 g)
5 spoonfuls of lavender (75 g)
Preparation
Put the oil in sauce pain and add the lavender.
Leave it to simmer on low heat for 20 minutes.
After 20 minutes, let it sit and then strain it.
How to use
Moisten the palms of your hands with the oil and massage it over the affected areas.
Let it absorb into your skin and don't rinse it off. Use it 2 times a day.
To get good results with these remedies you must be consistent. Also, it's important to switch out your tight shoes for something more comfortable and preferably breathable in order to prevent further damage.
It might interest you...