Four Herbal Teas for Younger Looking Skin
These teas are ideal for achieving younger looking skin naturally. However, if you notice itchiness or other issues when you apply them, you should stop application immediately and rinse completely.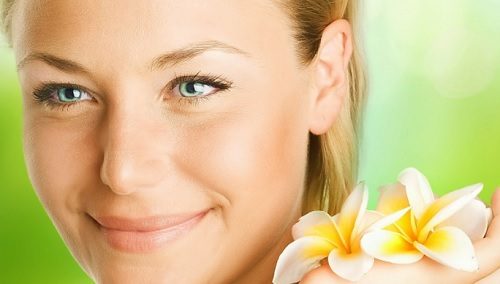 Do you want to keep your skin looking young, healthy, and beautiful? The majority of people would love this.
In fact, this is what many women want but, with age, we notice that our skin becomes thinner, less firm, and starts to show the first signs of fine lines.
For this reason, there are many beauty products available, but we know that we don't always have the resources to get all of these creams.
The good news is that you can keep your skin looking young for a longer period of time if you remember:
To hydrate internally and externally
To carry out a beauty routine that cleans and exfoliates to remove dead skin cells that make skin look dull
Avoid smoking and alcohol
Sleep at least 8 hours a night so the body can regenerate and repair cells.
The first tea can be a complement to the other herbal teas. They are all delicious and are great to share with friends during a relaxing night unwinding following a long workday.
1. Chamomile Tea
Chamomile is one of the most used herbs in the kitchen and is considered medicinal because of its many benefits.
One of its principal uses is that it acts as an assistant to fight slow digestion and can help treat minor burns.
In terms of the skin, chamomile tea has anti inflammatory and calming properties that can alleviate problems caused by: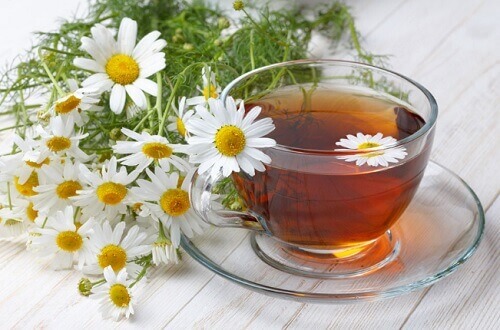 eczema
minor wounds
acne
allergies
You can drink it as tea or apply it as a tonic directly to the skin.
We recommend both options: apply it to the skin to treat minor issues when they appear and make it a part of your daily diet.
Using it both ways ensures that you will reap all of its benefits when it comes to having younger looking skin much more effectively.
You can also use it as a mask to even the tone of your skin and eliminate blemishes on your face, elbow, or any other part of your body.
Ingredients
1/2 cup chamomile tea (100 ml)
1/2 teaspoon honey (3.75 g)
Procedure
Apply to the desired zone and let sit for 15 minutes
Rinse with warm water
2.  Dandelion tea
Dandelions are usually used more for decorative purposes than for its nutrients. However, it has many qualities that will help you achieve younger looking skin since its juice, just like its tea, have antioxidants, diuretics, and purifiers.
Dandelion tea can be used to treat acne because it helps to eliminate toxins through our sweat glands and urination.
When these toxins are not eliminated correctly, they accumulate and cause acne. By consuming this tea, you can diminish inflammation and imperfections in your skin.
Dandelion is rich in antioxidants which allows it to minimize the effects of free radicals in the body and skin.
So, drinking this tea can help you reduce:
Fine lines and laugh lines
Blemishes
Wrinkles around your lips and eyes
At the same time, dandelion root tea nourishes, reaffirms, and tones sagging skin.
3. Melissa Tea
The third of the herbal teas you can use to rejuvenate your skin is Melissa, also known as Lemon Balm.
Lemon balm is an excellent relaxer when it is used as a massage oil or after shaving to relax your skin.
Also, it has toning properties that help to improve the appearance of your skin when it looks dry and tired.
Drinking it in tea form can give you the same results, but with a more lasting effect.
4. Mint tea
Mint leaves are useful for treating acne and helping your skin look younger and healthier thanks to its antibacterial and anti inflammatory properties.
You can drink this tea or apply it as a tonic.
When drinking this tea you will get the following benefits:
Your blemishes will clear up
It is a great hydrator for mixed skin types by controlling oils while simultaneously hydrating.
Eliminate fine lines
Your skin will look brighter and healthier
Calm the irritation and itching caused by insects
If you want to increase its effects, try applying the mint tea directly to your skin with a cotton ball.
After 10-15 minutes, rinse with water. After a little time, you'll notice brighter looking skin.
Including herbal teas into your beauty routine is, without a doubt, a great alternative. They aren't just delicious and give you a chance to relax for a bit, but they also improve your physical appearance.
We are sure that with these four options of herbal teas you will achieve younger looking skin with very little effort. 
To complement their effects, remember:
Drink enough water
Wash your face daily
Try to use make up that is natural and hypoallergenic as much as possible
Eat a healthy diet