4 Cinnamon Hair Masks for Beautiful And Healthy Hair
Thanks to its medicinal properties, cinnamon can be instrumental in hair health, as it fights dandruff, and leaves you with strong, shiny hair.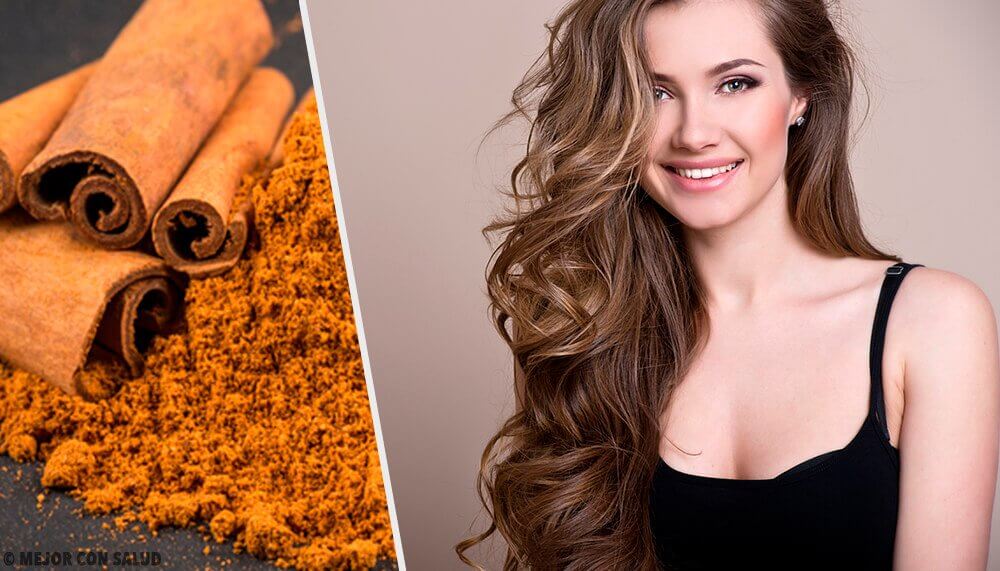 Cinnamon is one of the most used kitchen spices, but it has much more to offer than just its delicious flavor. This article will explore cinnamon hair masks for healthy hair. The four varieties of cinnamon hair masks below can treat various hair problems. So, you're sure to find one that suits your needs.
The best part is that these cinnamon hair masks are organic and will nourish and strengthen your hair from root to tip without using damaging chemicals.
Ready to try our hair masks?
1. Anti-dandruff hair mask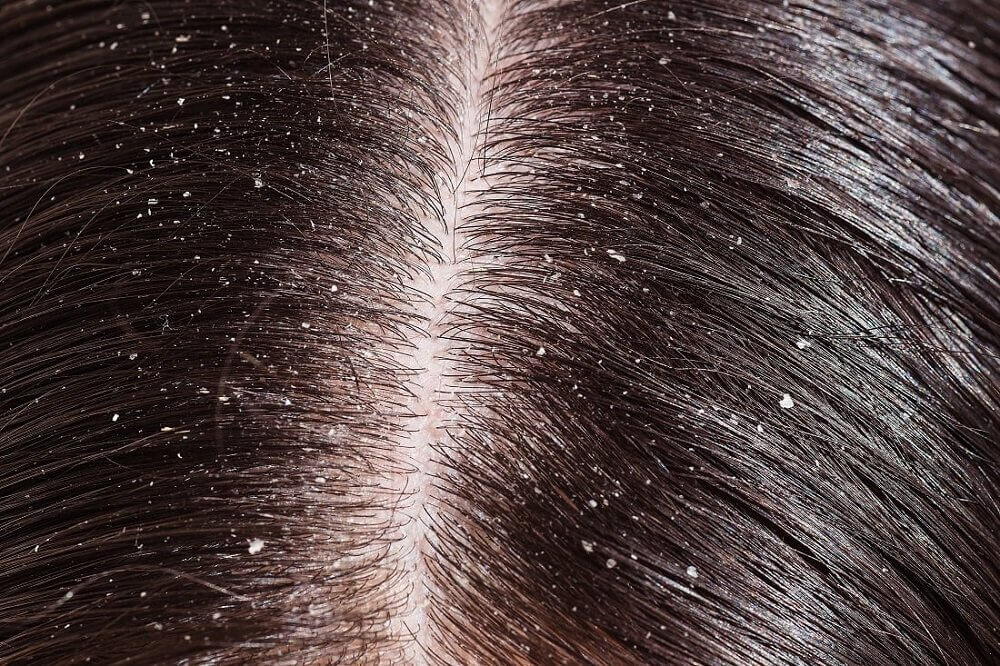 Our first hair mask with cinnamon for healthier hair helps to:
Stimulate the scalp
Increase blood flow
Help with hair problems by preventing fungal and bacterial infections of the scalp
In other words, this mask is effective against dandruff caused by fungal infections.
Olive oil is rich in antioxidants and has antibacterial and antifungal properties that eliminate flakes, dandruff, and even lice. Honey plays a role by moisturizing your hair and scalp.
Ingredients
5 tablespoons of extra virgin olive oil (80 g)
2 tablespoons of ground cinnamon (30 g)
2 tablespoons of honey, preferably organic (50 g)
Preparation
Warm the oil in a microwave or in a double boiler.
Mix the organic honey with the warm olive oil.
Add the ground cinnamon and mix until a creamy paste forms.
Apply to the scalp and massage it in for 5 minutes.
After massaging it, let it sit 30 minutes to 1 hour.
Wash out with a preferably organic shampoo.
For best results, apply twice a week.
Check out this article:
2. Cinnamon and rosemary oil mask to accelerate hair growth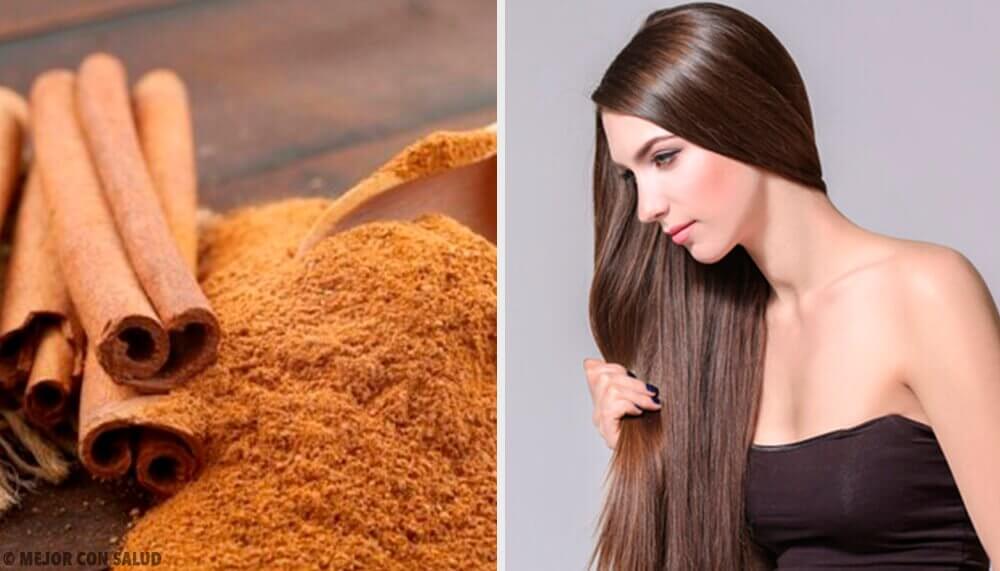 Cinnamon is an ideal ingredient for hair loss and split ends.
With its natural ability to improve blood flow, cinnamon can:
Accelerate hair growth
Boost natural shine
Improve elasticity
What's more, its antioxidant properties protect hair from stress, UV rays, and low temperatures.
Rosemary essential oil stimulates hair follicles so that hair grows strong. It also reduces hair loss and delays graying.
Ingredients
2 tablespoons of ground cinnamon (30 g)
1/2 cup of extra virgin olive oil (100 g)
10 drops of rosemary essential oil
Preparation
Warm the olive oil and add 2 tablespoons of ground cinnamon.
The drops of rosemary essential oil should be added last.
Mix well until a creamy paste forms.
Apply the mixture on your roots without massaging.
Let the mask sit for 30 minutes.
Wash hair with organic shampoo or soap.
We recommend using this cinnamon mask three times a week to get healthier hair. If you don't have enough time, applying it once a week is enough.
3. Hair mask for dry hair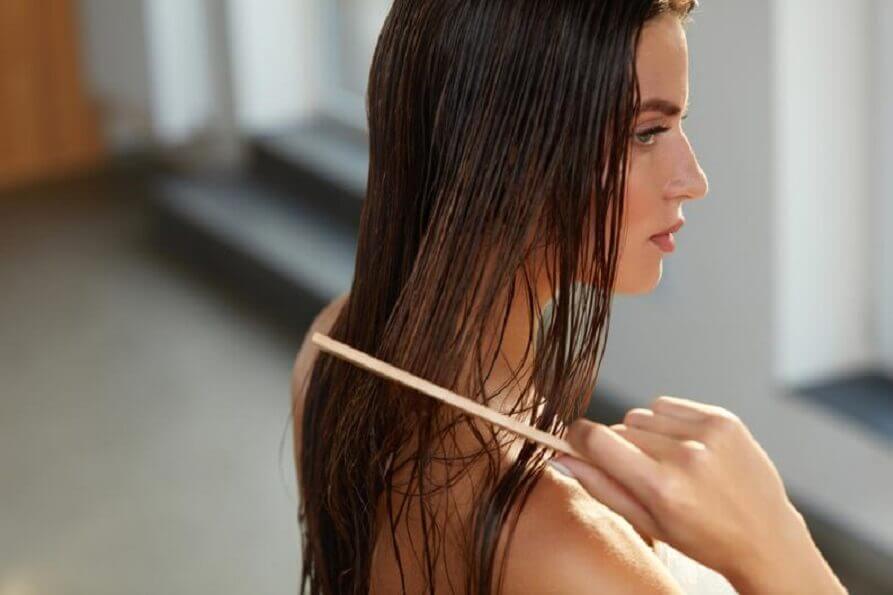 The third cinnamon hair mask for healthier hair is ideal for those who have split ends or hair that's dull and frizzy.
Cinnamon nourishes and moisturizes the scalp while the egg yolk provides a dose of protein, fatty acids, and vitamins. Finally, yogurt hydrates hair and gives it shine.
Ingredients
1 tablespoon of ground cinnamon (15 g)
2 tablespoons of natural yogurt (40 g)
1 teaspoon of olive oil (5 g)
1 egg yolk
Preparation
Combine all ingredients, apply to scalp, and gently massage.
Put on a shower cap and let the mask sit for 20 minutes.
Wash hair with organic shampoo.
See also:

Learn About the Benefits of Cinnamon, an Aphrodisiac and Much More
4. Hair mask to lighten hair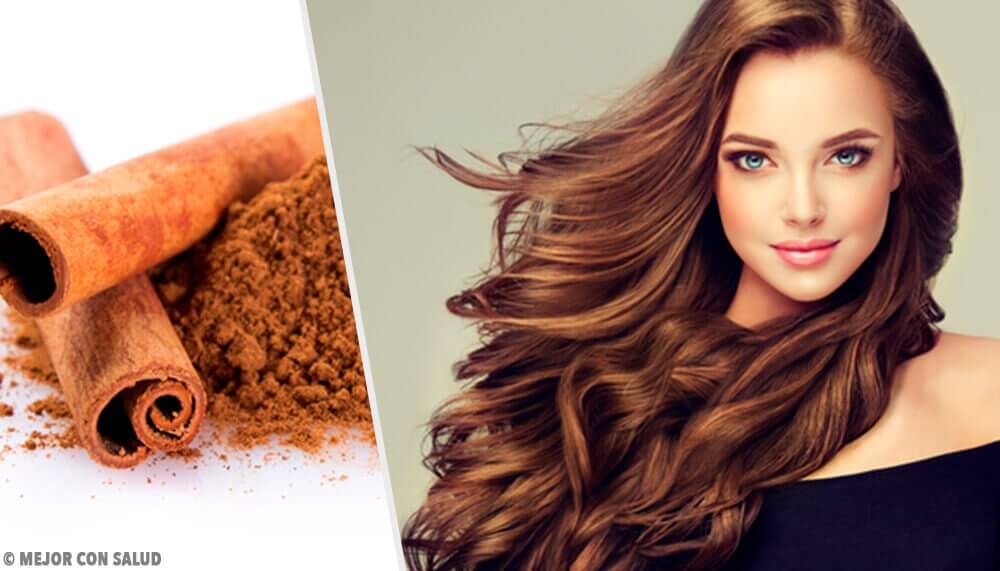 How much do you spend every month to lighten your hair? You probably invest a lot of time and money into doing so. If you want to save a little and spare your hair, try our last mask with cinnamon for healthier hair.
Cinnamon naturally lightens hair when used over time. For faster results, mix in a little vinegar. This last mixture illuminates and untangles your hair, leaving it silky smooth.
Vinegar also restores shine, washing away any residue left behind by pollution and chemical products.
Olive oil complements vinegar, as it provides nutrients and healthy fat after detoxing hair from products full of chemicals.
Ingredients
1 tablespoon of ground cinnamon (15 g)
a cup of vinegar (250 ml)
1 tablespoon of olive oil (16 g)
Preparation
Mix the three ingredients and microwave for one minute.
Apply to clean, dry hair.
Place a towel or shower cap over your hair.
Let sit overnight and rinse out.
Before using the masks, place a little on your arm to make sure you're not allergic to cinnamon.