Three Fast and Nutritious Chicken Recipes
It's easy to run out of ideas for cooking chicken, so recipes become monotonous. Fortunately, this is a very versatile ingredient that can take on many presentations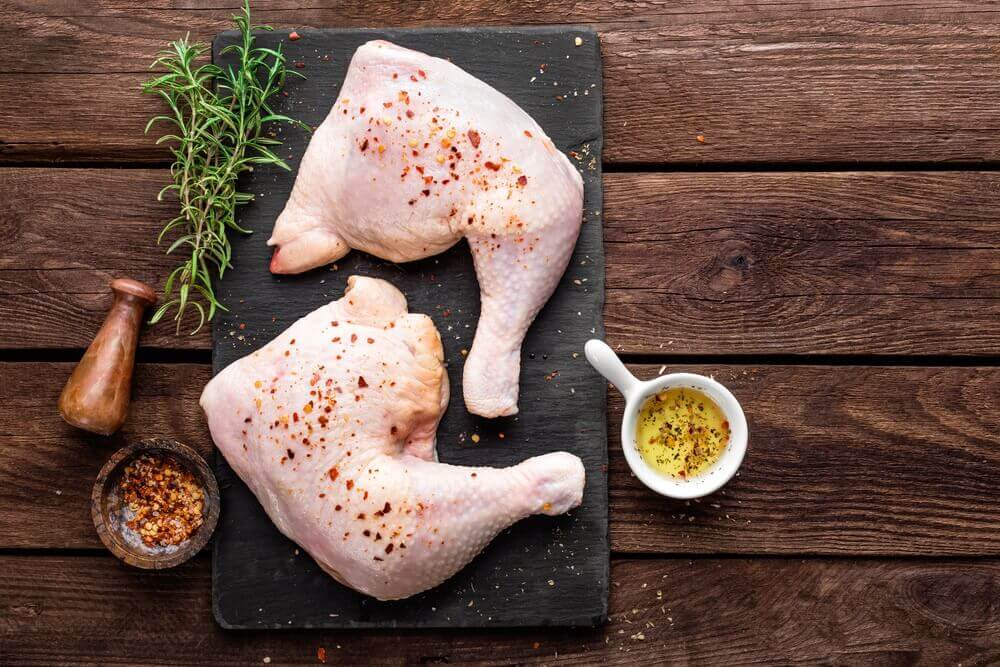 Chicken is one of the most commonly consumed meats in the world, thanks to its affordability, delicious flavor, smooth texture, and easy digestion. It's also very easy to prepare with whatever dishes come to mind. For these reasons, we'd like to teach you a few fast and nutritious chicken recipes.
Sometimes, you may get home very tired after a long day at work and don't want to cook anything complicated. In spite of this, you of course want to enjoy a good meal.
It's not always necessary to set aside meat-based recipes to avoid making something that takes a lot of work. Chicken is the perfect ingredient to make a quick lunch or dinner, while still being nutritious at the same time.
Depending on how you prepare it, one serving of chicken contains 20% of protein, is low in fat, and has healthy carbohydrates. It also has a host of nutritional properties, including the following:
Vitamins A, B1, B2, and B9
Minerals (magnesium, calcium, iron, zinc)
It's an ideal food for the healthy production of hormones and enzymes, as well as for the repair of your body's tissues. So what's stopping you from making these quick and healthy chicken recipes?
They'll be ready in no time and we're sure you'll love them all.
Three Quick and Nutritious Chicken Recipes
1-Chicken with steamed vegetables
The best way to turn a dish into a healthy meal is to add some steamed vegetables to the recipe. Aside from being very nutritious, it also adds a nice flavor to the chicken.
Ingredients
2 large chicken breasts
1 large tomato
1 onion
½ bunch of chives
½ of a green pepper
2 tablespoon of chopped parsley (30 g)
1 tablespoon of salt (15 g)
½ tablespoon of ground pepper (8 g)
1 tablespoon of ground turmeric (15 g)
½ cup of water (125 ml)
Preparation
First, take the chicken breasts and slice them into squares. Place them in a bowl and add the ground turmeric. Set aside.
Then, chop all the vegetables into medium-sized pieces and place them in a bowl.
Heat a skillet and add the chicken breasts (you can fry them in a little olive oil or a bit of water).
Add the vegetables and the cup of water, along with the salt and pepper. Cover.
Allow the vegetables to steam. Remove from heat and serve any way you desire.
2-Chicken salad
To be healthy, you should eat some type of salad at least twice a week. Here, we'll share an excellent and delicious option for you to add salads to your weekly menus:
Ingredients
2 chicken breasts
3 potatoes
2 small carrots
½ cup of peas (75 g)
3 tablespoons of olive oil (45 ml)
½ tablespoon of salt (8 g)
1 tablespoon of ground pepper (15 g)
Preparation
The first thing you should do is boil the chicken breasts in a little water. Drain them and store in the fridge.
Cook the potatoes and carrots until they are tender. Slice into cubes.
Now add the vegetables to a bowl along with the chicken. Mix the ingredients well.
To finish, add the olive oil, salt, and pepper. Mix well and then enjoy one of the best fast and nutritious chicken recipes!
3-Stewed chicken with potatoes and carrots
Believe it or not, this is a quick and nutritious recipe you can make with the chicken you have stored in your refrigerator. The only thing you'll need are some vegetables for the preparation.
Ingredients
2 small chicken thighs without skin
1 carrot
2 small potatoes
½ bunch of chives
½ tomato
1 onion
½ cup of water (125 ml)
2 sweet green bell peppers
1 tablespoon of salt (15 g)
1 tablespoon of turmeric powder (15 g)
Preparation
First, puree all the vegetables in a blender, except the potatoes and carrots.
Then, place the chicken thighs in a large pot and pour the pureed vegetables with a cup of water on top. Cook over medium heat.
Slice the potatoes and carrots into cubes and add them to the pot with the chicken.
Next,season with the salt and add the turmeric.
Simmer a little longer and remove from heat. This will take approximately 20 minutes.
To finish, serve with any side dishes and enjoy a delicious chicken stew.