3 Healthy Beverage Alternatives for Every Festivity
Even though the alcohol content isn't very high, these beverages are not recommended for minors. If you have children, you should choose other options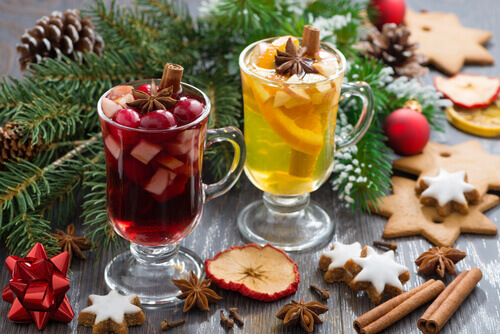 More than other celebrations and family moments, festivities are times of excess. And, this especially applies to food and alcohol. Luckily, healthy beverage alternatives can give you just the switch you need. All in good measure!
Abrupt changes in your diet and added toxins that wind up staying in your body can later translate into weight gain and other symptoms that can interrupt your good time.
This is why it's essential to do everything in moderation and make healthy choices that won't cause you any problems when it comes to how your body functions.
Fortunately, there are lots of alternative healthy beverage choices that won't have as many calories as their counterparts, but are perfect to share with everyone during the holiday season.
They're ideal options for those who don't want to feel hungover and prefer to protect their bodies from the harmful effects of alcohol.
Today we want to share three natural recipes that are delicious and perfect for the holidays. Try them!
1. Christmas fruit punch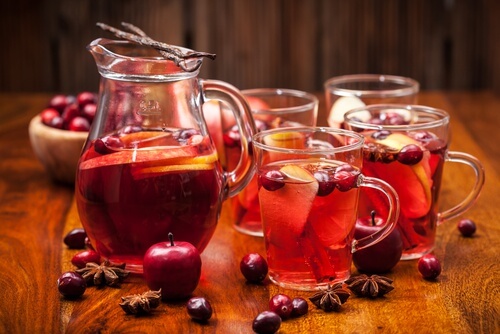 This natural beverage is perfect for your whole family and is loaded with essential nutrients that will help your body cleanse itself.
It counteracts the damage caused by overeating and helps you avoid any trouble with digestion.
Do you want to know more? See: 6 signs of alcohol addiction
Ingredients
2 pounds of sugar cane
5 green apples
5 pears
10 guava fruits
2 cups of hawthorn (400 g)
5 liters of water
1 cup of tamarind (200 g)
1 cup of prunes (200 g)
5 tablespoons of Jamaica flower (50 g)
2 cloves
2 pounds of brown sugar
1/2 cup of white sugar (100 g)
2 cinnamon sticks)
How do you make it?
The above ingredients are enough to make up to 12 servings. You can of course make less or more.
First, peel the sugar cane and cut it into smaller pieces.
Next, core the apples without peeling them, and slice them into small thin strips.
Do the same with the pears, also preserving the peel.
Cut the guava fruit and hawthorn into quarters.
Heat the water, add the fruit, and allow it to simmer for 20 minutes over low heat.
After this time add the tamarind, prunes, and Jamaica flower.
Stir everything well and add the cloves, sugars, and cinnamon.
Leave this on to simmer for a few more minutes until the fruit is soft.
Pour this beverage into a punch bowl and serve.
2. Holiday wine cocktail with cinnamon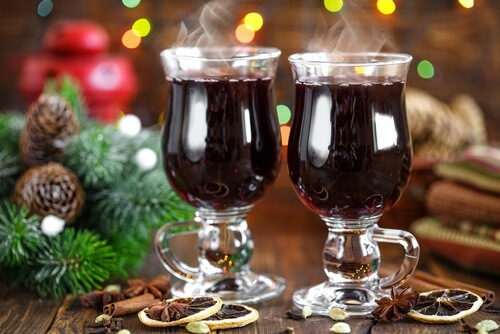 Red wine in moderate amounts is an alcoholic beverage that won't harm your body and actually can provide some great benefits,
thanks to its high content of antioxidants.
Remembering that the holidays are a great time to have toasts, and that you can easily blend red wine with other ingredients, we suggest this delicious cocktail made with cinnamon, cloves, and citrus fruits.
Don't forget to read: 10 great benefits of red wine that you did not know
Ingredients
6 cloves
The rind from 4 lemons
The rind from 4 oranges
one liter of red wine
1 1/2 cups of brandy (375 ml)
1 1/2 cups of water (375 ml)
1 1/4 cups of sugar (350 g)
2 sticks of cinnamon
How do you make it?
Add the wine, brandy, and water to a large pot.
Bring them to a simmer over medium heat and add the spices and citrus peels, tied up in a cloth for steeping.
Let this mixture simmer for 10 more minutes before removing from heat.
Allow it to cool and then serve.
3. Apple cider with cinnamon and cloves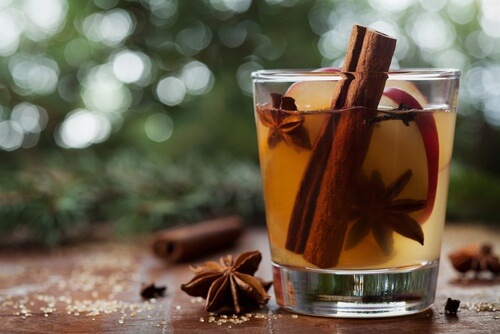 This beverage is very popular during the holidays and is made from all natural apple juice.
It's best to prepare it a day in advance so that the flavor is more concentrated.
Ingredients
1 cup of whipped cream (250 ml)
1 teaspoon of ground cloves (5 g)
A pinch of ground cinnamon
2 sticks of cinnamon
1 cup of cranberry juice (250 ml)
3 cups of apple juice (750 ml)
How do you make it?
Add all the ingredients to a pot except for the cinnamon sticks and whipped cream, which will be added at the end.
Bring everything to a simmer and allow it to cook for an hour.
Remove from heat and store overnight to allow the spices to become more concentrated.
Warm it up the next morning before serving.
Serve in glasses garnished with cinnamon and whipped cream.
As you can see, there are some delicious and healthy alternatives to get you through the holiday season.
None of them will have the harmful effects of alcohol and they won't cause weight gain, either. Go ahead and try them!