3 Fat-burning Soups You Should Include in Your Diet
These 3 fat-burning soups are a delicious addition to your diet. Even better, they're a healthy way to help improve your metabolism to lose weight!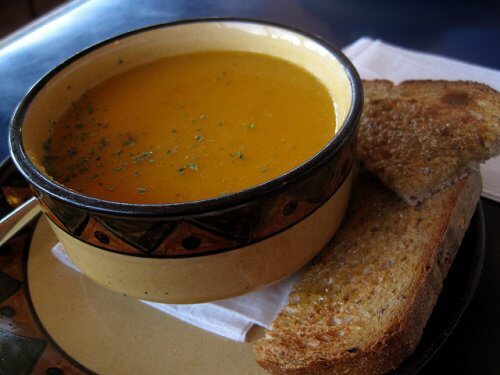 These fat-burning soups are made with fresh garden vegetables and have gained fame as a quick weight loss method.
It's said that you can lose several pounds in a week of consuming only these soups.
However, it's not recommendable to go beyond a week or you could have serious problems due to a lack of nutrients. We recommend adding them to a part of your regular diet for a less intense and healthier solution.
Take a look at these fat-burning soups and make them a part of your diet.
1. Vegetable fat-burning soup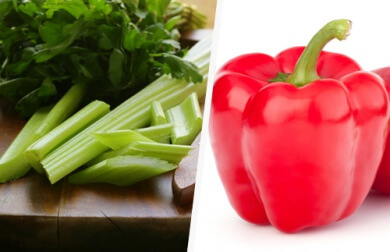 Our first fat-burning soup includes vegetables that are well-known for their antioxidants and wealth of nutrients.
We recommend it particularly for days when you feel a cold coming on and want to eat something nutritious to help keep it at bay.
Ingredients
6 peeled tomatoes
6 large onions
2 red peppers
1 bunch of celery
1 medium-sized cabbage
Salt and pepper (to taste)
Preparation
Cut all the vegetables into pieces
Put them into a pot with water and boil for 30 minutes.
Finally, add the salt and pepper to taste.
Enjoy!
2. Pumpkin, cauliflower, and coconut milk fat-burning soup
The second fat-burning soup we recommend has a special creamy touch thanks to the delicious coconut milk. The vegetables that come along with it are also very high in minerals and water content.
It's the perfect choice if you want a tasty dish to help you reach your weight loss goals.
Ingredients
2 tablespoons of olive oil (32 g)
1 head of cauliflower
Salt and pepper (to taste)
1 tablespoon of cilantro (10 g)
1 1/2 cup of chopped carrot (170 g)
1/4 cup of chopped shallot (55 g)
2 cloves of garlic
1 can of coconut milk
2 cups of pumpkin pureé (420 g)
Concentrated vegetable stock
1 cup of water (250 ml)
Preparation
Preheat the oven to 400 degrees. Put the cauliflower on a baking sheet with a tablespoon of olive oil, salt, pepper, and half of the cilantro.
Let the cauliflower roast for 30 to 35 minutes, stirring at halfway, until golden brown.
In a large pot, heat some oil on medium-high heat. Add the shallots, carrots, and remaining cilantro.
Let cook for 3 to 5 minutes, stirring often, or until soft.
Add the garlic and cook for an additional minute until golden.
Add the coconut milk and heat until it begins to boil.
Reduce to low heat and cook for an additional 5 minutes.
Add the pumpkin pureé, vegetable stock, and cup of water.
Still on low heat, add additional salt and pepper to taste.
When the cauliflower is ready, pour the soup into serving bowls and add the cauliflower florets in the center of each.
As a finishing touch, top with cilantro.
Enjoy!
3. Carrot, pumpkin and ginger fat-burning soup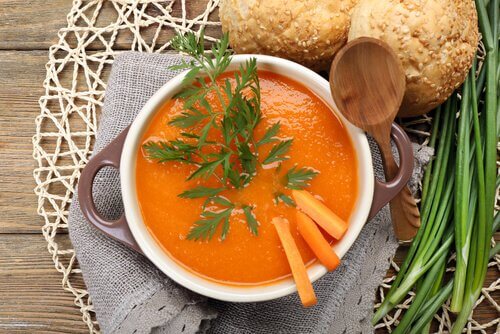 We often tell you about how good ginger is for you, and though there are many ways to incorporate it into your diet, take a look at our third fat-burning soup recipe for another great idea.
You'll see that it's both delicious and easy to make, and super economical to boot!
Ingredients
1/2 medium-sized pumpkin
2 tablespoons of olive oil (32 g)
1 chopped onion
3 cloves of garlic, crushed (or to taste)
1 liter of water
3 1/4 cups of peeled, chopped carrots (440 g)
1 piece of fresh, peeled ginger, sliced thinly
Salt, pepper, and powdered cinnamon (to taste)
Preparation
Preheat the oven to 345 degrees. Add the pumpkin, already seeded and cut into pieces, to a greased cooking sheet.
Bake for 30 to 40 minutes or until soft.
Once cooled, use a large spoon to separate the pumpkin from the skin. Discard the skin.
Heat the olive oil in a large pot on medium heat.
Add the chopped onion and garlic and cook until the onion becomes transparent, stirring often.
Add the water, pumpkin, carrots, and ginger.
Boil for 20 minutes or until the carrots and ginger become soft.
If you want a thicker soup, you can use an immersion blender and if you want to dilute it a bit, add some boiling water.
Lastly, season with salt, pepper, and cinnamon.
As you just saw, there are several fat-burning soup recipes that are easy to make and don't take much time.
The best thing of all is that they're phenomenal for your health!
Remember, if you want to do a fat-burning soup diet, don't go beyond 7 days.
After this time, we recommend returning to a balanced diet.
If you want to repeat the diet, wait a few months.
Likewise, if you decide to include these soups into your daily diet, don't stop eating other kinds of food.