3 Detox Waters to Cleanse the Body
These flavored waters will not only help your body eliminate toxins, they'll also make it easier for you to get the daily recommended amount of liquids.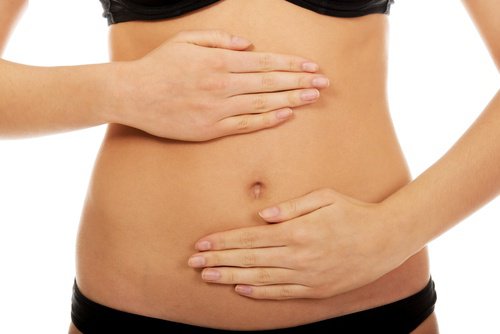 Getting a flat stomach is no easy task because fat tends to accumulate the most in this area of the body. Exercise and a healthy diet might not be enough to get the perfect, flat stomach. This can be the result of many factors like retained fluids and the accumulation of toxins in the body.
It's really important to regularly detoxify the body and promote the elimination of waste products by giving it the nutrients it needs to do its job. Detox waters have become popular in recent years as a great alternative to cleanse the body and flatten the stomach.
These waters hydrate the body and provide it with important nutrients to help eliminate toxic substances and liquids. They're also a great way to help you drink more water with their delicious flavors.
Recipes for detox waters for a flat stomach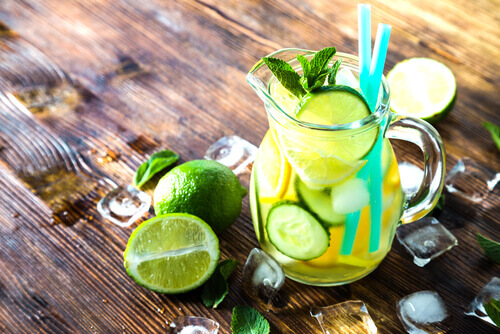 To prepare this recipe you just combine fruits and vegetables in a pitcher of water. It's best to let the drink sit for a few hours before drinking to concentrate its properties.
Ingredients
24 ounces cold water
Fresh cucumber slices
Fresh mint leaves
½ lemon, sliced
¼ orange, sliced
How does this drink work?
The properties of mint help digestion and ease stomach cramps.
Cucumber contains antioxidants and possesses anti-inflammatory and cleansing properties that fight fluid retention and stomach inflammation.
Oranges reinforce the immune system and help lower cholesterol.
Lemons help digestion and are both cleansing and detoxifying.
Read also: 8 Tips to Flatten Your Stomach
Detox water recipe to control cravings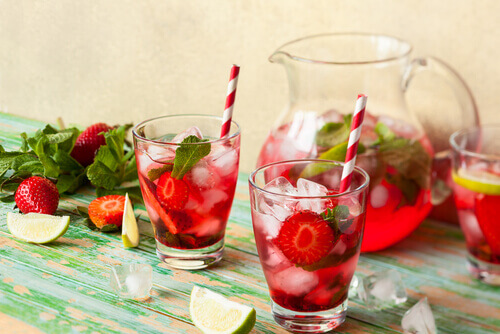 Cravings are another obstacle when it comes to getting a flat stomach and losing weight.
This drink not only helps the body eliminate toxins, it's also filling and full of important nutrients that help control cravings. As with the recipe above, all you have to do is combine everything in a pitcher, let sit to concentrate the ingredients, then drink throughout the day.
Ingredients
24 ounces cold water
Fresh mint leaves
1 strawberry, sliced
½ lemon, sliced
¼ teaspoon cinnamon
¼ apple, sliced
How does this drink work?
Water hydrates and promotes the removal of waste products from the body.
Mint has digestive properties that help reduce pain and inflammation.
Strawberries are rich in antioxidants and vitamins that fight premature aging and prevent illness.
Lemons help fight constipation, balance the body's pH and facilitate the expulsion of waste products from the body.
Cinnamon helps regulate blood sugar levels which means less cravings for sugar and empty calories.
Finally, apples contain fiber, antioxidants and important nutrients that help control the appetite and activate the metabolism.
Check out this article: Ginger and Lemon: The Perfect Combination for Weight Loss
Detox water recipe to cleanse the body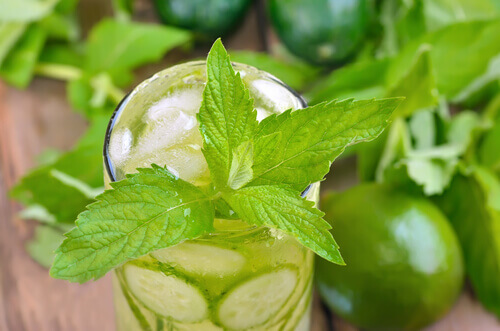 Drinking this detox water will help flush accumulated toxins from the body and fight fluid retention. The result is a healthier body and a flat stomach.
Ingredients
24 ounces cold water
Watermelon slices
1 cucumber, sliced
1 lime or lemon, sliced
Fresh mint leaves
How does this drink work?
This drink is made with ingredients that contain a large amount of water with highly purifying properties.
Watermelon contains antioxidants that help fight free radicals to prevent premature aging and chronic disease. In addition, it's high water content flushes toxins and excess fluids.
Cucumber possesses properties similar to watermelon as it's both rich in water and antioxidants. They help prevent disease, stomach inflammation, and control cravings.
Limes, like lemons, regulate the digestive tract, stimulate bile production and help with weight loss. Bile is produced by the gall bladder and helps with the digestion of fats.