3 Awesome Quinoa Recipes You're Going to Love
Quinoa is a very versatile gluten-free grain, great in both sweet and savory dishes. Try these amazing recipes!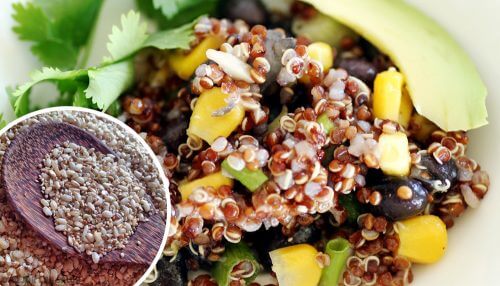 Quinoa is a very well-known grain in South America, especially Peru, where it comes from. It's very good for you and how it goes with other ingredients. That's why there are many awesome quinoa recipes that you should know.
If you still aren't familiar with quinoa, don't worry. We'll tell you everything you need to know about this grain and also give you some tools and recipes.
Quinoa can be used to make bread, stews, and salads. It's incredibly good for you, which is probably why it is so popular nowadays.
Quinoa is actually a seed, with all the nutrients that entails, but acts like a grain, minus the gluten.
Its nutritional profile is remarkable. For each 100 grams of quinoa, there are approximately 16 grams of protein, making it worthy of all the attention it's getting.
Some people even call it a superfood, and here we'll tell you why.
Quinoa:
Controls high cholesterol.
Works as an antioxidant.
Is perfect for people with Celiac disease.
Helps strengthen your hair.
Keeps your skin hydrated.
Helps reduce migraines.
Now that we know how good it is, let's look at some ways to use it in the kitchen.
3 practical ways to cook with quinoa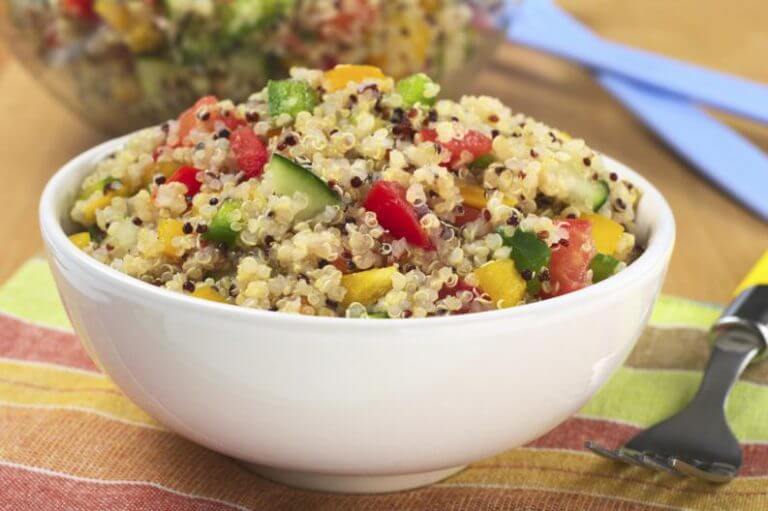 1. Quinoa with vegetables
Quinoa with vegetables is a perfect choice if you want a nutritious, tasty meal to go along with your healthy diet.
Ingredients
1 cup of uncooked quinoa (80 g)
1 onion
2 carrots
1 cup of mushrooms (125 g)
1/2 eggplant
1 garlic clove
1 cup of Swiss chard (45 g)
2 cups of vegetable stock (500 ml)
1 cup of grated cheese
Preparation
Add the quinoa to a strainer and rinse with cold water.
Once clean, drain and boil for 10 minutes.
Peel and wash the carrot and then cut into rounds.
Cut up the eggplant and slice the mushrooms along with the chard and onion.
Add a bit of oil to a pain on medium heat and start sauteing the vegetables along with the garlic. Cook until golden.
Salt and pepper to taste.
After another 3 minutes, stirring frequently, remove from the heat.
Read this, too: Learn How to Make Quinoa Milk and its Benefits
2. Quinoa with chicken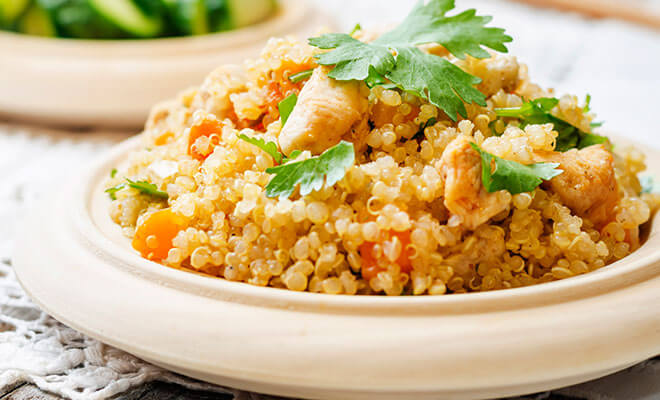 This one is a very balanced and great-tasting dish with a lot of fiber, protein, and vitamins. It's also quite easy to make, so it's perfect for dinnertime.
Ingredients
1 cup of uncooked quinoa (80 g)
1 chicken breast
2 bell peppers (green and red)
1 onion
1 garlic clove
2 eggs
1 tablespoon of cilantro (10 g)
Soy sauce (to taste)
Ginger and other spices (to taste)
Preparation
Start by rinsing the quinoa well to remove the coating. Use a strainer, plenty of water, and then drain.
Bring a pot of water to boil, adding salt if you like. Then, add the quinoa.
Once cooked, let sit and then strain.
Cut up the onion and peppers, and then saute them with a bit of oil.
Beat the eggs, add a pinch of salt, and pour into the pan.
Carefully cut the chicken into strips and season with a bit of salt.
Then, add the chicken to the pan with some oil and cook until golden but not completely cooked.
Remove the chicken and add the onion and peppers. Add more oil if needed. Let cook 5 minutes.
Press or mash the garlic and then combine it with the ginger or other spices. Mix well.
Add this seasoning mix to the pan along with the vegetables and soy sauce.
Add the quinoa and chicken strips. Lower the heat and stir well, letting everything cook another 5 minutes.
Once ready, remove from heat, let cool a bit, and then it's ready!
3. Quinoa with yogurt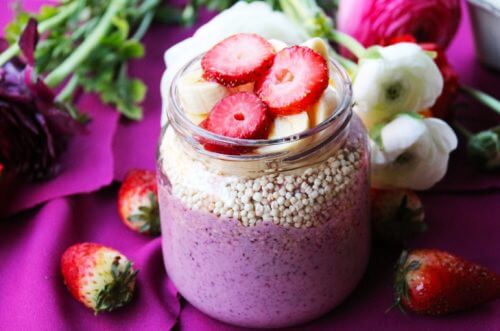 This recipe makes a delicious dessert and great healthy option for a sweet tooth. It's versatile and takes no time at all.
Ingredients
1 cup of uncooked quinoa (80 g)
A natural yogurt (125 g)
1 tablespoon of honey, optional (25 g)
Strawberries or your favorite fruit (as much as you like)
1/2 cup of walnuts (30 g)
More nuts, as you prefer
Preparation
Cook the quinoa. Begin by rinsing it in a strainer under the faucet, moving it around with your hands.
Fill a pot with water on high heat. Once boiling add the quinoa and let cook about 15 minutes, until it has doubled in size.
Wash the fruit and remove the stem if you're using strawberries.
Mix the quinoa in a container with the yogurt and honey, stirring until well-mixed.
Add the fruit and nuts on top, and then enjoy this tasty mixture that's perfect for breakfast, a snack, or even dessert.