2 Vegetable Soups You've Got to Try
Vegetable soups are very versatile. You can add almost any ingredient you want! Besides providing vitamins and minerals, they also help keep you hydrated.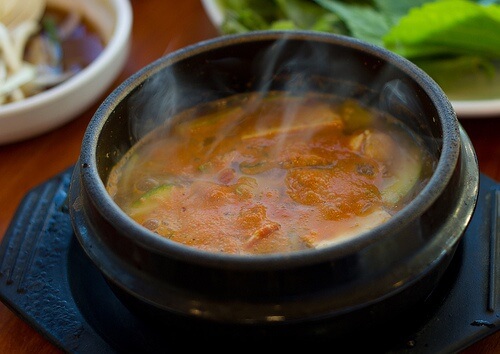 Vegetable soups and broths are clear, thin liquids.
They are created by cooking one or several vegetables, animal protein like red meat, chicken, or seafood, and spices in water.
If you don't usually get in enough vegetables, you may want to try soup.
You'll see that there are endless possibilities and you'll have the chance to try out different flavors until you find out what you like.
Why should I include vegetable soups in my daily diet?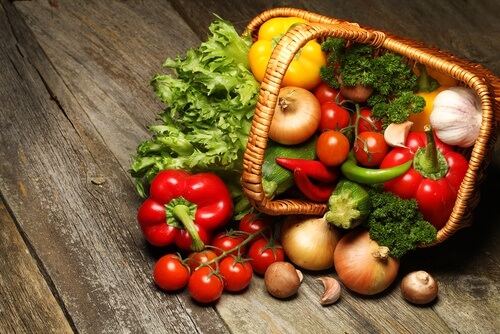 Vegetable soups play a key role in a healthy, balanced diet. Since water is the main ingredient, they help keep your body properly hydrated.
Some of the benefits of eating vegetable soups are:
They're an easy way to get in your five daily recommended servings of vegetables. They also allow for all kinds of different combinations and a different soup each day.
Depending on the vegetables you add, they can provide a significant amount of vitamins. Of course the amount of nutrients will depend on how many vegetables you use. The most common vitamins in vegetables are vitamin E, B6, and A.
The cooking process makes them easy to digest, making them great for kids or adults with digestive or chewing problems.
If you have a vegetable soup before your meal, you'll feel fuller and eat less, keeping your calorie intake down.
Eating soup will help you lose weight and consume fewer calories over the course of the day.
1. Onion soup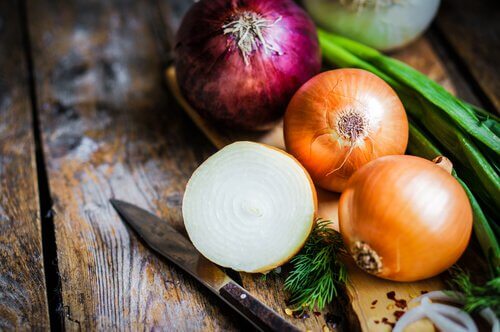 The first soup you've got to try has two types of onions as its base, but  is also complemented with other vegetables.
Due to its ingredients, it's perfect for helping with flu symptoms that are so common in the winter, or when you're feeling weak.
Ingredients
2 tablespoons of olive oil (32 g)
Vegetables (1/4 of a medium-sized white onion, 1  zucchini, 1 pumpkin, 1 carrot, 1 cup of spinach)
Herbs (2 chives, 2 celery stalks, 2 branches of cilantro, 2 branches of parsley, 1 teaspoon of mint leaves)
2 liters of water
Salt, pepper, and oregano (to taste)
Preparation
Chop all the vegetables into small cubes. The herbs and spinach should be cut into the size you prefer.
Heat the two tablespoons of olive oil in a pot and then sauté the onion for a few minutes.
Add the carrot, celery, and chives.
Next, add the pumpkin and zucchini.
Add the two liters of water and season with salt, pepper, and oregano.
Cook for 20 minutes.
Check if the pumpkin, zucchini, and carrot are ready. If so, add the cilantro, parsley, mint, and spinach.
Try the soup to make sure it is seasoned well, and add salt and pepper to taste.
Remove from heat and serve.
If you like, top with parmesan cheese for a delicious flavor boost.
2. Pepper soup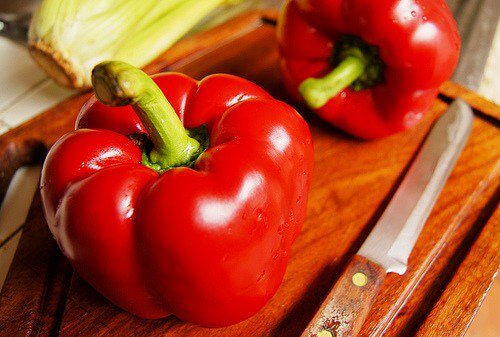 Are you a pepper lover? If not, you should know that they are high in vitamin C and antioxidants.
They also have a unique flavor that makes them a salad favorite.
If you don't like them very much but want their nutrients, try our second vegetable soup.
Ingredients
Olive oil
1 carrot
1 medium-sized onion
2 cloves of garlic
3 bell peppers (green, red, or yellow)
1 leek
1 zucchini
1/2 cup of peas (70 g)
Salt and black pepper (to taste)
Water
Preparation
Wash all ingredients and cut into small cubes.
Heat a bit of olive oil in a large pot and sauté the onion and garlic.
Next, add the chopped vegetables and peas.
Add a little salt and stir to make sure all ingredients are cooking evenly and not sticking.
When well-cooked, remove from heat.
Cover with water and heat on high until it starts boiling.
Once it begins to boil, reduce to medium heat. Let cook until the vegetables are done and the broth has acquired a nice flavor. This may take between approximately 30 to 40 minutes, depending on the size of the vegetables and the cooking temperature.
Once done, make sure the salt and pepper are good and correct if needed.
Now that you know the benefits of vegetable soups, we're sure you'll want to include them in your diet.
Try our options and get creative with any vegetables you like.