2 Coca Cola Chicken Recipes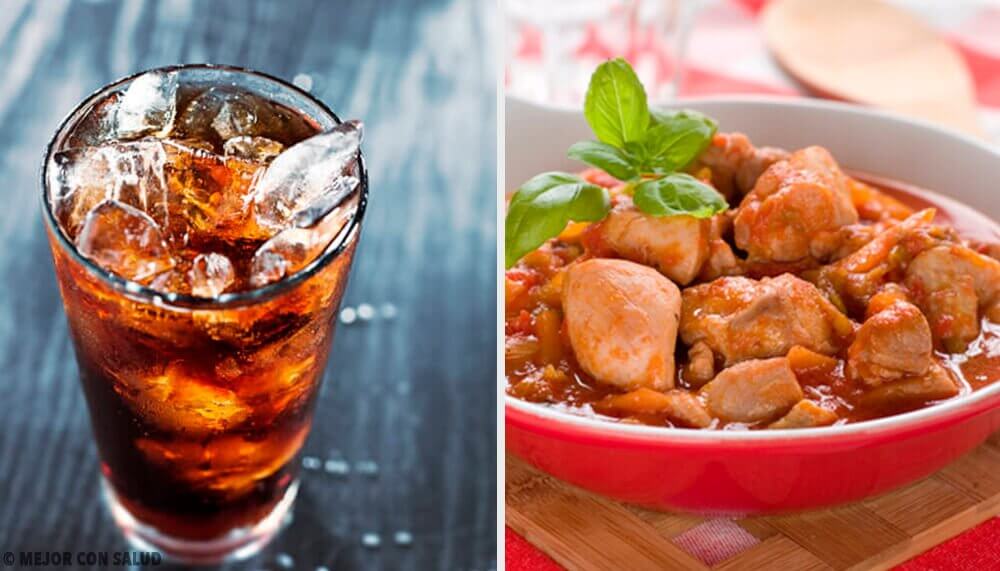 Go ahead and try this simple recipe for Coca Cola chicken for a change of pace. We'll tell you what ingredients you need and give you a step-by-step guide to follow.
Coca Cola chicken is a trending recipe that has aroused the curiosity of people on the internet all over the world. This tasty dish combines the sweetness of cola with the tenderness of chicken for a unique flavor. Making Coca Cola chicken is easy and accessible to everyone because the ingredients are very affordable.
Why chicken is a great part of your diet
Chicken is one of the most widely consumed foods around the world. In addition to being low in calories, chicken is also rich in minerals such as iron, calcium, sodium, potassium, magnesium, phosphorus and zinc. It also contains folic acid, and vitamins A, E, K and B complex.
Chicken is recognized as one of the most highly recommended meats for human consumption because it provides the nutrients and proteins our bodies need. It also has low fat content (when consumed without skin) and is ideal for the whole family.
The mild flavor and texture offer enormous versatility. We can prepare it baked, barbecued, grilled, sautéed, stewed, etc.
In addition, seasoning is simple, since it goes well with almost all spices, or for a more minimalist touch, a touch of salt and lemon juice. When you serve Coca Cola chicken, we suggest accompanying it with anything from a salad, cooked vegetables, rice, roasted potatoes, or mashed potatoes.
Mushroom and chicken stew with Coca Cola sauce
Ingredients
2 cloves of garlic
1/2 leek (40 g)
1 liter of Coke
Salt and pepper (to taste)

10 fresh

mushrooms

6 chicken legs (1 kg)
1 medium onion (220 g)
2 medium carrots (40 g)
1/4 cup dry white wine (150 mL)
1/4 cup of vegetable stock (150 mL)
4 tablespoons of olive oil
2 tablespoons of tomato sauce
Preparation
First, remove the skin from all the chicken thighs. Then brown them in a pan with 2 tablespoons of olive oil and add salt to taste.
When they are golden, add the white wine and let evaporate. Set aside the chicken thighs.

Chop the 

onion

, leeks and garlic cloves. Cut the mushrooms into four equal parts and the carrot into thin slices.

Take a saucepan and sauté the mushrooms, onion, leeks and garlic with two tablespoons of olive oil.
When the mushrooms are browned, add the carrots and chicken thighs with a little salt and pepper.
Add the tomato sauce, broth and Coke, cover and let cook over low heat for 25 minutes.
After 25 minutes, uncover the pot and let it cook for 10 more minutes to thicken.
It can be served with brown rice, roasted potatoes, mashed potatoes, or however you like.
Express Coca Cola Chicken
This is the express version of the traditional Coca Cola chicken recipe. It's simple and tasty, ideal for those who don't want to spend a lot of time in the kitchen.
Ingredients
1 can of Coke (330 mL)
2 medium onions (400 g)
1/2 cup of tomato puree

1 tablet

of vegetable stock concentrate

Salt and pepper to flavor (to taste)
2 tablespoons of olive oil (to sauté)
1 chopped chicken (600 g)
Preparation
If you didn't buy the chicken already chopped, then chop it into evenly sized chunks. Try to prevent the bones from splintering.
On another clean cutting board, finely chop the onions and chop the tomato into medium-sized pieces.

Take a saucepan and add the onion and tomato to sauté with the

olive oil

.

When everything is frying, add the vegetable broth and tomato puree. Mix well so that the tablet dissolves completely.
Add the pieces of chicken, salt and pepper. Stir again.
Add the Coke and cover the saucepan so that the chicken absorbs the flavor and moisture.
After 15 minutes, remove the lid and continue cooking to reduce the broth.
After 10 more minutes, turn off the heat and let it stand for 5 minutes before serving.
Serve and enjoy.
It might interest you...