14 Things to Do When Bringing a Dog to the Beach
Are you bringing your dog to the beach this summer? Check out the following tips to ensure everyone is safe and has lots of fun!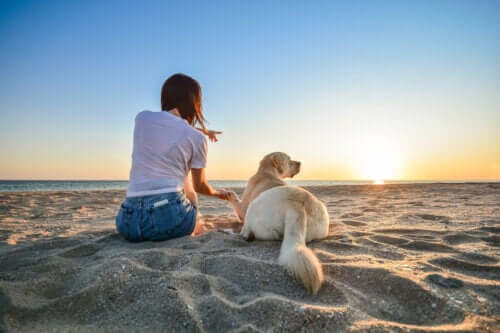 The beach is one of the first destinations many people think of going to when it's nice out, so of course, bringing your dog along is often part of the plan. You both can have a lot of fun, especially if you follow some common-sense guidelines like the ones listed below.
Having a dog is a great responsibility regarding their health and care. Furthermore, their interactions with others, as well as the conservation of public spaces in general, are particularly important.
This doesn't mean you should just leave your furry pal at home. You can definitely bring them along! All you have to do is observe some courtesy rules.
Before taking the dog to the beach
Gladly, people no longer have to leave pets alone at home or entrust their care to a daycare center or a relative. Sunny days are better enjoyed when our best drooly friends can be around.
Of course, we must plan accordingly as soon as we decide to take a dog to the beach.
1. Research dog-friendly beaches
The destination is the first thing to consider. Thus, we must select a beach that allows pets. So get to the task of investigating by consulting some guides and making a few phone calls.
Also, inquire about the facilities and services available, as well as the regulations as these vary from place to place.
2. Know when your dog is healthy for the beach
Keep in mind that taking a dog to the beach may not be the best idea at times. This is particularly true if the pet has sensitive skin or open wounds that could become infected.
3. Packing is important for bringing a dog to the beach
It's time to pack. In addition to what you'll need for yourself, you must pack a suitcase just for your pet. Here's a list of the things you might want to include:
Shot record
A collar with an ID tag
A long enough leash
Drinking water
Food
Pad protectors
Waste bags
First aid kit
The use of a muzzle is mandatory on some beaches. Opt for a large one that allows them to open their mouth and breathe properly.
Tips for bringing a dog to the beach
There are other things to consider once you're at the beach to have a pleasant time and not bother others.
4. Avoid too much sun
It's easy to tan when you're alone but you can't do it with a pet as they easily overheat.
In this respect, you mustn't expose the animal to the sun during the most intense hours. In fact, try to keep them in a shady spot between 10 am and 4 pm.
You may apply sun lotion on any exposed areas of their skin, those not covered by fur. The belly, for example. There are special ones for dogs but you can use your own (as long as the protection factor is 30 or more).
In addition, don't take the dog out for a walk on hot sand in the middle of the day. Their paw pads are highly sensitive.
5. Stay cool and hydrated
In addition to setting up the umbrella to keep them in the shade during the hottest hours, you can also dig a hole for the dog to lie down in the wet sand.
Hydration is very important. So keep enough water in their bowl and remind them to drink once in a while.
6. Watch them when they're swimming
Indeed, dogs are born swimmers but watch them if there are strong waves. Not every dog enjoys going into the water, so don't force them if they don't want to.
7. Don't let them out of your sight
Keep your dog near and don't let them out of your sight. There are several things you must avoid:
Discomfort to other swimmers. Be it because he barks or threatens to bite or urinates on things or kicks sand their way.
Fighting with other dogs. Keep in mind that these animals are territorial and can become aggressive when they see another dog nearby.
Getting lost or stolen.
8. Take caution with other animals
There's more to worry about than other dogs. For example, there may be jellyfish, and exposure to them isn't good for the dog as their belly skin is highly sensitive.
The toxicity of jellyfish varies from one species to another. Be aware of anything moving under the water when your dog is in it.
There are other animals at the beach that may attract your dog's attention — such as crabs. They like playing with them but the other animal may not think so and feel threatened and strike back.
9. Be careful with objects in the sand
Dogs are always sniffing, poking, and prying. They love to dig. This is why you must be on the lookout for any solid waste. All sorts of dangers can hide in the sand — a piece of rusty metal or a broken bottle.
In addition, be aware of anything they try to swallow as it could be spoiled food or even toxic waste.
10. You must play with a dog if you're bringing them to the beach
Taking your dog to the beach means spending time with them. Play catch with a ball or a frisbee during the low sunlight hours when almost no one is around. Get in the water together, your animal will love it.
11. Pick up the poo
You must leave the beach as you found it or even cleaner. So, pick up the dog poo and place it in the bin designated for that purpose.
After taking your dog to the beach
The fun isn't over once you're back home, and you must take care of a few things for your dog before you sit down and relax.
12. Grooming after bringing a dog to the beach
The sand and salt in the fur are highly irritating for a dog. Use the showers at the beach to help remove the excess of these minerals. In addition, bathe your dog thoroughly as soon as you get home.
13. Clean their ears
Check their ears for sand, salt, water, or anything else that might trigger a bad reaction. Dogs are prone to ear infections.
14. Give them the day off
You'll probably be exhausted after bringing a dog to the beach, and so will they. Allow them to rest, they probably won't need a long walk for the rest of the day.
Bringing a dog to the beach is your responsibility
We dog lovers want to share every life experience with our dogs. However, we must keep in mind that our needs are different.
Remember that every dog has a personality of its own. Some are playful, others stubborn, some love to walk while others prefer to stay at home. Hence, bring your dog to the beach again if they enjoyed it, but try other destinations if you notice it was unpleasant for them.
It might interest you...