13 Tricks to Keep Your Bathroom Clean and Tidy
If you want to keep a clean bathroom and make your products organized and easily to find, you can use different baskets and boxes to store your stuff.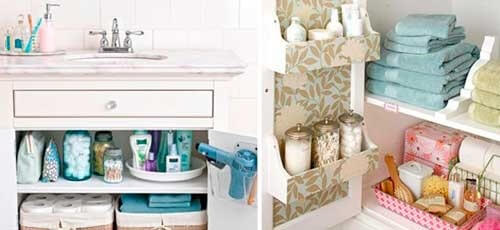 If you want to keep a clean bathroom and make your products organized and easily to find, you can use different baskets and boxes to store your stuff.
The bathroom is one of those areas in the house that needs to be tended to both for hygienic reasons as well as for aesthetics.
Regardless of how big or small it is, there are a series of cleaning routines that need to be observed daily to keep it disinfected and in good condition.
Most people use aggressive chemical products for this, but are unaware of the fact that there are organic options that can be just as effective or more so.
Sometimes, this gets even more complicated when you try to organize your bathroom without knowing how best to use every inch of space.
Because we know that doing this isn't always easy, we are going to share with you 13 foolproof tricks for organizing your bathroom and leaving it impeccable.  So take note!
1. Use storage containers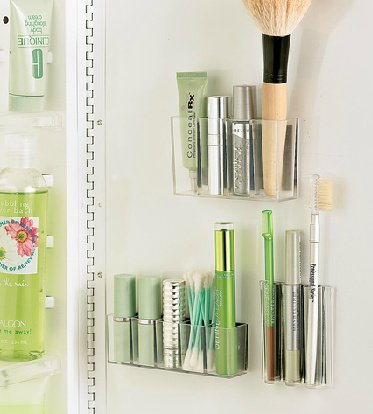 If you have very little space to organize the small items in your bathroom, stick a few storage containers on the medicine cabinet door and store your items there.
2. Make a towel organizer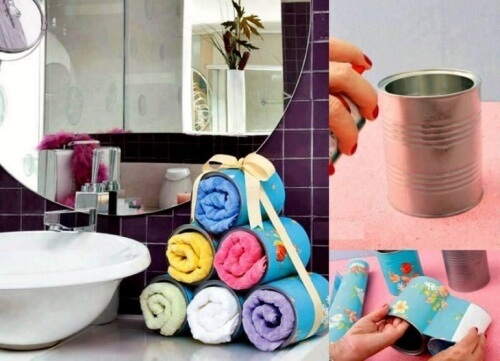 If you don't have a closet or shelf to store your towels, you can make a fun organizer using tin cans and decorative paper.
3. Put towel racks on the door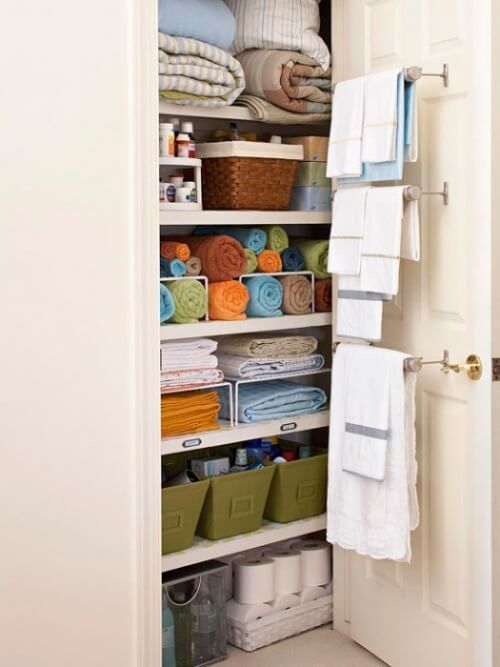 Take advantage of the back of the door to add on some practical towel racks.  This will help you make more space, and everything will look better.
4. Make an organizer out of jars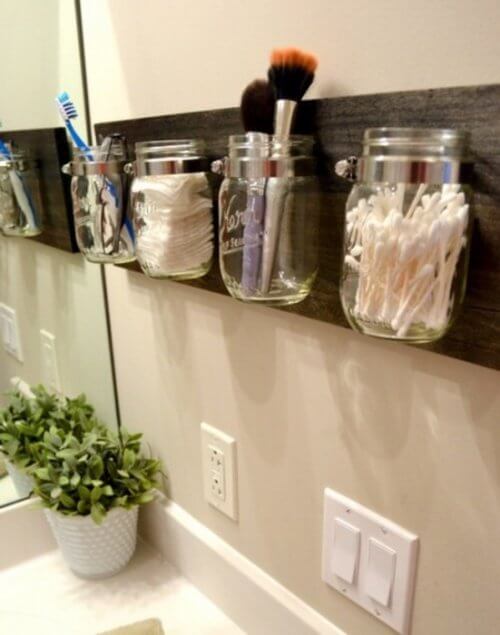 Another good idea for organizing small items it to place several glass jars on a wooden plank screwed into the wall.  These will give your bathroom a different design while keeping things organized.
5. Hidden shelf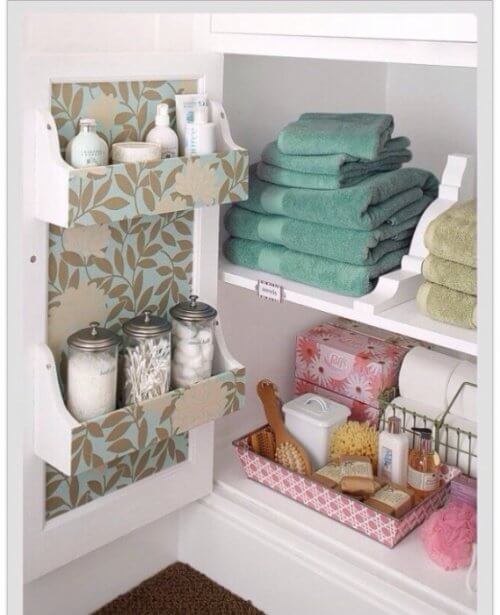 You can take measurements of the bathroom closet door to make a practical, hidden shelf.
6. Use a wine shelf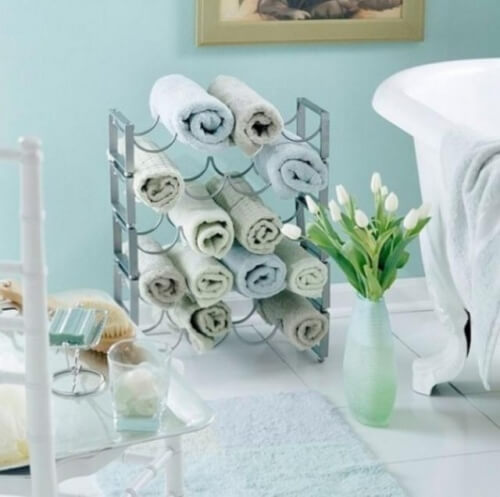 If you have an old wine shelf that's left unused, clean it off and place it in your bathroom for holding small, clean towels.
7. Perfume and accessory organizer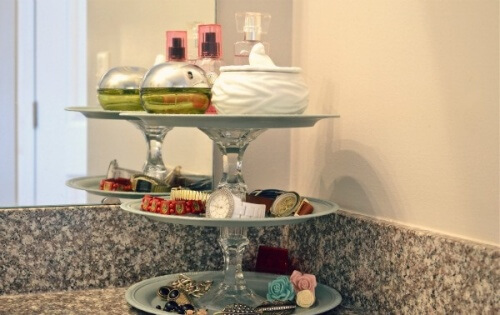 If you like to keep perfumes and accessories in your bathroom you can make this simple shelf with plates and old cups.
8. Storing curlers and blow driers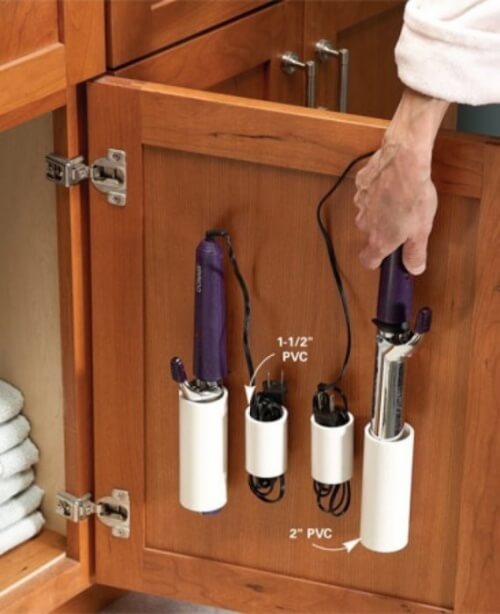 Stick a few PVC pipes to the door on your bathroom cupboard and use it to store curling irons, flat irons and blow driers for your hair.
9. Use baskets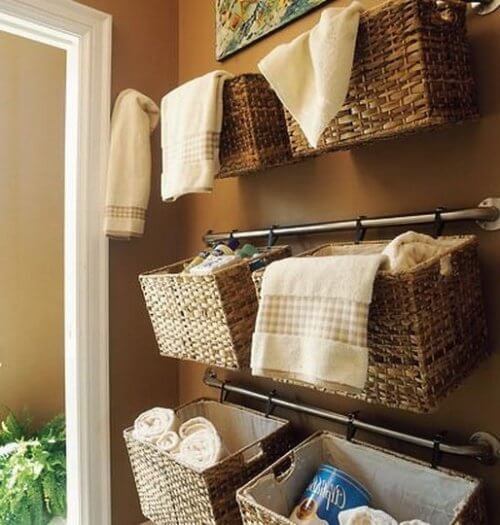 The advantage to using baskets in the bathroom is that they are very decorative and are great for storing pretty much anything.
You can stick them to the wall or make them into a shelf, for example, under the sink.
10. Disinfect and whiten the toilet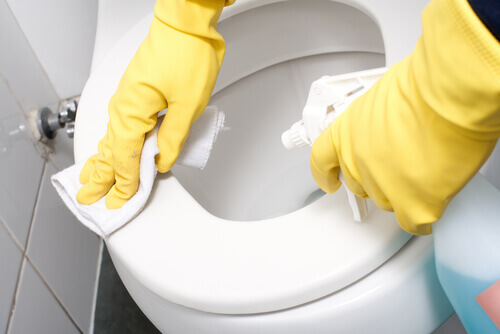 The toilet should be cleaned every day to reduce the presence of bacteria and filth that accumulates.
Rather than using bleach and chemical detergents for a clean bathroom, make your own homemade product using baking soda.
Ingredients
3 Tbsp. baking soda (30 grams)
1/4 c. ammonia
2 c. hot water (500 mL)
Directions
Mix all ingredients in a bowl and sprinkle over the toilet.
Then use the brush to scrub it, and later wipe down with a cloth.
You can also use this solution to remove mold from the tub and walls.
11. Remove mildew from the shower curtain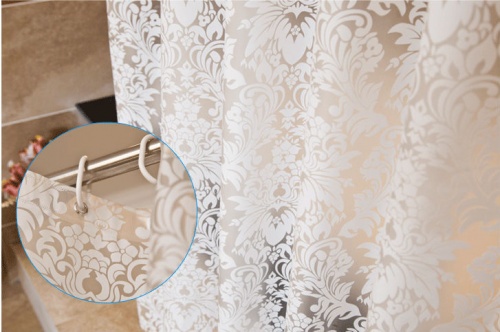 Mildew is not only unpleasant, but it also smells bad and can cause respiratory problems.  To prevent it from accumulating on your shower curtain, make sure to use this trick.
Ingredients
1/2 c. white vinegar (125 mL)
2 c. water (500 mL)
Juice from 2 lemons
Directions
Dilute the white vinegar in the 2 cups of water and add the lemon juice.
Spray the product on your shower curtain and scrub with a brush.
Remove any residue and lay it out to dry in a well ventilated area.
12. Shine the faucet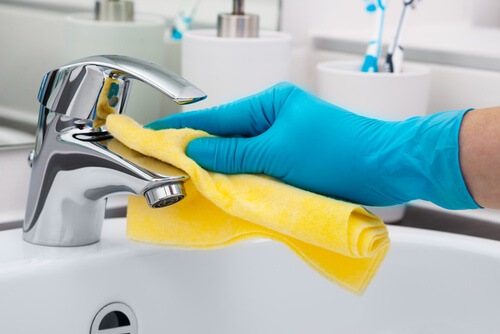 Shower and sink faucets start to look dull after accumulating moisture, chemical residue and lime.
To make them like new and bacteria-free, use hydrogen peroxide.
Ingredients
1/4 c. hydrogen peroxide (62 mL)
1/4 c. water (62 mL)
1 spray bottle
Directions
Dilute the hydrogen peroxide with the cup of water and pour it into the spray bottle.
Spray the faucets and scrub then with a rag.
13. Clean the tiles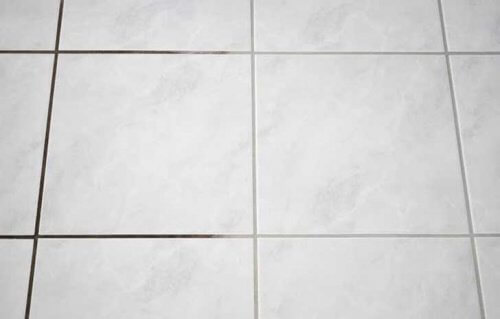 Grime and fungus on bathroom tiles can be removed by using white vinegar.
This product leaves tiles impeccable and prevents bad odors.
Ingredients
1/2 c. white vinegar (125 mL)
1 clean cloth
Directions
Moisten the cloth in the white vinegar and briskly rub the tiles.
If you notice that they're too dirty, use a scrubber brush.
As you can see you don't have to spend much to achieve a tidy and clean bathroom.  Just use your creativity and the materials you have at home.