12-yr-old Creates App for Alzheimer's Patients
Thanks to the app for Alzheimer's created by this 12 year-old girl, an Alzheimer's patient can use mobile technology to remember family bonds, among other things.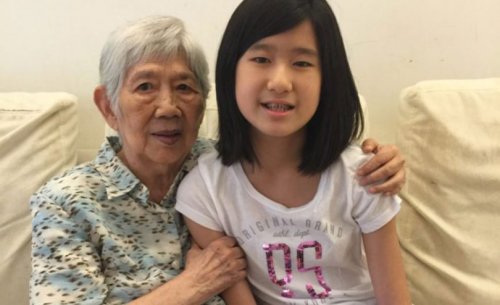 Emma Yang is a special girl. At the age of 12, she's living in a delicate reality, which is becoming well known to millions of people. Emma's grandmother was diagnosed with Alzheimer's almost five years ago and currently lives in Hong Kong. Emma created a mobile app for Alzheimer's to communicate with her grandmother.
Emma, sometimes from a distance and other times when she was able to visit in person, has seen how her grandmother has forgotten important things little by little.
She began to forget her age and sometimes couldn't understand why she didn't come over for dinner or was so far away. Later, the most painful thing happened to this young girl: her own grandmother began to confuse her with other relatives.
It's not easy to live life this way. Having a close friend or relative affected by Alzheimer's is a very difficult emotional challenge.
It's hard for the sufferer, for their family, and especially for a group of people that aren't usually mentioned: children.
Emma Yang's story is noteworthy because of a special aspect. It's something that won't only help her own grandmother, but many other people who suffer from Alzheimer's.
"Timeless:" a Mobile App for Alzheimer's
Emma Yang's biggest fear is that her grandmother won't recognize her anymore and that someday the mind of her beloved family member will no longer exist.
Sooner or later, this will happen. There will come a time when her moments of clarity are like little invitations back into the real world where you connect with your loved ones. This only happens once in a while, however.
Still, it's important to remember that Alzheimer's patients react positively to something very concrete: love, the signs of affection and caring.
Clearly, for a girl who's only 12 years old, this isn't enough. She refuses to let her grandmother go forever, to allow her mind to erase any memory of her granddaughter, and eliminate that special bond they used to have.
To fight against this advance of forgetfulness, Emma created a mobile app called "Timeless" to keep those important things from fading.
It will make the most beautiful and meaningful things in your life "eternal."
An App for Alzheimer's Patients
Emma Yang has collaborated with Dr. Melissa Kramps, a doctor who specializes in Alzheimer's, to create a mobile app that has two very specific purposes.
The first function, "Updates" and it ensures that people with Alzheimer's can always stay in contact with their relatives.
Their children, grandchildren, friends, and other loved ones can interact with them through pictures and messages. The application will always inform the patient who they are communicating with and remind them of the bond they share.
The other function is "Identify." Here a patient can review their family tree, remember facts, details, photos, and moments at any time.
Thanks to the camera on the phone, all they need to do is point it at a specific person to be reminded of who they are.
Another detail that's both useful and interesting refers to timing and calendars. A person with Alzheimer's will receive a warning each time they try to call a family member more than twice (the app will remind them that they've already called).
It can also notify the patient of upcoming dates to remember and special events like Easter and Christmas.
A Young Prodigy With a Clear Dream
Emma Yang had some valuable help in developing this mobile app for Alzheimer's. In addition to the assistance of Dr. Kramps, she also received funding for the project through a scholarship.
Emma's parents are computer savvy and work for a company that specializes in creating facial recognition technology.
Her passion for technology comes from her family, and when Emma was only eight years old she was already an expert in development with HTML and CSS Web, the secrets of Java and applications for MIT App Inventor.
Her professional career has only just begun. Emma Yang has just one purpose: to use technology and eventually even virtual reality to help people with Alzheimer's protect their memories.
Perhaps in the future, experts will combine these strategies with others to achieve this goal. For now, this app is only useful for patients who are still able to use a mobile device.
This app provides a way to slow down the loss of cognitive abilities, but once the patient's disorder has advanced, they require daily support from their network of family and professionals.
It might interest you...