12 Fun Ideas for Photo Frames
In this article, we share a number of ideas that you can use to make photo frames which make all your favourite special moments stand out.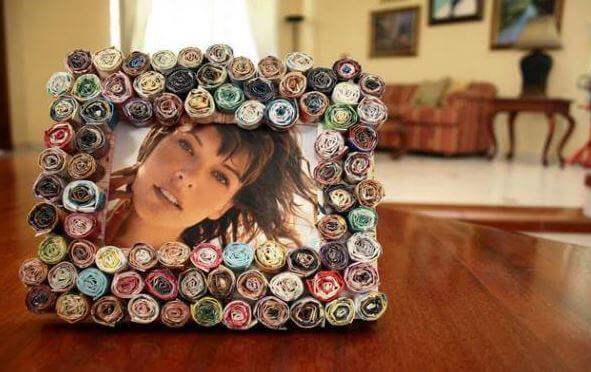 Photo frames make your photos stand out and also protect them from dust, scratches, and other wear and tear. After all, all of us like to have at least a few photographs on display somewhere where we can see them and enjoy them.
If you want to use some photos to make part of your home even more beautiful, we recommend you try out some of these ideas below. They'll be a great opportunity for you to get creative and add your own unique and fresh touches.
To make your own photo frames, you don't need to spend a lot of money. In fact, it's better to use things that you already have around the home that you no longer need.
How to Make Your Own Photo Frames
1. Glass Jars
If you've got glass jars at home that you don't need anymore, wash them really well to get rid of any residue and place your photos inside. You can decorate these jars with other things you might have to hand, like a necklace or bracelet that you no longer use.
When you use unused or recycled items, the possibilities are endless. Let your imagination run wild!
2. Boxes
Don't know what to do with the box for your new shoes? Cut it up and adapt it to the size of your photo. Then, paint it and decorate it how you want. Use your imagination and cover it with colorful paint and stickers.
3. Paper
You might be wondering how you can make an original photo frame using paper. But it's a great option for an artistic project.
All you need is a little white glue, water, and newspaper. It's one of the cheapest and most popular crafts. Make your own photo frame in whatever shape you like: circular, rectangular, triangular, a half moon, etc.
Really Modern Photo Frames
4. Chalkboards
Chalkboards are currently very fashionable since it's really easy to reuse the surface for any expression of ideas.
One good idea for making your own photo frame is to take a chalkboard, stick your favourite photos to it and draw things around it in chalk. You could even add some text. Tadaa!
Another option is to smoothly paint a surface, and then it becomes a reusable photo frame.
5. Crayons
Maybe you've got some crayons that you don't use anymore. Find them and make another original frame for your photos. Stick them one on top of the other and make a square adjusted to your photo. 
This is a great idea for decorating the kids' bedrooms.
6. String and Clips
A few feet of string may be enough to make a simple and rustic photo frame. You can also use this to temporarily rotate photos.
Look for Other Materials in Your Bedroom
7. Vinyl Records
Vinyl records are an incredible way to make a photo frame. If you love music and you want to decorate a room in a unique way, cut your photos into circles and stick them in the middle of the record. Hang the records on the wall of your bedroom, office, or living room.
8. Old Worn Books
A great thing about books is that they can make great photo frames as well as photo albums. If you decide to make an album, you can put a photo on each page.
If you decide to make a frame out of the book, try the following:
Take the book and affix a rectangular piece of paper just in the center of the cover.
The cover of the book should form a border around the paper.
With a scalpel, make a cut around the outline of the paper.
Once done, you can stick a piece of cardboard on the other side of the cover to support the photograph.
9. Markers
Another idea to make an original photo frame is to use some cardboard in your favourite colour and a highlighter pen. You could write something sentimental about the special person in the photograph. If it's a self-portrait, why not write the things you like most about yourself?
Other Ideas for Photo Frames
10. Wood
Maybe you've got a load of wood saved in the shed that you haven't been able to use until now. This could make an excellent way to frame your photos. 
Choose the shapes you like the best and make an uncommon and rustic style. This is particularly good if you're a nature lover.
11. Balloons
Is it a special person's birthday soon? Balloons are the perfect decoration for a party, but what are they like for framing your photos?
Tie a thread to the end of a balloon and stick your photo to the thread. Throw an original party and show off all your most important memories of your family and friends!
12. Candles
Stick a photo of your partner on a jar containing a candle. When you light the candle, the image will light up too. It'll look really romantic and also make the perfect backdrop for anything you do together.
Use your imagination! Try and think outside of the box to make your very own photo frames.
Remember there are many possibilities, so think very carefully before you decide to throw something away. Perhaps there is still some use for it yet to help decorate your home!
Memories are some of the most precious things that we have. And what better way could there be to display them than in something original that you've made yourself?
It might interest you...