12 Foods to Help You Fight Arthritis
If you suffer from arthritis, you've most likely noticed that pain varies according to your diet, activity level, and the weather.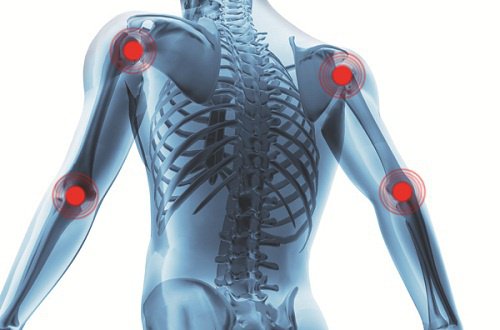 In this article, we will give you a list of foods to help you fight arthritis and improve your condition.
In addition, you will have to learn to incorporate ingredients that help you to alleviate your pain and increase your mobility. You will also have to reduce your intake of foods that make your situation worse.
Remember, consult your doctor before making any significant changes in your diet.
Use diet to Fight Arthritis
If you suffer from arthritis, you've most likely noticed that pain varies according to your diet, activity level, and the weather. Finding foods that benefit you can be a big challenge.
Bananas
These are always a healthy option. That being said, if you are trying to find better foods that fight arthritis, this is one of the best.
Bananas are rich in potassium and in a mountain of other vitamins and minerals, such as folic acid, vitamin B6 and C. All of this helps to diminish the effects of arthritis and keep it under control.
Plus, the fiber in bananas helps your digestive system.
Mangos and apples
Even though mangos are a seasonal fruit, and sometimes expensive, they are an antioxidant-rich option.
They contain a high level of vitamin E and beta-carotene. These two elements have demonstrated themselves to be helpful in keeping some types of arthritis from getting worse.
Apples, for their part, have many benefits for your health, like reducing joint tension. This can alleviate both problems of mobility and pain.
Nuts help you fight arthritis
There are many nuts that can help to diminish inflammation levels in your body, because they provide healthy fats. Above all, nuts have the most benefits for arthritis.
Brazil nuts and cashews are a good option to give relief.
Soy
Many soy products can be a great help for arthritis, but counterproductive if you have gout.
Soy can be eaten in many different ways.
Nonetheless, it is the fermented soy products, like miso, tempeh, or tofu, that appear to offer the most reduction in the pain and inflammation produced by arthritis.
Salmon
Salmon is full of omega 3 fatty acids. Because of this, it is recommended to alleviate pain from arthritis.
Even though any oily fish is a good option to include in your diet, start by eating salmon a few times, or even just once, a week.
The effects of omega 3 will help to reduce the inflammation in your body. It is important that you have a good supply of omega 3 coming from different sources daily.
Peppers
The vitamin C contained in peppers acts as an antioxidant. At the same time, it helps to fight arthritis and free radicals in your body and reduce inflammation.
Because of this, it diminishes the amount of pain arthritis causes you. It is very difficult to avoid the effects of free radicals. Because of that, it is important to have enough antioxidants to reduce the harm caused by free radicals.
Green peppers are an easy option to include in foods, salads, or shakes and they give us an instant dose of vitamins.
Green tea
It is well known that green tea is a very high source of antioxidants.
Moreover, it contains specific substances that have an effect directly on the levels of inflammation in your body. Because of that, green tea is a great way to fight arthritis pain.
It isn't clear how much tea is necessary, but the majority of studies done by volunteers show that drinking it two times a day is a great help.
Whole grains to fight arthritis
They are excellent for reducing inflammation, except when we consume low-quality commercial derivatives.
In that case, due to the commercialization of products other additives are usually added and it is possible that they will worsen the effects of your arthritis.
On the other hand, raw grains are the better option. Lentils are a good alternative which, besides being healthy, will give you a longer feeling of fullness.
Spinach, tomatoes, and beets
There are more foods that help to fight arthritis. Spinach is full of phytonutrients and fiber.
Tomatoes, for their part, contain lycopene which helps reduce the pain associated with arthritis. If we cook tomatoes, we can get a larger amount of lycopene.
Beets have an antioxidant makeup that few foods have, including betalain, which is very useful for raising your body's defenses.
You should also remember that it is better to buy raw foods and prepare them at home to get all of the possible benefits.
Finally, we hope you liked our article, for more information on remedies click below!
It might interest you...