12 Cleaning Tips for Difficult Areas
Did you know that lemon juice can help you remove mold and soap scum from your shower and bath? Hydrogen peroxide is also really effective.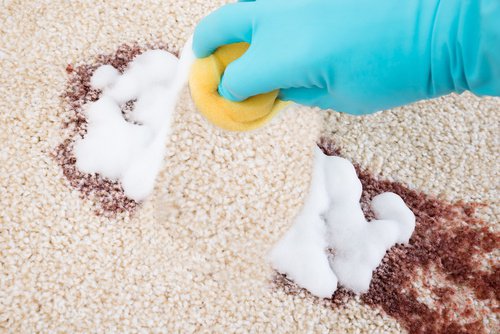 A total home cleaning should be performed often to avoid the accumulation of dirt, dust, and grime. Some people are lucky enough to have someone to help them with this tiresome chore that can take forever; others have to dedicate many hours to cleaning for a spotless house.
The good news is there are many cleaning tips and tricks that can save you time and money while cleaning your house from top to bottom. This time, we're going to share 12 simple cleaning tips that are sure to help you.
Upholstery
For cleaning the upholstery on furniture and cars, prepare a mixture of carbonated water, vinegar, and soap and use it to scrub with a brush. For stubborn stains, consider using a steam cleaner.
Windows
To remove the dust and oxidation from large windows, mix baking soda and white vinegar and apply using a brush or soft cloth.
For hard to reach areas, use a cotton swab.
See also: Clean and Polish Wood Naturally
Sofas
To remove stains from microfiber sofas, make a solution of distilled water and alcohol and scrub using a brush or cloth. The results will be immediate.
Countertops and tables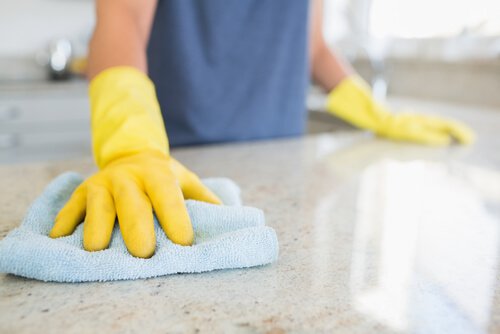 These areas can be difficult to clean and they require special care because food is prepared on their surfaces. In order to clean them, prepare a mix of one part hydrogen peroxide and two parts water and apply using a spray bottle. This solution will remove food stains and mold.
Another great way to clean these surfaces is by mixing a little baking soda with some lemon essential oil and rubbing on surfaces to clean and disinfect.
Screens
Screens are really difficult to clean because of the small size of the holes. To remove accumulated dust and grime, take a makeup brush that you no longer use and brush it across the surface to clean it.
Oven
The accumulation of fat and stuck on foods can make cleaning the oven difficult and annoying.
To make this job easier and shorter, spray down the walls with water, then sprinkle with baking soda. Let work overnight, then wipe clean in the morning.
Floors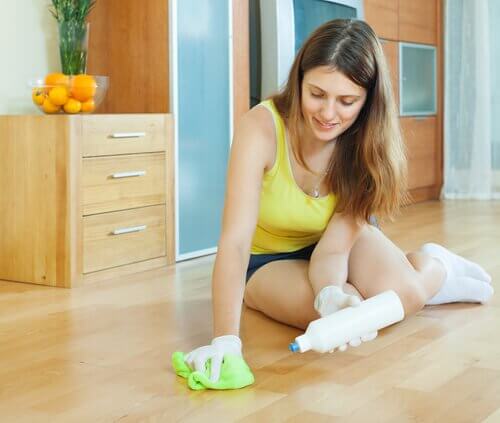 Dust and oils can make a floor look dirty. If the stains are recent, apply a little talcum powder and let work for 10 minutes, then sweep clean.
If the stain is older, apply a solution of dish soap and scrub with a brush. Let work for 10 minutes, then rinse.
Refrigerator
The refrigerator is one place where bad odors start and bacteria and leftover foods can stain surfaces. To clean your fridge, prepare a mixture of one part baking soda, one part hydrogen peroxide and two parts water. Spray the liquid on every surface of the refrigerator. Let work for 10 minutes, then wipe clean with a cloth.
Cupboards
To get them completely clean and shining, use a mixture of baking soda and water. For difficult stains, add one part white vinegar. Let work for a few minutes, then remove the grime with a cloth.
Shower and Bath
To clean mold and soap scum from showers and bathtubs, just use a little lemon juice. Add a little lemon juice to a scouring pad and scrub surfaces clean. You can also use hydrogen peroxide in place of lemon juice.
We recommend: The Many Helpful Uses of Hydrogen Peroxide
Toilets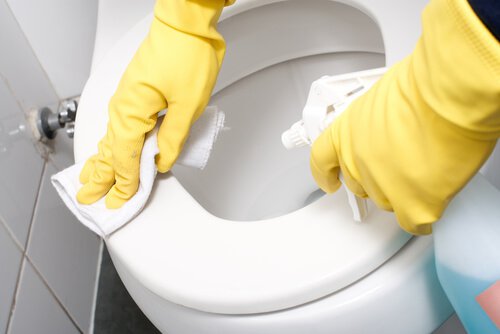 To remove stains and mold from your toilet, mix a little baking soda with lemon juice and apply to surfaces using a brush. You can also use pure white vinegar.
Mirrors
To clean your crystal and mirrors just mix three parts water with one part vinegar. Spray on and clean with a cloth.